What type of collaborative networks are available in Alma?
Alma supports collaboration for patron services as well as for technical services:
Collaboration for Patron Services is focused on offering extended services to patrons and better fulfillment options for patrons, and includes the following:
Shared Discovery
Resource Sharing
Fulfillment
Collaboration for Technical Services is focused on increased efficiencies in operations, less duplication of effort / data and increased consistency, and includes the following:
Shared Catalog
Joint Acquisitions
Analytics
Administration
What are the benefits for patrons in a consortial environment?
Patrons can enjoy a shared discovery experience; they will have enhanced resource sharing options,as well as smart fulfillment including library configurable options for walkin services.
What options are available for discovery in a consortial environment?
Alma helps libraries work together by offering patrons a unified search discovery experience. Patrons may either search their own catalog, or a consortial catalog consisting of all members' holdings. Using Alma's resource sharing/fulfillment network patrons are able to get access to material held by other member institutions.
What resource sharing options are available in a consortial environment?
Alma offers the ability to manage consortial resource services without the need for an external system. This is done through what is called a peer to peer resource sharing model. This model increases efficiencies through fully automated processes and allows you to leverage all your assets across the full spectrum of your inventory - print, electronic and digital from all members of the consortia. From the patron perspective, this service is provided by the home institution, even though behind the scenes the resource itself may be coming from one of the members.
In cases where consortia would like to extend services beyond the consortial, Alma can easily integrate with an existing broker based system.
How can patrons benefit from consortial fulfillment?
In a consortial environment patrons are able to enjoy the benefits of Alma's Fulfillment Networks:
Patrons can directly get services from all participating members. This means that they can walk in to participating member institutions to get services; they can request to pickup resources from locations other than their home institution; they can also return resources at other locations.
How do libraries benefit from offering patrons consortial fulfillment?
Libraries offering this service can offer an enhanced level of service to patrons, not available through resource sharing - e.g. pickup in any participating institution. In addition library workflows for consortial fulfillment are all managed using the regular request and loan workflows, and not the specialized resource sharing workflows.
What technical collaborations can be managed at the consortial level?
Alma supports smart collaborations driven by a flexible Network. In order to support the collaboration for technical services an Alma Network Zone is required. This allows the consortia to be be able to manage and support the following:
Shared catalog
Joint acquisitions and negotiations
Shared reporting and analysis
Central administration and configuration
What is the minimum requirement for technical services collaboration?
Consortia's that are interested in collaborating for technical services need first and foremost to establish a shared catalog. This provides value to all the members of the consortia by reducing deduplication, promoting efficient workflows and supporting additional types of services such as consortial selection, analysis and development.
What is required to operate a Network Zone?
The use of a network zone requires a network/consortial office in order to:
Maintain the network zone configurations
Maintain the shared catalog
Develop relevant procedures and workflows
Manage members' staff access to Network Zone
Provide additional value added services
What functionality and benefits are there with a shared catalog?
While every member has its own Institution Zone (managing their own institution catalog, inventory etc.), all members share a Network Zone that contains a Shared Catalog.
Members of a cataloging network work together managing a shared catalog in Alma to describe their institutional holdings. The shared catalog is a way to maximize cooperation, integration and sharing between institutions in a network, while eliminating the duplication of effort and data that normally occurs without a shared catalog. Managing a shared catalog in Alma still allows institutions to maintain local privacy and ownership of data. In the local record it is possible to add local fields that will only be viewable locally.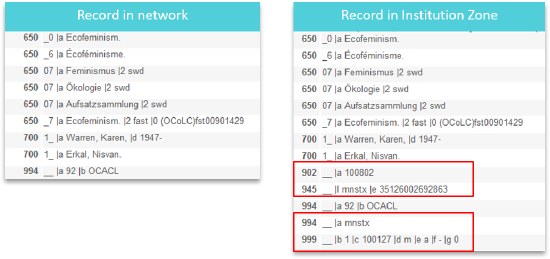 A shared catalog offers easy access to consortial holdings together with seamless management of shared records.
In a shared catalog there is no need to export or import records to members. All updates are seamless and automatic; when a record is updated, all members using the record will benefit from the update.
What options are available for consortial acquisitions?
Alma offers an Acquisition Network for organizations who wish to cooperatively negotiate, purchase and manage electronic resources.
The Acquisition Network is usually managed by a central/head office that manages the negotiation of electronic resources on behalf of members in order to achieve cost savings related to cooperative negotiation of discounts and licensing terms and conditions.
A number of models can be utilized:
Shared management
E-resources are managed centrally
Shared Acquisitions
Purchasing is done at the network level
Shared Negotiation
Purchasing is distributed down to the member level
Huge monetary savings can be enjoyed by sharing the management and cost of expensive e-resources.
Can analytic reports be generated at a consortial level?
From the Network Zone, reports can be created either for selected, or all member institutions giving users a birds eye view of consortial activities. From the Network Zone reports can also be generated for a single institution.
The number of items created in the last three months per institution:
What types of records and tables can be administered centrally?
Centrally managed configurations can be implemented in the Network Zone for example the following is a subset of all the elements that can be configured and administered centrally:
Shared fulfillment – The Network Zone can be used to centrally manage fulfillment policies and terms of use. The centrally managed policies and terms of use are then dispatched to all members of the network, where they are used in the local members' fulfillment rules. This achieves a high level of consolidation in the fulfillment area, with agreed upon policies and terms of use being used by all members of the network.
Resource sharing – The basic configurations of the resource sharing component may be centrally managed at the Network Zone and shared by all members of the network. This includes a shared list of:

Resource sharing partners
Resource sharing rota templates and assignment rules
Workflow profiles
Locate profiles

Using a consolidated configuration set achieves the goal of unifying the user experience and library back office processing across all disparate libraries.
Vendors – Vendor records can be centrally managed at the Network Zone. Routine and automatic dispatching of the vendor records to all network members achieves the goal of having a single list of vendors that is used throughout all members of the network but is managed centrally by a single office.
Mapping tables – Mapping tables govern a variety of system behaviors across all functional elements of the system. Maintaining a centrally managed mapping tables set is key to creating unified and consolidated workflows at the network members across the system.
S/FTP profiles and SAML integration profiles can be created by the Network Zone and distributed automatically to the member institutions.
Total views:
755