Course Reserves
Last updated
How are course reserves managed in Alma?
Alma's course reserve functionality is fully integrated and uses the same user and bibliographic databases as the rest of the system. Additionally, Alma provides searching of both bibliographic records and course reserve information in a single interface for library staff, and through a common discovery interface, such as Primo, for end users.
Course Reserves Workflow
Course Reserve Collections can be managed across more than one library within the institution.
The Courses and Reading Lists Workflow in Alma works as follows:
Reading Lists – contain citations compiled by the course instructor and submitted to the library. The list may include resources which are in the institutional repository, or which are not in the repository.
Courses – contain details concerning the course for which the Reading List has been submitted (e.g., name of instructor, start and end dates of the course, etc.) Courses may contain more than one Reading List which may be processed by separate libraries.
Course Departments – Each course must be associated with a Course Department. A Course Department is itself associated with an organizational unit (institution or library/libraries), which determines the resources available for the course. Course Departments may (and usually do) contain more than one Course.
The workflow for creating and managing a course reserves reading list is as follows:
The workflow commences when information is received about a department's courses.
Define the course: course information includes instructor, start and end dates, number of participants, and weekly hours. The staff operator may add, delete, or edit courses in a department. Creating a course is a prerequisite to enable access to reading lists.
Define the reading list: the staff operator may add, delete, or edit reading lists that an instructor requires for a course. The reading list specifies resources (physical, digital, and others) that can be selected from the repository within the library.
Titles may be added to a course's reading list using a title that is already cataloged in the institutional repository or based on a freely catalogued resource that is not part of the institutional repository. The latter is the means by which non-library material can also be made part of the reading list.
For titles that have been made part of the reading list, the system will display the available inventory, be it physical, digital or electronic, and supply management tools to the operator, for example for requesting the transfer of physical items to a reserved area, or for requesting the digitization of physical copies.
Dedicated workflows facilitate the temporary change of item information for physical copies that have been moved to a reserved area. For example changing their temporary location or the terms of use by which they are circulated, and setting the date on which the item is expected to be moved back to its permanent location. This date may be automatically calculated based on the length of course for which the item is moved.
Automatic processes trigger the moving of these items back to their permanent shelving locations.
Reading Lists
Internal move requests that are placed by staff for fulfilling course's requirements take priority over patrons' requests. If both a library staff course related request and a patron request exist, the library request will take precedence, and the patron request will be fulfilled only if - after the change of temporary location - it is still valid according to library policies.
Likewise, any future requests that will be placed on the reserved material will be allowed and be processed only as per policies set forth by the library for the reserved material.
Non-Repository Citations
Alma Course Reserve functionality includes the option to 'Add Non-Repository Citation' and 'Add Brief' functionality to facilitate handling of external titles/copies (e.g. the instructor's personal copy):
Cataloging a 'non-repository' citation results in a metadata record that is linked to the course but is not part of the institutional repository. They may represent items that are not part of the library's resources and therefore are listed only in Course Reserves.
Cataloging 'Brief' records result in a metadata description that is linked to the course and is part of the institutional repository, so that it may have linked holdings and items. Cataloging this resource, however, may be done in a manner that either suppresses the record from the discovery interface, or publishes it in a manner that makes it discoverable only in the context of a courses related search. This type of cataloging may be preferable if the resource is expected to be re-used for subsequent courses but is not a real part of the library inventory.
Since non-repository citations are not published, they will not appear in Primo and Primo VE.
Using the Course Reserves area, the Design Analytics user may create reports/dashboards for the Course Reserves area and is able to answer the following types of business questions:
Which courses reserved a specific title?

Which courses share the same titles?

What are the reading lists per department?
How are courses loaded?
Courses may be imported into Alma in batch by a course loader that accepts a file of courses. The loader may be used to update certain elements of the course information such as the number of participants. The loader may also be used to create new courses based on older descriptions.
Courses may also be created online where LTI integration is used.
How are items moved from a permanent collection to a temporary Course Reserves location?
Dedicated workflows facilitate the temporary change of item information for physical copies that have been moved to a reserved area. For example changing their temporary location or the terms of use by which they are circulated, and setting the date on which the item is expected to be moved back to its permanent location. This date may be automatically calculated based on the length of course for which the item is moved.
Automatic processes trigger the moving of these items back to their permanent shelving locations.
Course information associated with the record is available for reporting in Alma Analytics.
What is the process for activation and deactivation of course reserve items and lists?
Courses contain start and end dates for the course. The course and the reading lists that are part of the course will be activated and deactivated automatically based on the course dates. If either the "Start Date" or "End Date" is changed manually, the status is automatically adjusted to reflect any impact of these changes (and the status of the course toggles from "Active" to "Inactive" or from "Inactive" to "Active" if necessary).
Can temporary course reserve records be created?
Alma provides the ability to easily create and delete temporary records for reserve purposes. To add a brief record to a reading list, the staff operator simply needs to choose the option to "Add Brief" in the citations tab of the reserves list.
Once the operator selects the type of citation they wish to create (physical book/article or electronic book/article, the quick cataloging page opens, as shown in the image below:
New inventory is then created and the new citation displays in the citations tab of the Edit Reading List page. This brief bib record can be suppressed from discovery, removed from the reading list, detached from the repository, and can easily be deleted completely in the metadata editor.
How are physical and electronic/digital item records specific to Course Reserves created?
The creation of reading lists allow for linking repository items to a reading list, as well as non-repository items – for non-repository electronic items it is possible to register the external link to the item:
On this brief form only library and URL may be added. Once cataloged in this manner, the new record is a regular local portfolio and can be managed as such from the resource management editor screens. Alma stores only the URL. The file is remotely stored and Alma is agnostic to the file type.
Can reading lists be searched?
Reading lists can be searched and sets created using the standard Alma repository search functions.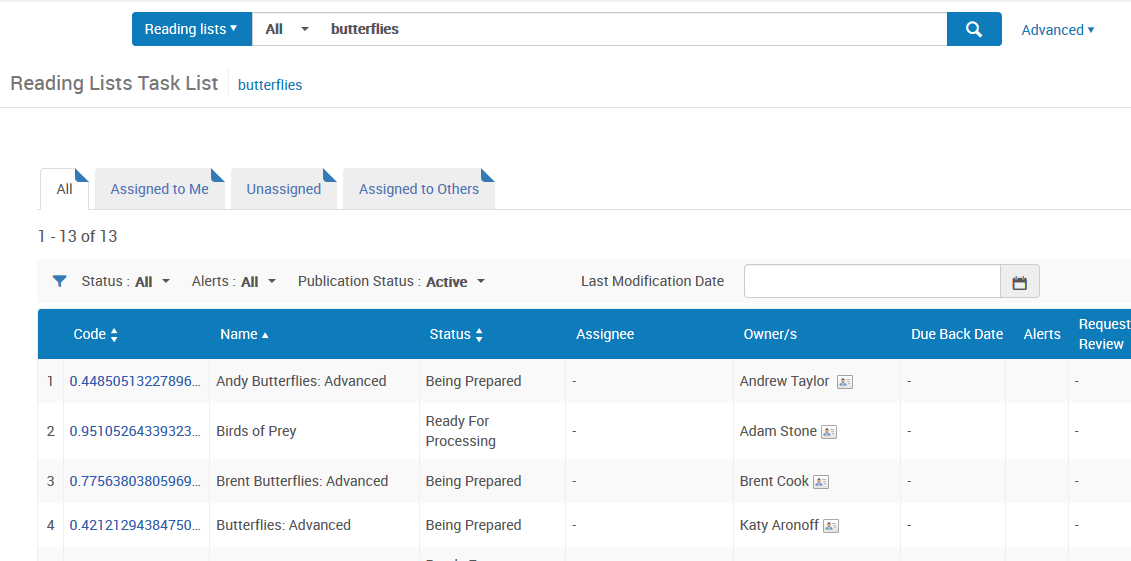 How does course reserve material display to the end user in Primo?
Patrons access Course Reserves material through Primo. Many libraries include Course Reserves as a separate scope in the discovery layer:
New Primo UI:

Classic Primo UI:

Primo VE:
Links to electronic materials and information about print materials are visible in the same way as regular, non-course reserve materials.
A record can either be suppressed from the discovery interface completely or published in a manner that makes it discoverable only in the context of a courses related search. This type of cataloging may be preferable if the resource is expected to be re-used for subsequent courses but is not a real part of the library inventory.
Alma publishes course dates, instructor name, course name and course number. These records include a Note field that can be used, for example, for recording information from the instructor about when the article/chapter etc. should be read. This note may be exposed in the Discovery Interface.
Can Course Reserves searches be restricted in Primo?
The course_restricted_field field (Configuration Menu > Resources > General > Other Settings) in the bibliographic MARC record indicates whether a bibliographic record is restricted for use by a course. Note that it is possible in Alma to use defined subfield separators, such as dollar dollar $$ or double dagger ‡. The type that is defined as the subfield separator must also be stipulated in this field. Also see Adding Citations to a Reading List.
This parameter key is relevant only for Primo. It does not work with Primo VE.
Can Alma integrate Course Reserves with a Virtual Learning Environment (VLE)
Alma enables allows for integrating the Alma-supplied reading list citations and their statuses into a Course Management System (CMS), and provides a link that can be used from within the CMS to view the services that the library can supply for a given citation.
To achieve this integration Alma provides a set of Web services for retrieving course information from Alma:
searchCourseInformation – Search for Course Information

createCourse – Create a Course

updateCourse – Update a Course

deleteCourse – Delete a Course

createReadingList – Create a Reading List

updateReadingList – Update a Reading List

deleteReadingList – Delete a Reading List

createCitation – Create a Citation

updateCitation – Update a Citation

deleteCitation – Delete a Citation

When adding a resource to a course reading list, the operator may use the system to consult its license terms. If the resource's license terms indicate a limited allowed usage, the operator may add the resource to the reading list as a 'course restricted' title. The result of attaching such as attribute will be that the resource will be discoverable in Primo only when searching in the context of courses. This type of search may be set up to be limited only to a permitted group of users.
Any metadata that is harvested into Primo can be used to create local search scopes and facets - to display and filter for particular teaching courses and lecturers.
Examples:
Total views:
18616