Intota Assessment: Adding eResources Usage Data
Last updated
Product:

Intota Assessment
---
What is the overall Intota Assessment process for uploading and consolidating usage statistics from COUNTER-compliant vendors?
The process of consolidating usage statistics from COUNTER-compliant vendors involves three steps:

Retrieve Reports from Information Providers:
Project-COUNTER-compliant usage-statistics reports can be retrieved and uploaded to your
COUNTER Configuration
in the Client Center by Intota Assessment's
Data Retrieval Service (DRS)
-- either via
SUSHI-Protocol Harvesting
or
Administration-Based Harvesting
-- if you provide us with sufficient credentials to log into the providers' systems.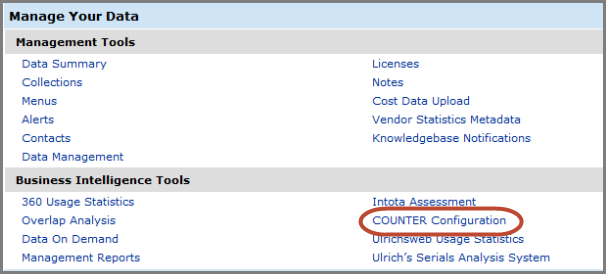 Non-COUNTER-compliant reports can be
retrieved and uploaded by you
. See also the list of COUNTER-compliant reports supported by Intota Assessment in this
overview
article.
Validate Usage Data:
When a usage report has been
uploaded into your COUNTER Configuration in the Client Center
, it passes through several cycles where the data and format of the report is checked, synthesized and directed to our business partner, PivotLink. This process takes somewhere between 12 and 24 hours. The cycle is usually completed at 3 a.m. and 3 p.m. PDT.
---
Date Created:

31-May-2014

Last Edited Date:

31-May-2014

Old Article Number:

10817