How to tell if a record from a pipe has been indexed or hotswapped on a multi-tenant Primo environment
Last updated
Product: Primo
Product Version: May 2016 Release
Relevant for Installation Type: Multi-Tenant-Direct, Direct
---
Description
New records and several types of record updates must complete 3 tasks before being searchable in the Primo FE.
Pipe must complete successfully
Indexing process must successfully process records from the pipe
Hotswapping process must complete successfully for records that have completed Indexing.
On environments where Ongoing Indexing is running, how do you tell if the records from your pipe have completed Indexing or Hotswapping?
Resolution
For environments using Ongoing Indexing, a section has been added to the bottom of the Pipe's Job Details page called "Indexing Data".
This section contain the following information:
Number of records successfully processed by the pipe
Number of records in the Indexing queue, waiting to be indexed
Number of records indexed since the last Hotswapping
Number of records that have been Hotswapped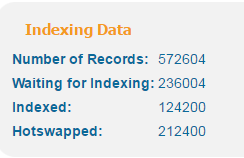 The example shows:
Pipe completed 572,604 records.
Of that total, 212,400 records have already completed Indexing and Hotswapping.
An additional 124,200 records have also completed Indexing but have not yet Hotswapped.
And, 263,004 records are in the queue, waiting to be indexed.
263,004 + (124,200 + 212,400) = 572,604
As the example above illustrates, if Primo is in middle of indexing records from a pipe, and it is time for Hotswapping process to start, Primo will Hotswap what has completed Indexing and will continue indexing the rest of the records after the Hotswapping process completes.
These remaining records will be processed by the next run of the Hotswapping process.
When all records from a pipe have completed Indexing and Hotswapping processes, Indexing Data will appear as follows:
The time to complete Indexing/Hotswapping will vary due to the number of records, the server, the environment, etc.
---
Article last edited: 13-June-2019