Configuration
Last updated
Introduction
Resource sharing using Rapido is based on several elements, including a Primo VE CDI enabled discovery and an active RAPID ILL account. This page focuses on the back-office elements that have to do with the resource sharing and fulfillment aspects of the workflow.
Library processing of Rapido requests, on both the borrower side and lender side, is based on standard resource sharing workflows and requires the resource sharing and fulfillment configurations that make the library processes possible. Working with Rapido enables you to maintain the local resource sharing configurations such as partner records and locate profiles that support managing a resource sharing process with a non-Rapido partner. If you expect to manage resource sharing transactions with non-Rapido partners then the resource sharing configurations that are detailed in the Configuring Resource Sharing document are relevant. The following are exceptions:
Sending Borrower Request rules (replaced by Rapido Mediation Rules)
Additional Requested Media (Rapido uses different request forms)
Configuring Primo Request Form Type by Genre (Rapido uses different request forms)
The following sections focus on specific configuration requirements for Rapido. More information may be found in the relevant sections of the Ex Libris Customer Knowledge Center.
Rapido Members and Resource Sharing Libraries
Use the Settings > Resource Sharing > Configuration > Members to configure Rapido members.
Adding a Resource Sharing Library
Rapido requires a minimum of one member to support borrower or lender requests. Multiple members are supported.
Resource Sharing Members
When adding From New Resource Sharing Library, ensure Is resource sharing library is selected. For more information on creating libraries, see Adding Libraries and Configuring Resource Sharing Libraries.

Organization details
Editing an Existing Resource Sharing Library
More than one member is used when there are multiple campuses that manage their resource sharing operations separately from one another or libraries that run their resource sharing operations independently.

Resource Sharing Members
Like any library, the resource sharing library must also have a valid calendar. Note that:
The ISO Symbol is only required if the resource sharing library is also used for resource sharing transactions with non-Rapido partners. It is not required if the resource sharing library only communicates (as borrower or lender) with Rapido partners.
The locate process related parameters are not required if the library only communicates (as borrower or lender) with Rapido partners:

Borrowing setup

Cancel request on locate failure
Automatic activate locate profile

Lending setup

Automatic location of resources
Ignore electronic resources
Automatic creation
Locate by fields
Contact details
Borrowing Policies
Use the Borrowing Policies to set the pod priorities. Use
to drag and drop according to the order of priorities for borrowing requests.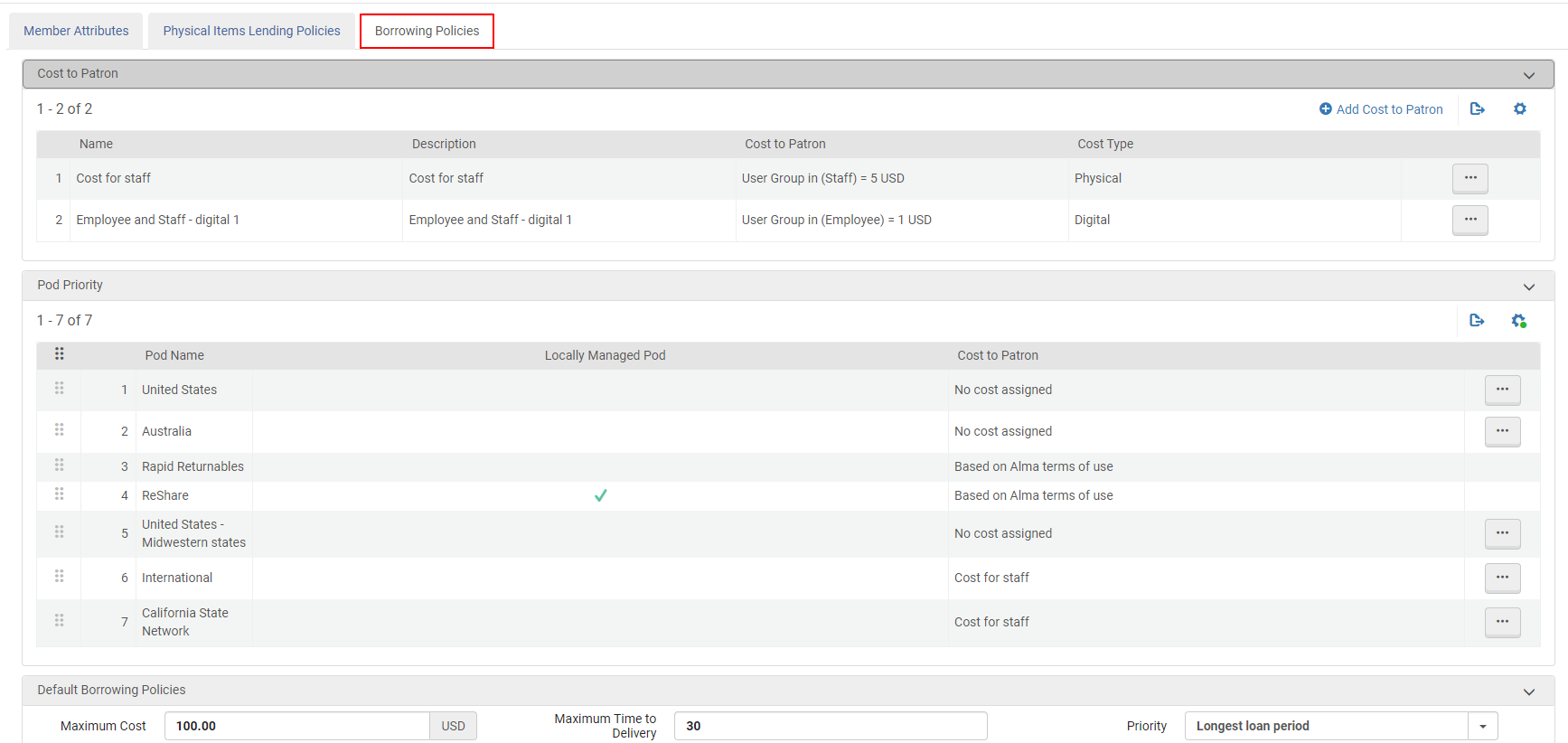 Borrowing Policies
Add exceptions to override the default borrowing policies.
Borrowing Exceptions
Configuring Borrowing Request Inactive Filters
To configure the borrowing request inactive filters, you must have one of the following roles:
General System Administrator
Fulfillment Administrator
In order to filter statuses out of the Active Borrowing Requests Rapido Sets, access the Borrowing Requests Inactive Filters code table (
Configuration Menu > Fulfillment > Resource Sharing > Borrowing Requests Inactive Filters
). For more information about code tables, see
Code Tables
.
If you customize the code table, you must contact support to re-index the borrowing requests in order to apply your changes.
Borrowing Request Inactive Filters
Enabling a row means that the status is removed from the Active borrowing request display in the task list.
Fulfillment Unit and Terms of Use
Resource sharing libraries must have a library Fulfillment Unit.
Fulfillment libraries
Resource Sharing Allowed must be enabled in the Fulfillment Unit Rules.
Fulfillment Rules
The rules determine:
Resource sharing eligibility
Request limits
Allow pickup locations
Fees
Personal delivery
Sample Terms of Use (TOU) that allows unlimited resource sharing
Participating Items
To manage resource sharing lending requests, you must have a Repository Manager role.
Use the Settings > Resource Sharing > Members > Physical Items Lending Policies to edit the lending policies.

Resource Sharing Members
Add Participating Items to specify the terms for each type of item.
Participating Items settings
The Participating Items are sets of Physical Items used for fulfilling resource sharing requests. Participating Items must be defined for every member.
Physical items are only available for lending when Supplies physical items is checked.
Participating Items sets must be linked to the pods that are assigned to a member.
Lending Policies
Add Physical Lending Policy
Use the add physical lending policies to make an item available to a borrower who is not part of a pod. This enables other Rapido users not in a pod to receive offers based on your set criteria.
Add Physical Lending Policies
After entering the lending policy terms, requests for physical items that meet your terms will be able for lending.
Add Participating Items
Offer Message
Use the No Rapido Offer Message to alert users which offer is restricted from borrowing. Configure the offer message from Settings > Resource Sharing > Configuration > No Rapido Offer Message.
Enter the text to alert users that an item is not available for borrowing.
Rapido Offers Configuration
Copyright Rules
The copyright rules must be activated to activate copyright management on the borrower side of the request.
The rs_borrower_copyright_management parameter (Fulfillment > General > Other Settings) must be set to true.
The Rule of Five is an out-of-the box rule and is disabled by default. When enabled, the rule causes the sixth digitally requested request that is placed within the same calendar year for the same material (that has been published within the last five years) to automatically be marked as copyright approved. The request is still sent, but the copyright status is reportable in Analytics.
Configure the copyright rules from Settings > Resource Sharing > Rapido Rules > Borrowing Copyright Rules.
Borrowing Copyright Rules
When adding a rule, the following parameters are available by default:
Number of Requests in Calendar Year
Request Type
Total Copyright Work Percentage
Years Since Publication Date
Copyright Parameters
Select to enable Copyright Clearance to automatically approve or reject the copyright clearance request.

Copyright Clearance
Copyright Declaration
Use the Settings > Resource Sharing > Request Forms > Resource Sharing Copyright Declaration to create the copyright declaration that is attached to the Primo request form. No declaration is mandatory on the request form if the relevant text is not configured using this link.
Staff Accounts
Staff users that access resource sharing task lists must have the following roles:
Fulfillment Administrator (institution scope). This role is required in order to access the

Fulfillment

and the

Resource Sharing

configuration menu.
Fulfillment Services Manager/Operator (scope of the resource sharing library) This role is required in order to access the borrower and lender task lists.
The role must be in the scope of the resource sharing library that the user requires access to. An institution-level scope does not affect this access.
Only a Repository Manager role can delete a set of participating items.
Patron Accounts
To place requests, patrons must be assigned a patron role and have an assigned Resource sharing library or a default patron resource sharing library. If this is not defined in the patron's user information, Alma uses the "ill_item_creation_lib_code" customer parameter to chose the Resource sharing library.

Patron Settings
General Settings
Set the Fulfillment > General > Other Settings menu as follows:
The ill_item_creation_lib_code parameter can be used to assign a default library. If this is configured, then the user record does not have to be updated with a resource sharing library.
rs_disable_lending_auto_assign – true. This prevents lending requests from being automatically assigned to the staff member that updates them
rs_keep_rejected_request_active – 'None', 'Borrowing', 'Lending', 'Both'. This determines your policy with regard to requests that have been rejected by the lender. You can use this parameter to determine whether the borrowing or lending requests should remain active when rejected, should continue being processed as an active request, for example in order to process with a broker system.
rs_auto_request_lending. Set this parameter to 'true' if lending requests should be picked from the shelf by branch libraries' fulfillment staff and not by the resource sharing staff. If set to 'true', every new lending request that is for a physically held resource automatically triggers a 'pick from shelf' request at the branch library.
rs_default_digitization_department. This is the digitization department that is assigned automatically created digitization requests if the rs_auto_request_lending parameter is on.
rs_auto_request_lending_with_serials/rs_auto_request_lending_with_volume_issue – These two parameters are relevant only if pick from shelf tasks need to be assigned to branch libraries (i.e. rs_auto_request_lending is 'true). The parameters determine whether automatic pick from shelf requests are created for the branch library when the request or resource is a serial. The values of these parameters must either be both 'true' or both 'false'. The recommended setup of these depends on how your physical serial inventory is cataloged.

Select 'true' if you do not ship the physical issues but rather digitize them and send a digital copy. Another scenario in which you should use the value 'true' is if you catalog a single item that represents all of your serial inventory, i.e. you do not catalog every serial issue. Alma creates a title-level request on the requested title. Before shipping the physical item, catalog it and give it a barcode. Upon completion, the item can be shipped.
Select false if you physically ship the physical issues and have every issue cataloged in your system. Alma does not create a pick from shelf request automatically in this case. The lending request requires staff mediation for requesting the exact issue that is requested.

check_patron_duplicate_borrowing_requests – true. This prevents patrons from requesting a resource that they already have an active request for.
rs_rapido_auto_request_lending_multi_branches – true. This controls if an automatic request should be created in Rapdio if a physical resource exists in several libraries.
Self Owned Resources
To prevent Rapido offers for self-owned resources, add the below Display Logic Rules:
The Hide service Resource Sharing Request with Ownership by the institution = true rule hides the Rapido offer when there is physical inventory
The Hide service Resource Sharing Request if exists service Full Text rule hides the Rapido offer when there is electronic inventory
Self Owned Resource Settings
Setting check_self_ownership_serial to false enables request placement when the local resource is a serial. Mediation rules are used to ensure the exact issue that the patron is requesting is indeed not locally held.
Mediation Rules
Any borrowing request created in Rapido is automatically sent to a matching lender, either based on a Rapido offer or based on locally managed rota templates. Use the Settings > Resource Sharing > Rapido Rules > Borrowing Mediation Rules to establish rules for when requests should not automatically be filled and require staff mediation to advance the request to the next step.
Mediation rules are created with an 'exit criteria', which is the condition that allows the request to be sent after meeting the rules criteria. For example, consider the below rule for managing requests that have been placed for resources that are owned by the library:
Any request that meets the criteria of 'Self Ownership=true' is stopped for mediation.
An 'exit criteria', rule requires that there is no 'SELF_OWNED_APPROVED' label.
The result of this rule is that requests are stopped for mediation (i.e. the status is 'ready to be sent') even when there is a known potential lender. In order to allow the request to continue on its lifecycle, the operator removes the 'SELF_OWNED' label (that is automatically assigned by the rule) from the request and adds a 'SELF_OWNED_APPROVED' label instead.
Borrowing Mediation Rule Editor
Use the Settings > Resource Sharing > Borrowing Mediation Rules to add labels to control your mediation rules.
Labels are automatically created based on mediation rules. Each rule's Output Parameter determines when manual intervention is required for handling a request.
Borrowing Mediation Setup
Available Mediation Rules
Below are the various mediation rules available:
Converted from hold request
Labels
Missing article metadata fields
Missing books metadata fields
Needed by date
Partner
Price
Rapido request
Request with note
Request completed
Requested format
Selected Pod
Self ownership
Statistical category of requester
User group
Years since publications date
Non-Signed in Users
Use fulfillment terms of use to prevent user types from receiving Rapido offers. For example, create the below Terms of Use rule on the Fulfillment Unit of the Resource Sharing Library.
Fulfillment Unit Rules
Fulfillment Unit Rules Editor
This rule enables every user to receive an offer when not logged in. When clicking the offer, the login screen displays. The login action reloads the full view page with the Rapido offer. If the rule prevents the user from receiving this request, no offer is presented.
Discovery
Scopes
We recommend configuring Rapido scopes (Discovery > Display Configuration > Configure Views).
The first scope is the initial search including your local catalog + CDI full text activations with filter by availability (My library catalog).
The second scope is that CentralIndex not filtered by availability which includes the Rapido index for Rapido customers (Beyond my library).
Rapido holdings are included in the first CentralIndex scope defined as not filtered by availability.
EasyAcvtive and FullyFlexible
EasyActive – all collections are automatically searchable in discovery and do not require a proactive search activation by the library staff.
FullyFlexible – beyond the activation of your own library holdings, the institution controls which collections are searchable in your discovery.
Either option can be used with Rapido.
EasyActive exposes more content beyond your library collections than FullyFlexible. This enables patrons to create resource sharing requests directly from their search results rather than needing to use the blank form for their request. This avoids unnecessary errors in their requests and provides patrons with clear visibility for the request such as delivery time for Rapido offers.
Displaying Rapido Offers in Primo
You can configure the location of the Rapido offer on the Primo full view record, for example, to set it to be right below the How to Get It section.
Rapido Offers
Set this in the Full Record Services section of Discovery > View Configuration, by changing the location of the 'rapidoOffer' row from its out-of-the-box location at the end of the section.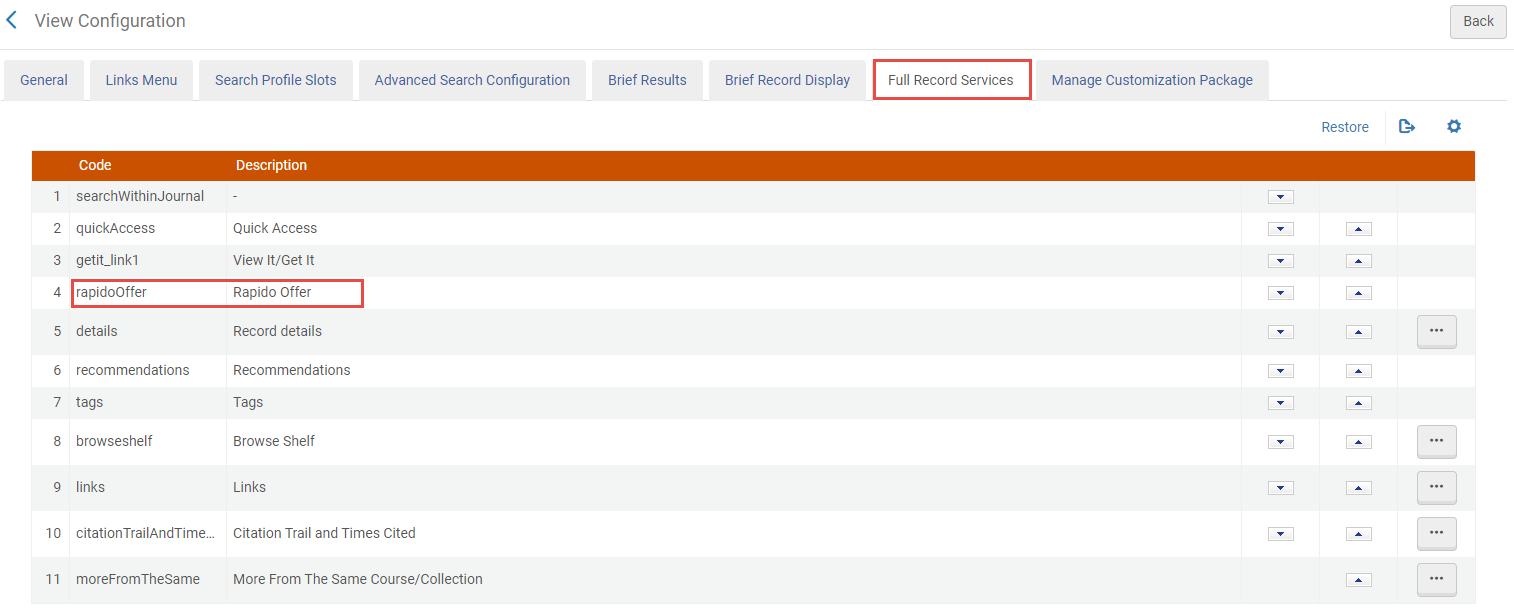 Records
Rapido Holdings Index Records
The Rapido Holding Index contains the index of all Rapido library holdings. The record displayed is a single anonymized record. The index does not include records suppressed by the institution and external data sources. Additionally, only records that are included in the inclusion criteria below are included in the index.
Coming Soon: Exclude records from the Rapido holdings index by using the Suppress from External Search option (see https://youtu.be/ZQSlvkTJaIY)
Inclusion Criteria
Use at least one of the following criteria:
External system number (035)
LCCN + brief title + year
LCCN + fuzzy title + year
LCCN + full title + pagination
OCLC + brief title + year
OCLC + fuzzy title + year
OCLC + full title + pagination
ISBN + brief title + date
ISBN + fuzzy title + date
ISBN + full title + pagination
IncorrectISBN + full title + date
IncorrectISBN + full title + pagination
Full title + main entry + date + pagination
Full title + main entry + date + fuzzy pagination
Full title + date + publisher + pagination + [main entry]
Full title + date + publisher + fuzzy pagination + [main entry]
Full title + date + pagination + [main entry]
Full title + date + fuzzy pagination + [main entry]
Full title + date + publisher + [main entry]
LCCN + brief title
OCLC + brief title
ISSN + brief title
Full title (not in common serials list) + place of publication + country of publication + Main entry conditional
Full title (not in common serials list) + date + place of publication + main heading (conditional) + ISSN conditional
Full title (not in common serials list)+ date + main entry
Full title (can be in list of common titles) + date + main entry + place of publication
Fuzzy title (not in list of common titles) + date + main entry + place of publication
Records in the Rapido Holding Index
Below is an example from a full record in the Rapido holdings index (including a Rapido offer). The source of the record is Global Title Index, the owning library is not included, and the information is not available for the patrons.
Rapido Holding Index Record
Self Ownership Check
The check_self_ownership_serial parameter (Fulfillment > General > Other Settings) determines whether requesting are allowed for articles without checking local ownership.
Set this to 'false' so that article requesting is always allowed without checking the local physical inventory first.
Alma cannot determine whether the exact coverage of the requested article is in your physical holdings. Therefore, setting this parameter to 'false' allows the patron to request the article. We recommend mediating these requests in order to first verify local availability using the Self Ownership parameter of the mediation rules.
The Document Delivery Page
Document Delivery requires configuration for integration with RapidILL. See RapidILL Based Resource Sharing Workflow.
The document download page that Alma displays when a patron clicks an email link using your institution's CNAME (e.g. instituitonA.alma.exlibrisgroup.com) and not the classic link (e.g. https://ap01-.alma.exlibrisgroup.com...TITUTIONA_INST) link. This requires intervention from your IT department if you have not authorized the CNAME URL before.
The document download page uses the logo that is defined in your General > Alma Logo and Color Scheme menu as the login page logo.

Document Delivery Status
Note to Patron
Use the Settings > Resource Sharing > Request Forms > Note to Patron to include notes to patrons when placing their requests in the request forms.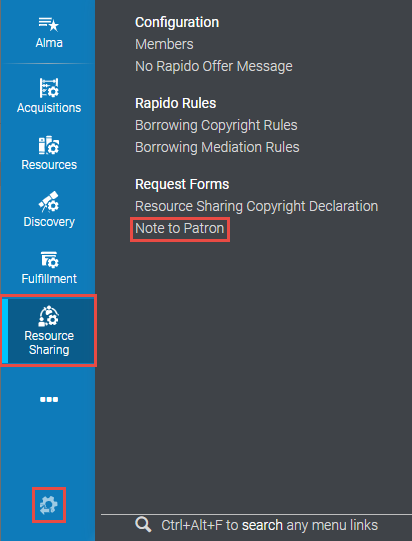 Note to Patron Configuration
Edit the Configuration Files for notes for physical requests and notes for digital requests.

Configured Notes
Add your note text.
Note Configuration
Your note displays at the top of the request form.
Request Form
Rapid Setup
To enable Rapido document delivery setup, you need to define Rapid as a partner and load your holdings by using the Alma Holdings Harvest for RapidILL.
Configure RapidILL as a Resource Sharing Partner
Configure RapidILL as a resource sharing partner from the Resource Sharing Partner page (Fulfillment > Resource Sharing > Partners > Add a Partner).
For the Profile Type and System Type, select RapidILL. Enter the form details as described at Resource Sharing Partners.
Resource Sharing Partners
On the Parameters tab, for the Default Library Owner, select the library to be used when creating lending requests. Lending requests received from RapidILL are created in the Resource Sharing Library that you select. Enter the form details on the Parameters tab as described at RapidILL Parameters.
Parameters Tab
Additional Parameters
Configure the following parameters located at Configuration > Fulfillment > General > Other Settings as follows:
Additional Configuration
Parameter
Default Value
Description
rs_keep_rejected_request_active
Borrowing
Keep rejected resource sharing requests active as a borrowing request to keep it open if it is rejected by RapidILL
borrower_document_delivery_maximum_views
2
The maximum number of times patrons are able to access the link for RapidILL document delivery.
borrower_document_delivery_send_automatically
true
Whether the email to the patron is sent automatically when a document is received on the borrower side.
document_delivery_cleanup_days
Default: 30

Maximum: 90

The number of days after which the digital file is deleted.