Summon: Suggested Librarian Feature
Last updated
---
What is the Summon Suggested Librarian feature, and how do we set it up for our patrons?
---
The Suggested Librarian feature connects a patron to a subject specialist at their library. The feature displays within the
Topic Explorer
on the right side of the Summon results page: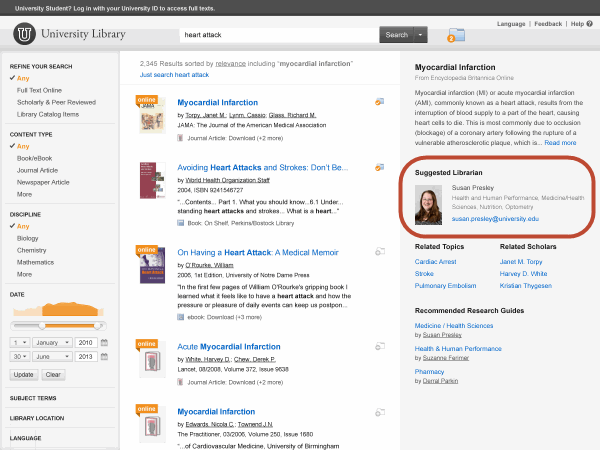 Note:
Screenshot does not yet reflect August 2016 Results Page enhancements.
---
How the Suggested Librarian Feature Works
A library's LibGuides are the sources for suggested librarians in Summon. When the user's query generates a search topic for display in the Topic Explorer, a search algorithm analyzes the library's LibGuides indexed in Summon to see if there is a
relevant guide
to include in the Topic Explorer, and if so, is there a librarian associated with the research guide.
Librarian information needs to be on the top page of the LibGuide in order for Summon to notice it. If librarian contact information and photo are on a page in the guide, but the page is not the top/home page of the guide, Summon will not be able to find the librarian information.
If a relevant guide is maintained by more than one librarian, the librarian listed first will be displayed in Summon as the subject specialist/suggested librarian. If two or three LibGuides display in the Topic Explorer (three is the maximum), the Suggested Librarian search algorithm will display the librarian associated with the first displayed LibGuide.
The following librarian information listed in a LibGuide will display in the Suggested Librarian feature:
---
---
Date Created:

9-Feb-2014

Last Edited Date:

2-Feb-2017

Old Article Number:

8851