Ulrichsweb: Ulrich's Knowledgebase Updating
Last updated
---
How often is Ulrichsweb updated?
The Ulrich's Content Operations team processes incoming data on a daily basis throughout the year. Ulrichsweb users have access to the most current data on a weekly basis.
Ulrich's Content Operations Team
Our team of multilingual specialists works daily to maintain the Ulrich's knowledgebase. Ulrich's maintains an active outreach program not only to collect serials bibliographic information, but also to educate publishers and providers in the importance of working with us to keep their title information as up to date as possible.
Additions and Corrections to Ulrichsweb Content
If you know of a serial publication that is not already tracked by Ulrich's, you can bring that title to the attention of the Ulrich's Content Operations team by sending an email to
ulrichs@proquest.com
.
Submit a correction for a title through the
Corrections
link in
Title Details
: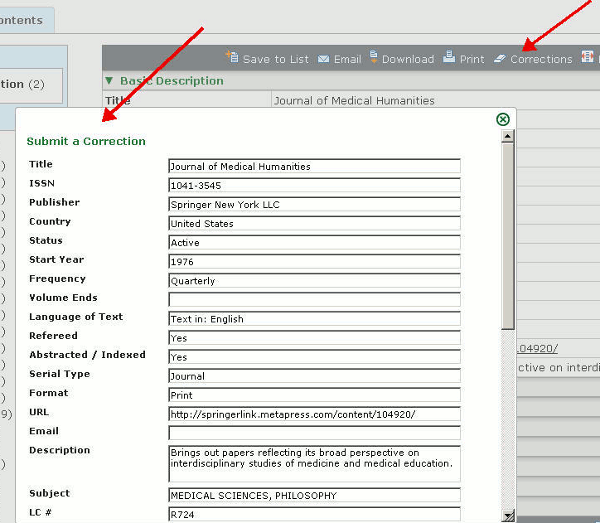 ---
Date Created:

9-Feb-2014

Last Edited Date:

21-Feb-2014

Old Article Number:

8935