campusM Implementation Methodology
Last updated
Introduction
The campusM activation Process is designed to provide a fast yet controlled launch for your campusM app, enabling you to deliver valuable user experiences within weeks of kicking the process off.
From this accelerated starting point, through a series of workshops and training sessions, our experienced Professional Services team will ensure you have the skills and knowledge required to continue delivering engaging and meaningful services to your end-users throughout the product lifecycle.
This process was developed following years of experience in helping customers go live and the apps onto millions of users' devices.
Ex Libris Implementation Strategy
Ex Libris teams strive for 100% customer satisfaction. We assign a Project Manager to guide the customer from the beginning of the implementation to its completion and collaborate with the institution to create a mutually agreed upon plan for the implementation scope, roles, and timeline during the initial phase of implementation (within the timeline defined in the contract). This role also covers the technical implementation and knowledge and discussions in order to facilitate the implementation's success.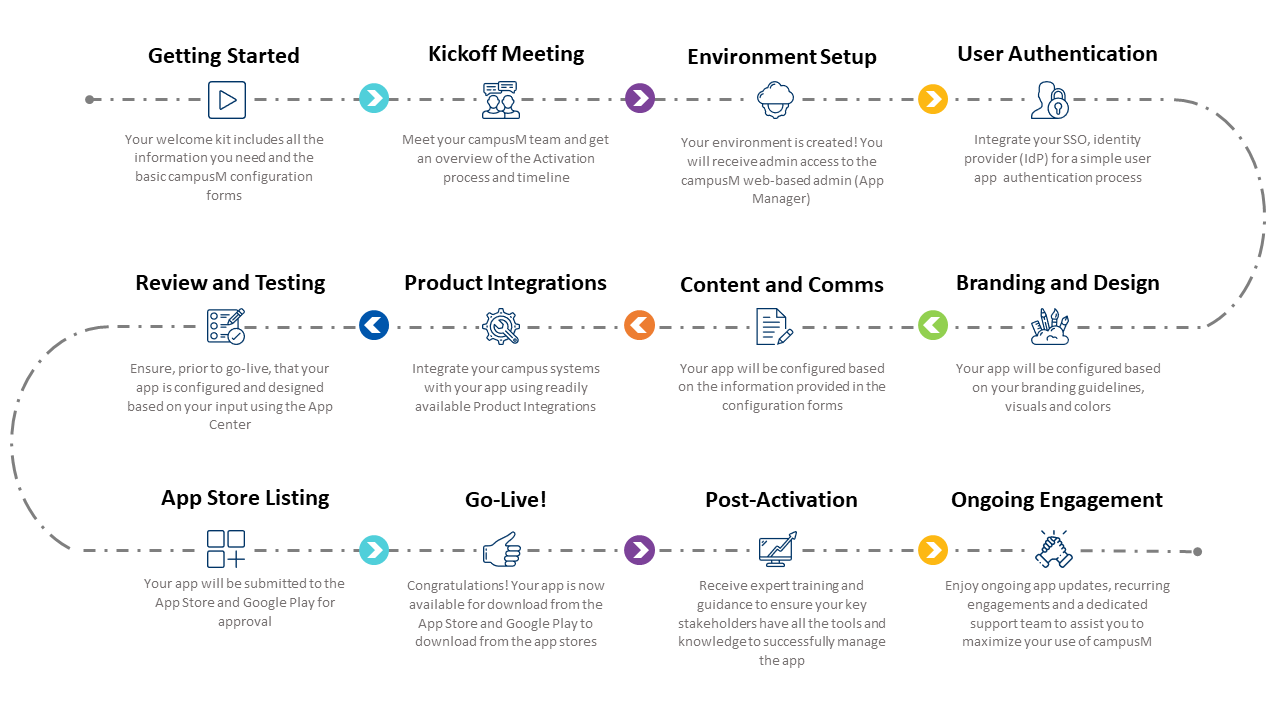 Activation Lifecycle
The Activation process is divided into two distinct phases (Activation and Post-Activation), followed by a third ongoing phase of engagement and product value realization.
campusM Activation Methodology
The Activation methodology is a framework of phases, tasks, and milestone dates based on best practices and experience. The methodology is founded on reliability, value, and the clear management of expectations, which are all critical to the success of activating campusM.
Preparing for the Activation
Estimated duration: 2 weeks
Upon signing a contract with Ex Libris, you will receive a clear welcome email that includes the product welcome kit. This kit contains a series of guides, high-level overview documents, and targeted information about the required configuration forms.
In this phase, the Ex Libris project manager and your assigned project manager will align on the Activation goals and preparations, including authentication, app visuals, profiles, and more. At this time, you should provide all required input for the setup of the app.
The outcome of this phase is to prepare for the Activation Kick-off meeting.
campusM Delivery Lifecycle
Throughout the Activation phases, regular communication channels are established including an online primary communication platform via Basecamp and regular status meetings on a weekly basis to help ensure a shared understanding of your progress to date and the tasks yet to be performed.
Status calls are usually conducted between the Ex Libris TPM and your assigned project manager. Other team members may participate in such calls as required.
The below will describe each phase in more detail:
Phase 1: Activation
Estimated Duration: 2-4 weeks
An accelerated implementation stage gets your app in the stores and to your users within a few weeks. We focus on authentication, branding, key service integrations, and app submission.
The phase will be considered complete once the environment has been initially launched and made available for download from the App Store and Google Play.
Phase 2: Post-Activation
Estimated duration: 3 months
The purpose of the Post-Activation phase is to help identify your app stakeholders, provide expert training and guidance to ensure your key stakeholders (both implementation team and non-implementation team) have all the tools, knowledge, and setup to successfully manage the app ongoing, and deploy a range of both Product Integrations and other features that continue to add value to users' daily experiences.
This phase culminates in a smooth transition to Support and ongoing Engagement and Success.
Phase 3: Ongoing Activity – Life in Production
Your relationship with Ex Libris does not end when the Activation phases are completed, and the app becomes fully operational. Rather, Ex Libris is committed to ensuring that your needs continue to be met.
Ex Libris' dedicated Support Team is available to assist you with any product-related issues that you may not be able to resolve on your own.
Additionally, a program of periodic engagement, education, and empowerment activities ensues for fostering an excellent ongoing relationship; enabling you to maximize the product's value while ensuring you receive the appropriate platform for your overall part of the larger campusM customer community.
Customer Education
Training is provided throughout the entire Activation lifecycle and beyond as an integrative part of your app's lifecycle. Ex Libris provides training to your core implementation team and other relevant stakeholders who may be set to maintain the app after completing the Activation phases.
Additionally, many support and training resources are readily available via the Ex Libris Knowledge Center. A significant part of the training can be done at your own pace.
The campusM training during Activation has two parts:
App Manager Training – an onsite or online training program introducing the web-based configuration interface that manages the end-user experience. This includes:

App Builder and Branding
Managing Content (Creative Studio)
Location-based Services
Communications and Notifications
Product Integrations Configuration
Authentication, Profiles, and Roles
Analytics

Advanced: Application Extension Kit Training – an online training program that introduces the developer tools used to extend and create custom-made screens and interfaces within the app, beyond the product supported standard functionality. This training is suitable for admin users with web development resources (prerequisites will be highlighted before scheduling this type of training session to ensure the right people are included).
Implementation Duration
The diagram below outlines the approximate timings for an Activation's life cycle phases and are for standard apps, but can be impacted by not providing Activation readiness inputs in a timely manner:
General Implementation Activities
Listed below are typical implementation activities to help you plan and prepare for your campusM implementation.
Phase

Milestone / Task

Customer

Ex Libris

Welcome Kit

Welcome email
X
Welcome call
X
X
Identify key stakeholders and customer groups
X
Complete forms
X
Review forms
X
Transition from Sales to dedicated implementation team
X

Activation

Project kick-off
X
X
Environment configuration
X
Identify and engage key technical resources
X
X
Implement authentication and access control protocols
X
Create and deploy app designs and branding
X
Create and deploy static content for the app
X
Configure and deploy integrations with university systems
X
Build native and web apps
X
Review app
X
App submission
X
Local marketing of app to students
X
App initial launch
X
X

Post-Activation

Training
X
X
Workshops
X
X
Create and deploy additional static content for app
X
Configure and deploy additional integrations with university systems
X
X
Summary
X
X

Life in Production

Ongoing support and maintenance
X
X
Access to Central Knowledge Center for product information
X
Annual health check
X
X
Iterative app enhancements
X
Sharing best practice through a supportive community
X
X
New releases and product roadmap insight
X
Ex Libris and Customer Implementation Teams and Responsibilities
This section describes the recommended composition of both the Ex Libris team and your implementation team and their respective responsibilities.
Ex Libris Roles & Responsibilities
The Ex Libris TPM is your key contact person throughout the Activation process and responsibilities will include:
Act as overall primary point of contact
Support initial readiness and inputs required for initial Activation
The Post-Activation phase will assign a campusM knowledgeable expert to assist with ensuring training and value realization to an already activated app, and responsibilities will include:
Provide essential training on campusM functionality
Guide and help enrich the app and boost usage
Support App configuration and setup
Communication
Ex Libris will communicate on a regular basis with your assigned lead contact(s) and the subsequent technical staff as the Activation progresses, using the following tools:
Basecamp: Keep track of all deliverables and milestones, possible issues, queries, data, and files sharing
Weekly Calls: Between project managers and including other technical teams, as needed
Salesforce: Support portal (this will primarily be used after the Post-Activation phase)
Customer Product Team Roles & Responsibilities
Your core team will typically initially consist of several stakeholders / functions, responsible for the overall success of the app, and possibly different stakeholders who will own the app on an ongoing basis, including:
Project Owner / PM: Main liaison for the implementation. Manages progress, internal comms, and planning app deployment, roadmap, possibly from IT or Student affairs, for instance.
Product Owner: The key business facilitator who owns and ensures value realization through usage & student engagement. This owner may be the same / part of one of the other functions described.
App Administrator: Responsible for technical app configuration, admin, testing, and maintenance
Content & Marketing: Involved in app communication incl. content management and marketing. This may involve the office of Student affairs for instance.
System Experts: Technical subject matter expert(s) to support system integrations.
Configuration Forms
Our targeted configuration forms are geared to get the app and web portal up-and-running quickly, based on soliciting your inputs.
Branding: giving the app a unique and distinctive look-and-feel
Content Pages: delivering relevant and useful information online and offline
App Store Listing: displaying app name and information in the app stores
Authentication: allowing students / end-users to use their existing campus credentials
Integrations: creating the consolidated experience through one interface
Dev Accounts: ensuring the app is released under your institution's name