360 KB: Hidden Databases
Last updated
---
Why are some Knowledgebase databases hidden, and can we subscribe to them anyway?
ProQuest sometimes needs to "hide" databases in the Knowledgebase. Usually this is because the provider no longer provides the database or has moved titles to a different database; but no matter the reason, we hide the database because we no longer support and update it.
Most clients won't even be able to see a hidden database when searching the Knowledgebase; however, if your library is subscribed to a database before it is hidden, you will still be able to see the database when searching the Knowledgebase but the name of the database will be in italics (as seen in "Taylor & Francis Online Journals" in the Client Center e-Catalog search below). The same italics behavior is experienced by Intota users.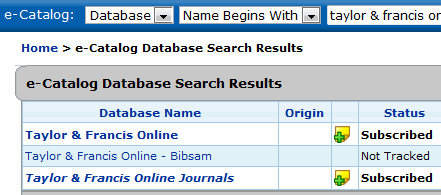 In general, you should only subscribe to databases that are not hidden. Exceptions include some databases that are hidden, even though they are still updated, because the provider has specified that these databases are only to be available by request to clients with a subscription.
If you subscribe to hidden databases (or if you don't unsubscribe to databases after we announce in our Provider and Database Changes article that they will be deactivated) then your patrons will experience unintended behaviors by your ProQuest services, such as broken URLs, incorrect coverage dates, and so forth.
NOTE: If your library uses Intota or you use the Client Center and subscribe to 360 Resource Manager and 360 Counter, and if you have information in those services connected to soon-to-be-hidden databases, you will be able to continue to access that information after the databases are hidden, as long as you stay subscribed to the databases. However, you may wish to migrate or extract the information, so that -- for the above-mentioned reasons -- you can unsubscribe from the databases later. For migration information:
---
Date Created: 9-Feb-2014
Last Edited Date: 27-Jan-2015
Old Article Number: 8411