360 Resource Manager: SFX Report FAQ
Last updated
Product:

360 Resource Manager
---
What is the SFX report and how does it work?
The SFX report is a feature of 360 Resource Manager that enables SFX customers to take advantage of the power and value of the metadata in the authoritative 360 KB knowledgebase. This feature produces a report that is formatted specifically for the SFX data loader program. By using this report to update their SFX system, librarians can provide higher quality content connections for users and enjoy much greater efficiency and savings of time managing data.
Why was this feature developed?
Many librarians with SFX and SFX-based applications indicated the desire to be able to take advantage of the quality of the metadata maintained in 360 KB, and the quality of resource management available using 360 Resource Manager. Therefore, we determined that it would be in the best interests of librarians and Serials Solutions to make the 360 KB data available for those who are unable to migrate to the 360 Link OpenURL link resolver.
How was this feature developed?
The report was designed with the help of several 360 Resource Manager customers, primarily within the California Digital Library consortia, who are using SFX as their Open URL link resolver.
What other benefits are associated with this feature?
By adopting the 360 KB knowledgebase as their foundation, SFX customers also have the opportunity to take advantage of the power and value of Serials Solutions 360 services for integrated e-resource access and management:
The ability to manage subscriptions using 360 Resource Manager;
The ability to assess journal usage and cost using 360 Counter;
The ability of 360 services to interoperate with other systems; and
The use of XML APIs to customize discovery using OpenURL linking and federated search services.
Why is this report only available using 360 Resource Manager?
360 KB is not available as an application; it is a database, not an interface. The 360 Resource Manager service provides SFX customers an interface to manage both the metadata in 360 KB and their database subscriptions.
What fields are available with the report?
The report is based on "tracked" resources, not just "subscribed" resources. The fields included on the report are:
ISSN / ISBN
ACTIVE (term required by SFX data loader)
Parsed Date String (required by SFX data loader)
Title (Serials Solutions authority title)
Status (based on Resource Manager status)
HoldingsID (potential unique identifier to be stored in SFX if needed)
Title, Status and HoldingsID are not required by the SFX system but our development partners indicated they would like to see this data included for any troubleshooting.
The SFX data loader requires a very specific parsed character set for the start and end dates as well as for any embargo periods. We have worked with our development partners to test the files. SFX data loader can only load a single database at a time. The report we generate will allow for selecting a single or multiple databases for upload. When a customer selects multiple databases, we will create a single, tab-delimited text file for each database and these will all be zipped together in a single file for downloading.
For mixed databases of e-journals and eBooks, we will create a separate file for each type.
Following is a sample snippet of the file:
0000-0019 ACTIVE $obj->parsedDate('>=',1997,undef,undef)
0000-3600 ACTIVE $obj->parsedDate('>=',1999,undef,undef) && $obj->parsedDate('<=',2003,undef,undef)
0001-0782 ACTIVE $obj->parsedDate('>=',1999,undef,undef)
0001-2610 ACTIVE $obj->parsedDate('>=',1993,undef,undef)
0001-2645 ACTIVE $obj->parsedDate('>=',1965,undef,undef) && $obj->parsedDate('<=',1971,undef,undef)
0001-3072 ACTIVE $obj->parsedDate('>=',1965,undef,undef) && $obj->timediff('<=','1y')
Can you draw me a picture?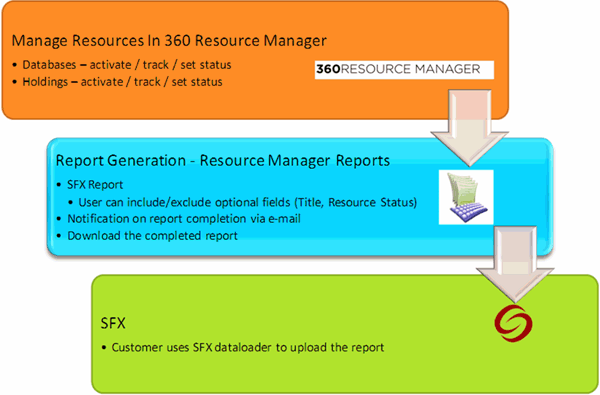 How do I generate the report?
To tell Resource Manager that SFX is your link resolver, go to the
Manage Your Library
>
Library Settings
>
Library URLs
page. Click
Edit
in the upper right, and then in the Link Resolver Product dropdown menu, choose
SFX
.
When you go to the
Business Intelligence Tools
>
Management Reports
page, the SFX report will be one of the reports you can select.
Can't I just create this report using the Data On Demand feature?
It is possible, but it very time-consuming and requires the use of a word processor, a database editor, and a spreadsheet program.
What about the enumeration (volume/issue information) I have input into SFX?
You can choose to protect this information before uploading the data file. Serials Solutions does not track enumeration in 360 KB and, therefore, that information is not included in the report.
How much does it cost to get this report?
This report is included with the cost of a subscription to 360 Resource Manager.
---
Date Created:

9-Feb-2014

Last Edited Date:

9-Mar-2016

Old Article Number:

7392