Item Records
Last updated
General
How does Alma create and store item level data in relation to other data
Alma supports MARC21 holdings. The holding record provides the link between the bibliographic record and the physical inventory (items).
This record structure allows Alma to manage each level of the hierarchy, while maintaining linkages among the other level(s). From the staff user's perspective, this means that a search of the repository may be conducted on any level, and each level may be edited independently. The physical resource relationships comprise:
A bibliographic metadata record (MD) is independent of any holdings or items and may exist in the system without such.
Holdings records must be linked to a bibliographic record (MMS id), however, they do not require any item records.
Item records must be attached to holdings records.
A single MD record may have multiple holdings records linked to it.
A single holdings record may have multiple item records attached to it.
For physical resources, the holdings record contains information about the library, location, holdings type (e.g., single-part, multi-part, serial, etc.) and call number (e.g., LC classification) of the item. The item record contains information about the barcode, material type, fulfillment policy, etc. of the physical item.
What information can be registered in the item record?
The Alma item record consists of a great number of fields including item barcode, temporary and permanent locations, material type, fulfillment (circulation) policy, enumeration and chronology fields for serials, and numerous fields for registering note information – e.g. internal note, fulfillment note etc. In addition, staff will always have an indication of the item's availability. Some of this detailed information can be seen in the following screen capture:
The item record in Alma supports fields for defining temporary locations. When moving items from one location to another staff have the option of inputting an end date for the temporary location. On this date a regular job process will warn staff to return these items to their regular location.
Does Alma prevent duplicate barcodes?
When entering a barcode Alma will warn and block from saving a duplicate barcode:
Can notes be added to the item record?
On the item level Alma allows to add a public note and a fulfilment note. Furthermore several internal notes and statistical notes can be added:
Can multiple items of the same bibliographic record be easily created and duplicated?
When cataloging a multi-volume work, it is very easy to create multiple items on the same bibliographic/holdings record. The staff user merely needs to click "duplicate" from the item list of the holdings record: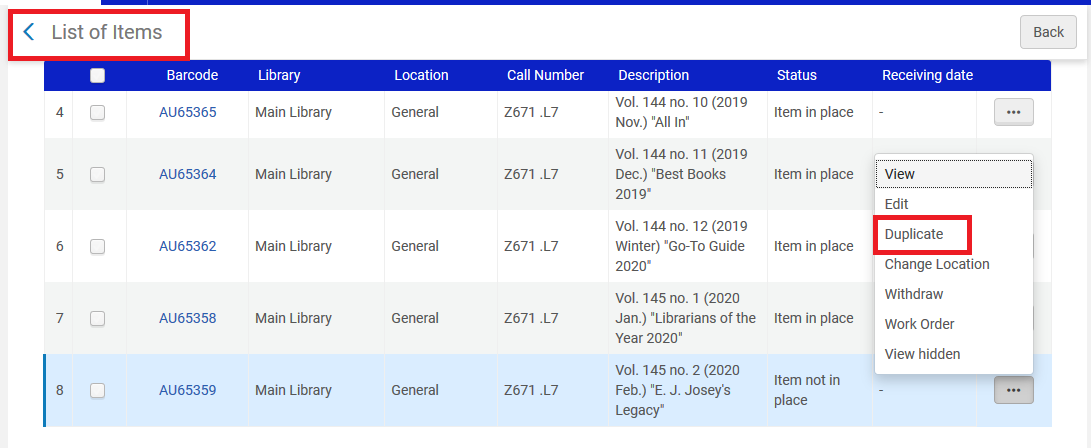 The copy ID and inventory number and barcode are unique and therefore not duplicated . Enumeration levels, description, public and fulfillment notes (as well as other fields) are copied to the duplicated item.
Can provenance information be stored in the item record?
The Alma record supports Provenance codes. codes can be defined by the library in the Provenance Code configuration menu:
These options are displayed when editing physical item records.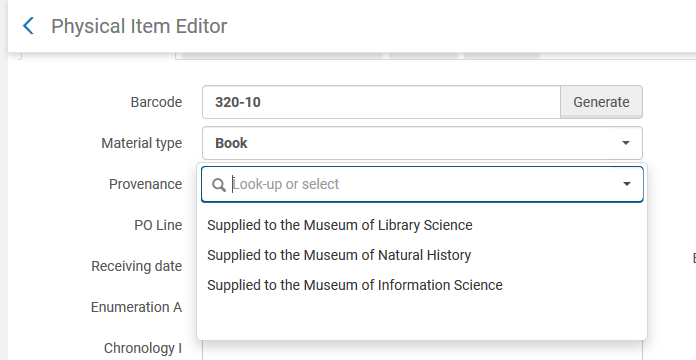 Can items from multiple libraries be linked to one bibliographic record?
Alma supports the concept of a shared catalog with one bibliographic record to which library specific holdings and items are attached. An example of this can be seen in the following screen capture from the Alma staff search function – which shows a listing of physical items in 3 locations:
This can also be seen in the MD (Cataloguing) Editor: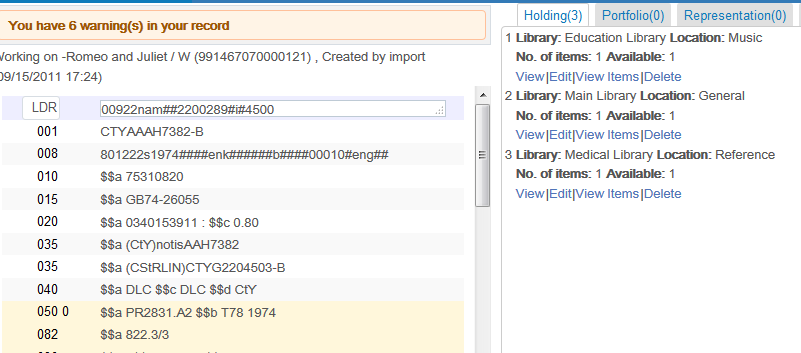 Is there a limit to the number of holding or item records that can be attached to a bibliographic record?
There are no limits to the number of holdings and item records that can be attached to a bib record.
Can multiple items be withdrawn in one action?
From the List of Items screen, you can withdraw multiple items (linked to a holding record) in one action by selecting one or more check boxes and clicking Withdraw Items. Alma will not withdraw items with an active request, an active PO line, and so forth.
Is it possible to prevent staff from one library updating item information from another library?
Staff privileges allow for defining permissions related to creating or updating library specific item information – e.g. a staff user with a role linked only to library A will not be able to create or update items belonging to library B:
Alma supports multiple classification schemas such as Dewey, LC classification s well as local classification schemas.
Can items be created 'on the fly'?
Item records can be created from many workflow areas in the system – e.g. from the Item record screen, the MD Editor, and from Manage Patron services:
Can barcode sequences be defined by the library?
Multiple 'Barcode Generation' sequences may be defined with separate prefixes, paddings and number ranges. Each sequence may be linked to a given library.
What barcode scanner is supported for Alma mobile?
The Alma Mobile app uses a barcode scanner plug-in that supports most barcode symbologies with some exceptions. See Introduction to Alma Mobile for more details.
Item statuses, material types
How are item statuses updated in Alma?
There are base statuses vs. process types in Alma.
Physical items > Base status list:
Item in place
Item not in place
Physical items > Process Type list:
Acquisition
Claimed Returned
Hold Shelf
Loan
Lost
In Process (Managed by Department)
Missing
Not in Process
Resource Sharing Request
Technical - Migration
Transit
Item status is automatically updated. In some cases, such as when an item is in process, the specific work order status needs to be updated manually. For example, after you receive physical material, it may be necessary to perform additional work on the material before it can be made available to the library. The following additional work processes may be necessary:
Copy cataloging – Completes the cataloging of the new material
Physical processing – Adds a barcode to the material
Temp storage – Moves the material to temporary storage for a short period
Digitization – If you are at a digitization department
You manage the outstanding work processes using the In Process Items page and change the item status manually to reflect the type of work being done on the item.
What physical processing options are available in Alma?
Alma workflows enable the processing and routing of physical resources, including the handling and return of damaged items. Item processing and receiving can be done singly or in bulk, and authorized staff have options at this point for creating an invoice, noting that further physical processing is needed, approving for routing, and more.
Staff can search for new physical material by matching the Purchase Order line with the material received. Staff can then indicate whether further work must be performed before the material is available to the library for which it was ordered.
As part of the receiving process, staff can choose from one of the following options:
Keep in Department – Indicates that further work is required before the material can be made available in a library (e.g. copy cataloging, further physical processing).
Send to Shelf – Indicates that the items received are shelf ready – with barcodes, spine labels, etc. No further work is required on the material and it can be sent to the library.
What options are available for defining the material type of the item?
The material type table consists of a very long list of possible material type options – from standard material types such as book, issue, microform, etc., to more 'esoteric' material types such as toy, keys, box etc. The library has the option to define which material types it wishes to display to staff in the pull down menu on the item record. The library can also define the order in which these types will display.
The table is managed by Ex Libris, to ensure that all Alma institutions use the same material type definitions – so that comparative analytic reports (between institutions) using the same values can be generated (roadmap plans for this).
Does the item record support recording information about the condition of the item?
The Alma item record supports a field for defining the physical condition of an item.
This information can be included when publishing physical inventory and can be used as search criteria when using the Alma advanced search functions.
Item policies
Can libraries define their own item policies?
The Alma Item Policy table allows for defining item policies. Library staff can add, delete or update this table:
At least one default row is needed in order to remove previous entries in this table; the table cannot be blank.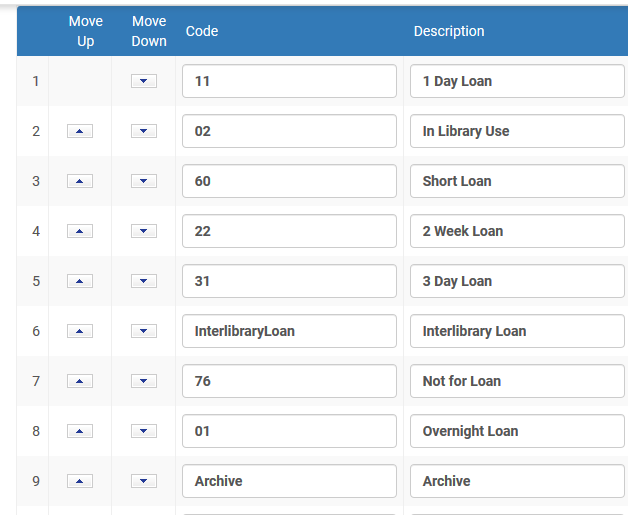 Item history
Does Alma record the history of activities on an item - e.g. loans, item changes, etc.?
The history tab of each item record provides a history of all fulfillment activities. Users can also view the history of item changes and holding record changes:
Related Records
For more information on working with related records see here (https://knowledge.exlibrisgroup.com/Alma/Training/Extended_Training/Presentations_and_Documents_-_Related_Records)
Will the patron be able to see copy specific notes related to bound-with works in a bound-with volume?
Patrons will be able to see and distinguish copy specific notes of bound-with works. For example:
The title "Helios : journal devoted to critical and methodological studies of classical culture, literature and society" has 1 item with a public item note "Includes article by Madeline Meydansky signed by the author".
A bound-with title "Rescuing Creusa : new methodological approaches to women in antiquity" has a public note "Includes many articles for course "Feminism in antiquity"".
When searching Primo for one of these records the related titles are clearly labeled:
The item note for each title is clearly displayed:
Will copy specific information associated with bound-with items be retained on export?
When exporting the items it is possible to include copy specific information. In the example below the item public note will be published (exported) in the 900 field subfield z:
Global updates
Can a set of item and/or holding records be globally updated?
Sorting, moving item records, temporary locations
Can the library define how items will be sorted?
The library may define the manner by which items will be sorted, using Alma supplied considerations such as enumerations, chronologies, item descriptions and library/location of the item. In addition, the availability of items and the physical location of the user that is viewing the loan list is also used to construct the sorting of the items.
Alma allows to configure the options of the drop-down list enabling you to create your own custom sort routines in addition to the default sort routines provided out-of-the-box.
To the right of the drop-down list are up/down arrows that allow you to dynamically switch between ascending and descending order for the sort routine that you selected.
New sort routines can be created at any time:
The wizard allows for defining where these routines will be available:
Can items be moved from one bib record to another bib record?
It is possible to move items from one bib record to another, or from one holdings record to another holdings record:
It is also possible to run a job that will update the information for physical items or physical titles. For instances where running the Change Physical Item job requires a location change, a new holdings record is created with the new location information.
Does Alma support the concept of temporary locations for items?
The item record in Alma supports fields for defining temporary locations. When moving items from one location to another staff have the option of inputting an end date for the temporary location. On this date a regular job process will warn staff to return these items to their regular location.

The process automatically reverts the items to their permanent location, and staff will know to take the items off the new shelf and return them to their original location.
Is there an easy mechanism for marking temporary locations of individual items?
Alma can track and manage the temporary assignment of ownership from one library to another (i.e., from its permanent location to a temporary one). Alma will store permanent location as well as temporary location. Temporary location is optional, and acts as an override for permanent location when determining where an item is shelved, but does not actually replace the permanent location. (The temporary location can be removed, and the item will default back to its permanent location.)
When an item is registered at a temporary location, standard processes for managing temporarily shelved inventory are used. This includes:
Reports for items that are due back to their permanent location

Automatic requests being placed to reshelve the items back to their permanent shelving locations
The items at their registered locations use the fulfillment policies and rules of the new location while being marked as being permanently owned by other library.
Inventory management
What inventory management tools are available in Alma?
Alma includes a shelf tool for managing physical inventory, which allows staff to track if items are in place, misshelved, or missing. The staff user can do this by taking an Excel or Text file containing barcodes and comparing that information with the information stored in the Alma database. The screenshots below demonstrate the steps of running a shelf report in Alma:
Additionally, using the Physical Items subject area in Alma Analytics, a user with the Design Analytics role may create reports/dashboards for the Physical Items area to answer the following types of questions:
How many physical items exist per Library/Location

List of all the titles based on their process type

Number of physical items per material type

How many times each item was loaned

What is the last date that the item was loaned
Staff users with the appropriate roles can run a search on missing items (by limiting their repository to "Process Type"= "Missing") and monitor the withdraw process for items being withdrawn.
What is a typical stock taking workflow?
Shelf stock taking can be done by an input file of barcodes being compared by a job with a predefined set of items. Below are the steps for this workflow:
Operator defines a set of items that represent a given range of shelves in the library

Operators walk the shelves with mobile barcode readers and scan item barcodes in the order they see them in the shelf. The list of barcodes is stored on the readers

The files are uploaded to Alma, and a job is run to compare the input files with the previously defined set. The job report includes information as to misshelved or missing items.
Does Alma support recording inventory numbers for items?
Alma supports setting sequential inventory numbers for physical items.
You can set multiple number sequences that you can then apply to the items. Each sequence may include a prefix. You can configure a sequence to start at any number, and you can configure the total length of the prefix + number.
Labels
Is it possible to print labels and spine labels in Alma?
Alma has the ability to integrate with locally used label printing applications. Examples are SpineOMatic and LIBstick. These are label printing applications were developed specifically for use with Alma. Spine labels are printed directly from Alma, and can be printed either singly or in batches.
Alma supports multiple classification schemes as well as the option to define multiple parsing schemes for all aspects of the label, as can be seen in the following screen capture.
An example of a label:
Alma's Resource Management configuration provides a wide range of options for call number parsing for label printing:
Binding
Does Alma support the binding of print materials?
Alma supports workflows related to binding. Staff can review a list of issues and create a bound volume. All of the item records for the issues incorporated in the bound volume will be marked as withdrawn, and will not display in the discovery tool.
The first step in the binding process is to open the physical item editor for a journal and select to view items. From the Items screen (with pre-set Physical Item search limit), the staff user marks the items to be bound, and then clicks on the option "Bind Items".

The user is guided through a wizard in order to create the new bound volume:
How can staff track and generate reports on in-house repairs?
In-house repairs are managed in Alma through the use of work orders. A work order type indicates the type of library process to be carried out on a resource, such as binding or cataloging. Work order types can be configured from the Work Order Types page.
Work orders are specifically for processing physical items and can be initiated from the List of Items page:
Work orders are available for reporting via Alma analytics, and these reports can be exported in multiple formats, including PDF, Excel, PowerPoint, CSV, tab-delimited, and XML formats.
Total views: