Alma April 2018 Release Notes
Last updated
Download a PDF of the Release Notes
As many of you already know, Alma development periodically needs to take a "back seat," and maintenance, cloud infrastructure, and other important tasks need to be handled in order to ensure that Alma meets the highest standards of performance and high availability.
The April 2018 release is devoted to such tasks. In addition we would like to update you on the following:
New Feature: Viewing Historical Requests in the Resource Request Monitor
Idea Exchange: The Resource Request Monitor now displays historical requests, including completed, canceled, and rejected requests. The Activity Status filter was added at the top of the page to allow you to display only active requests, completed requests, or both. The date facets on the page are unavailable when filtering on All or Completed.
Resource Request Monitoring Page
For more information, see Managing Requests and Work Orders.
New Look and Feel for Alma Release Notes
Alma Release Notes have a new look and feel, as well as some GREAT new features. You are now able to view either a single release or multiple 2018 releases on a single page using the Release filter: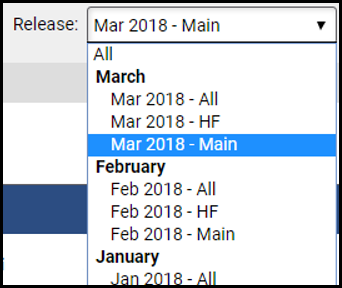 Only interested in release notes on a particular subject? Use the smart new search and filter options to get to those items you care about most:
Click here to view the new release notes format.
Community Zone Updates
As of March, the CKB includes the following resources:

Total packages: 8,187
Aggregator packages: 1,639
Selective packages: 6,548
eBook packages: 3,566
eJournal packages: 5,269
Mixed packages: 352
Full text titles: 20,122,929
eBook titles: 17,440,287
eJournal titles: 2,682,642
Peer-reviewed journals: 61,195
Total bibliographic records: 5,664,431
Click here for authority record Community Zone updates and new electronic collections added to the Alma CKB in the past month.
VPAT (Voluntary Product Accessibility Template) Accessibility
Ex Libris contracted with an external accessibility expert company to review the new Alma UI and workflows and evaluate Alma's accessibility for individuals with disabilities. The Alma code is now checked for accessibility using a range of visual, automated, and manual validations, which have become part of the ongoing new UI development. Based on the data and feedback received, a VPAT document on accessibility was released by Ex Libris.
New UX Survey
Many of you might have seen and filled in the new UX survey published a short while ago. If you have not yet completed this survey, please take a moment to do so. Your input is important! Note that as part of the March release you can access the survey from a button on the dashboard:
Alma Numbers and Statistics
Recently, the Alma team ran some checks on Alma numbers and statistics. We were amazed at some of the results. For example, did you know that there are more than 720 million bibliographic records across all institutions in Alma?
The following are the statistics that we collected:
Primo VE
The Alma Platform team continues to enhance the infrastructure that is needed in order to accommodate the high number of customers that have already migrated, or are planning to migrate, to Primo VE. There are 30 sites are already in production, with a further 70 in implementation.
Sneak Preview of Future Releases