Primo Auto Complete
Last updated
Our first Primo Spotlight focuses on the Auto Complete feature, which enables libraries to offer more accurate search terms, expose users to context-based suggestions, and enable users to find their needle in the haystack of data in today's discovery world.
Auto Complete suggestions – which are available only to cloud customers – are derived from a combination of your top local Primo and Primo Central queries and from other data taken from your Primo institution and the Primo Central index.
When Auto Complete is enabled, Primo requests suggestions from the Auto Complete service as users type their queries and then displays the suggestions under the search box. For example:
To enable this feature in your library, perform the following steps in the Back Office:
Deploy your view.
Customer example:
In this example from the University of York, note that the suggestions available in the Library Catalogue tab are limited to those terms that are relevant based on queries and data from their library's catalog.
The suggestions in the Search Everything tab are more general, but once the user adds more characters, the specific items from the local catalog display as well.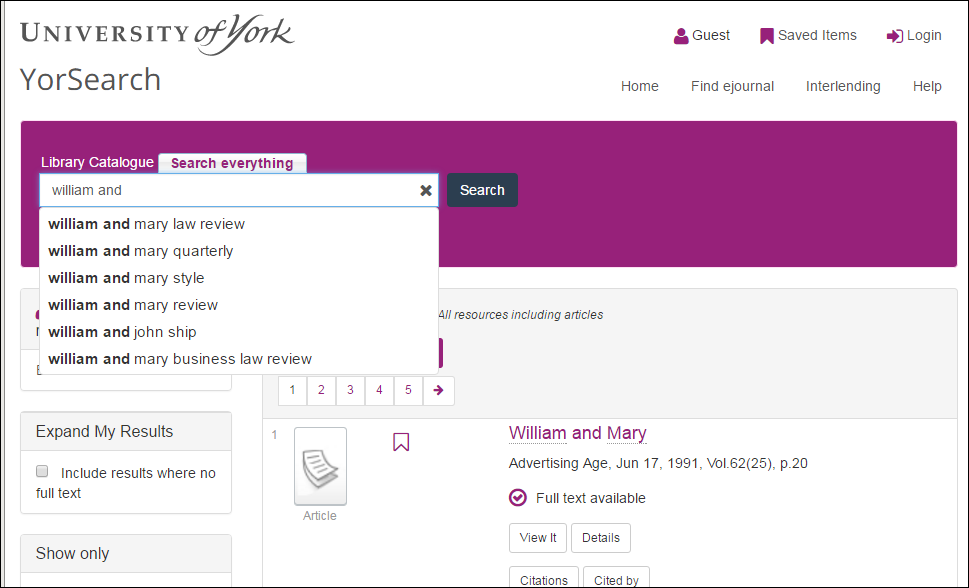 More information about Auto Complete can be found in the Ex Libris Knowledge Center: