Citation Style View
Last updated
The next step after writing your paper is to start adding citations and create the bibliography. The most important questions in doing so is, do I have all the metadata to make it complete?
One of the challenges researchers face while creating a bibliographies, is the ability to identify if they are missing any metadata from their references. With the new citation style view feature, RefWorks allows researchers to view their reference lists as if it's a bibliography and identify the missing data elements. This document will take users through this step.
Set Your Citation Style

In RefWorks select your citation styles by choosing from any of the 4,000+ styles, out of the box, or customer styles that you have created.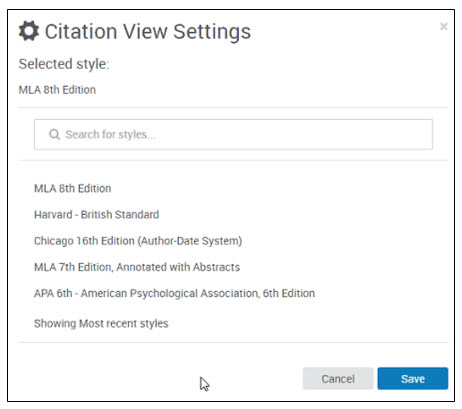 Missing Data

With the new citation style view, RefWorks identifies missing fields of data that are believes to be required by the citation style you have chosen by highlighting these are using two different color buttons.
Pink = Indicates required metadata based on the citation style you have chosen, such as place of publication or publisher.
Yellow = Indicates metadata that may possibly be required based the citation style you have chosen, such as the issue number.
By clicking on one of the colored pills, RefWorks opens the reference directly to the metadata field of interest. Here you can add the missing information in the reference and select Save.
Your reference will update with this changes and display in your folder. The missing data areas will no longer be highlighted.
---
Article last edited: 10-Oct-2017

Old Article Number:

14195