August 2022 Release
Last updated
Rialto Ordering and Invoicing for Electronic Orders
August 2022
Rialto
NGS
-????, NGS-????, NGS-????
Starting in August, we are beginning to move all Rialto libraries to the new ordering and invoicing system for electronic orders. This process is planned through the rest of the year and we will notify you 4 weeks in advance of your move date. These changes will improve your experience in the following ways:
Reduced invoice quantity

Ability to combine all platform orders in a single invoice
Ability to include Ebook Central orders with Rialto orders in a single invoice

Standardized invoice format aligned with ProQuest products
Improved ability for ProQuest to proactively manage provider-related ordering issues
Invoices available in Alma at the same time as the PDF
Prepaid deposit accounts
Option to automatically update Alma invoice as PAID when PQ receives payment
Print orders are not impacted by these changes and you will continue to receive invoices as you do today.
The following invoicing options are available with the new ordering system:
Frequency can be daily, weekly, or monthly
The following fields can be used to combine or separate your invoices
Platform
Fund
Purchase type
Ebook Central transactions can be included in your Rialto invoices. This is typically used for DDA, extended access, or upgrade purchases directly in LibCentral
By default, we will send as few invoices as possible. Invoices will be sent weekly, combining platforms and funds within a single invoice.
Deposit accounts are now available for any orders using the new ordering system. They have the following benefits:
Self-serve using the ProQuest Invoice Portal
Real-time balance tracking, including orders not yet invoiced
Ability to add funds to your account at any time
Ability to manage which transactions can be paid using the deposit, including Ebook Central transactions
Over the coming months, all pub-direct platforms will be moving to the new ordering system. Until each platform is moved, invoicing will continue as it was prior to the August release. Once the platform is moved, the above invoicing and deposit functionality will be available.
With the release of the new ordering system, you will see a change in order statuses for your Rialto orders. You may see the following statuses:
Order Received
Sent to Provider
Fulfilled by Provider
Access MARC sent
Invoiced
Invoice Paid
Cancelled
Not Yet Published
Search and Auto-Suggest for Apply Templates
August 2022 Rialto
Idea
Exchange
NGS
-6979
Rialto now enables libraries to quickly and efficiently search for templates and apply them to the Cart or Orders Awaiting Approval. The enhanced search feature uses predictive text to the Apply Templates function that enhances search efficiency and reduces time spent searching.
Apply Templates search function
Date Last Sold
August 2022
Rialto
NGS
-6874
Users are now able to see the date a title in the market was "Last sold" which adds a better inclination for the title's availability (a title sold more recently is more likely to be easily sourced). The Last sold field will be displayed in the offer details with the date of the last sale.
When an offer has no date of the last sale, "Unknown" will be displayed in the field.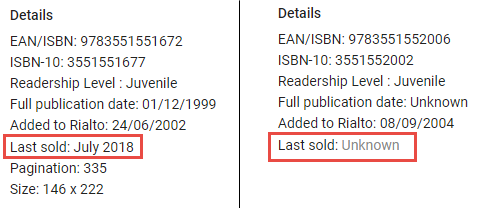 Date Last sold field displayed in offer details
Allow Duplicate

Checkbox Added to Cart

August 2022 Rialto
Idea
Exchange
NGS
-7070
In testing: An optional Allow duplicate checkbox is ready to be enabled for use in the Cart and Order's Awaiting Approval. When enabled, a checkbox is displayed at the top of all cart values and when checked "allows" items with holdings to be submitted in the order. If a cart item has a holding attached to it and the user did not select the checkbox, a message appears to let the user know the order may not go through after a final holdings check. Note, if you are part of a consortia, Network Zone holdings will be included in the check. On cart confirmation, when holdings have been identified, the user is prompted to check the box to allow the order to proceed or remove it from the cart.
"Allow duplicate" checkbox
Please contact Rialto customer support to enable the "Allow duplicate" feature.
New Filters for Publisher values
August 2022 Rialto
There are now two fields present in the query builder (used in advanced search, recommendation feeds, title alerts, and selection plans) for you to use to better refine your results when including or excluding publishers. The new fields are "Publisher (contains)" and "Publisher (exact)." The "Publisher (contains)" field allows for you to enter free text for a name value, and when used in a search, will either include or exclude all related values that contain the name entered. The "Publisher (exact)" field requires for you to select an exact name after entering text, and when used in a search, will either include or exclude all the values that fall under the exact text selected. Previously, the publisher field was performing an exact search, so all profiles that utilized the publisher field have been replaced with "Publisher (exact)."
New Publisher fields
Exclude Network Holdings for Selection Plans
August 2022
Rialto
NGS
-7456
Rialto now allows universities that are part of a consortia to exclude network holdings from all list results in selection plans. This exclusion process executes both when drawing up the list of plan results for review and when executing the purchase/add to Demand Driven Acquisitions (DDA) actions.
Network holdings optional exclusion on Selection Plan configuration screen.