Rialto 2022 Release Notes
Last updated
Search:
Release:
Click here to view the monthly release and maintenance schedules.
Fund Available Balance
December 2022 RialtoNGS-7802
Rialto users can now view fund balance details on cart offers and orders awaiting approval that includes the sum of orders not yet approved. Previously, the available balance did not account for any unapproved orders (cart items, title alerts, orders awaiting approval) with the same fund applied.
After applying a fund, Rialto displays the available balance, and the projected balance (the available balance less the summed total of items pending approval under that fund). The projected balance can be expanded to show the following for the applied fund:
Available balance: the current available balance for the fund
Total amount pending approval: submitted selections awaiting approval using the fund
Total for items in the cart: total amount in the cart using the fund
Projected balance: balance after pending approvals and cart total have been subtracted from the available balance from this fund.
This information is also included in the fund summary at cart confirmation.
Fund Available Balance
Rialto Menu Option for Advanced Search
December 2022 RialtoNGS-7801
Users can now access the advanced search experience for Rialto from the side navigation. Select Market > Advanced Search to begin.
Advanced search from side navigation
Search List of Lists
December 2022 RialtoNGS-4918
Rialto users are now able to search for a preferred list, enabling them to quickly find the list they need to take action on. New search options were introduced to search the lists of lists by:
List name (for user created lists and curated lists)
List description (for user created lists)
List of Lists
The results returned are the lists that match the search, not specific offers within the lists.
Owned by Others

Label Revision

December 2022 RialtoNGS-7915

The text label, "Owned by others" or "Owned by Me" that applies to Title Alerts is revised. The modified label now reads as, "In others' title alerts" or "In my title alerts".
Actions Added to Offers from "View All" Panel
December 2022 Rialto
In an earlier release, a panel was introduced allowing users to view all the offers available within a work from a single offer found on a list or feed. If users wanted to acquire an offer from the "View All" panel, they had to click a button to view all of them in a full page screen, and actions were present there. Now, these same actions (such as "Add to List" and "Add to Cart" ) have been added to the offers in the panel so that you can save time.
JSTOR DDA Now Available in Rialto
November 2022 Rialto
Idea Exchange
JSTOR's Demand-Driven Acquisition (DDA) program is now available in Rialto to further streamline your acquisition experience.
New to the Rialto Marketplace: Unebook
November 2022 Rialto
Librarians can now acquire 20,000 sought-after ebooks from Unebook through the Rialto marketplace. Unebook is the e-distributor for all books, monographs and content published by members of the Spanish Association of University Presses (UNE) and other independent and institutional academic presses from Spain and Latin America. Unebook's ebook collection primarily focuses on Humanities and Social Sciences content in Spanish.
Unebook is one of a growing roster of digital marketplace platforms available through Rialto. Acquiring these works directly through Rialto enables librarians to consolidate ordering and invoicing within a single system, saving time and steps.
Please contact Rialto customer support to enable the new platform, if you are unable to purchase.
Rialto in Alma Task Widget
November 2022 Rialto
Idea
Exchange
NGS
-7843
Rialto users are now able to view tasks alongside other tasks in the Alma Tasks dashboard widget and Tasks header. The new Rialto section is displayed in the Alma Tasks dashboard widget and in the Tasks list from the alma header.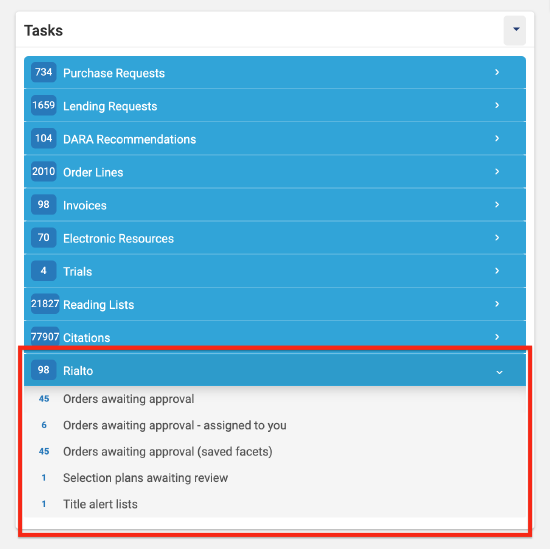 Rialto in the Alma task widget
The new tasks are as follows:
Orders awaiting approval (all orders)

This field displays the total count of orders awaiting approval, ignoring assignment values and any personal saved facets you may have previously applied
On click, this link navigates to the Orders Awaiting Approval page without saved facets
Available within the widget to users with the Rialto Manager role

Orders awaiting approval (assigned to me)

This field displays the count of orders awaiting approval that are assigned to you
On click, this link navigates to the Orders Awaiting Approval page with the

Assigned to me

facet selected
Available within the widget to users with the Rialto Manager role

Orders awaiting approval (saved facets)

This field displays counts of orders awaiting approval with your previously saved facets applied
On click, this link navigates to the Orders Awaiting Approval page with your previously saved facets applied
Available within the widget to users with the Rialto Manager role

Selection plans awaiting review

This field displays the count of active selection plan snapshots that may require your review
Available within the widget to users that are able to review selection plans

Title alert lists

This field displays the count of all title active alert lists assigned to you
Available within the widget to all users with title alert access
Publisher Lists
November 2022 Rialto
Idea
Exchange
NGS
-7770
Rialto now enables administrators to create a list of publishers for other staff to include or exclude from queries. These publisher lists can be applied across multiple selection plans, title alerts, or recommendation feeds. Administrators can create one or more lists of publishers. List creation and modification can be accessed by selecting Publisher Lists from the side navigation under Profiles and Rankings.
Publisher List page link from side navigation
Publisher Lists page (Manage Publishers)
The query builder contains a new option Publisher Lists, where all other Rialto users can elect to include or exclude a list from results.
Publisher lists in the query builder
The list of publishers will be consulted at the time that the query is executed (not only when saving the query). If the list changes between executions, the most recent list will be used.
Platform in Order History and Orders Awaiting Approval
November 2022 Rialto
Idea
Exchange
-4588
So that users can quickly identify orders by platform, Rialto now supplies users a platform facet to refine orders by from the Order History and Orders Awaiting Approval pages. A platform column with values is also present on export from these pages.
Order History Screen
Rialto Order Updates in Reading List Citation Alerts
November 2022
Rialto
NGS
-7822
Reading and citation list users are now able to monitor the progress of a Rialto order created from a reading list when viewing that reading list or citation. Rialto linked orders are now updated on the citation as follows:
Rialto Order Placed (when the order has been submitted)
Rialto Order Complete (when the item has been received or activated)
Rialto Order Rejected (when cart item was rejected from orders awaiting approval)
Rialto Order Cancelled (when the order is cancelled)
As many of you already know, Rialto development periodically needs to take a "back seat," and maintenance, cloud infrastructure, and other important tasks need to be handled in order to ensure that Rialto meets the highest standards of performance and high availability. The October 2022 release is devoted to such tasks.
View All Offers on Feeds Page and Lists
September 2022
Rialto
NGS
-7388
Rialto now enables users to view all offers in a work, and all holdings, without having to exit their current workflow by navigating to another page. When users elect to view all offers in a work, a new panel opens with the offer list for that work (including all badges and information, but no facets). When users select an offer, the full panel displays the offer information.
Viewing Offers and Holdings
This new behavior can be found when selecting "view all" within the offer details on offers from the Feeds page, Curated Lists, Lists, Cart and Orders Awaiting Approval pages.
Additional modifications were made to the Feeds page to support the new "view all" panel. See Feeds page online help.
Search Interested User Field by Email Address
September 2022
Rialto
NGS
-4073
Users are now able to search the interested user field by email address wherever the interested user field appears within Rialto. This enables a more unique means to locate and add users other than by name.
Search Interested Users by Email
The full email address must be entered for the search to work.
Only library staff with permissions to access Alma user information are able to search by email.
Searching and Purchasing from Citation and Reading Lists
September 2022 Rialto
Idea
Exchange
In testing: Users with access to modify reading and citation lists in Alma course reserves now have an option to search the marketplace directly from the lists, and place an order, without having to break their workflow. Similar to searching from a purchase request, a new button "Search in market" displays for each request on a list.
When the button is selected, the catalog of available titles in the Rialto marketplace will be searched using the information provided (title, author, and/or ISBN). On page load, when the title is available, the user is presented with the available offers. To aid in selection, the course information is present, as well as the holdings panel that will display any local or network zone holding matches.
When the desired offer is identified, selecting the "Link and Add to Cart" will ensure the record is linked when purchased. The item is now in the users cart, and a badge will appear on this offer throughout the marketplace so that other users are aware it is being worked on by another staff member.
Now the user can continue to checkout, or use the back arrow within the page heading to return to their list and continue to add to the cart.
If you are interested in testing this feature, please contact customer support to enable it.
Automatically Cancel Orders in Alma
September 2022 Rialto
Idea
Exchange
NGS
-4645
In testing: Orders cancelled by Rialto now can now automatically cancel the associated PO line in Alma and mark the cancellation reason as "Vendor canceled". Bibliographic records without inventory are deleted according to the manual cancellation logic (for instance, only if they are not linked to another inventory). This follows the standard metadata handling when canceling orders, including handling Institution, Network, and Community Zone situations.
This functionality is disabled by default and is optional per institution. Please contact customer support to enable it.
Request Order Cancellation
September 2022 Rialto
Idea
Exchange
NGS
-2977
Rialto now enables users to cancel orders from the order history. For any order that is still in process, users are able to cancel the order from the "Cancel Order" button on the order history page.
Cancel Button
Upon selecting the button, users are presented with the following confirmation dialogue: "Are you sure you want to request cancellation?" Cancel order requests will be processed automatically as long as the offer is eligible to be cancelled.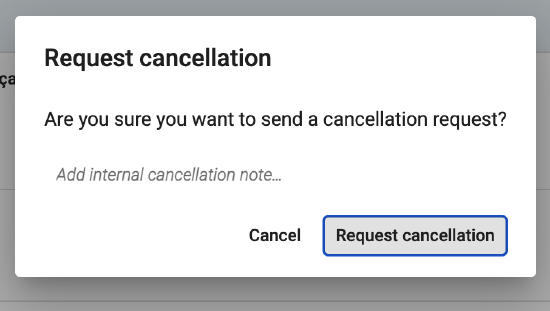 Cancel Confirmation
Users can view the cancellation request from the Order History screen. After the cancellation is confirmed, a notification is sent that the order is canceled.
Rialto Ordering and Invoicing for Electronic Orders
August 2022
Rialto
NGS
-????, NGS-????, NGS-????
Starting in August, we are beginning to move all Rialto libraries to the new ordering and invoicing system for electronic orders. This process is planned through the rest of the year and we will notify you 4 weeks in advance of your move date. These changes will improve your experience in the following ways:
Reduced invoice quantity

Ability to combine all platform orders in a single invoice
Ability to include Ebook Central orders with Rialto orders in a single invoice

Standardized invoice format aligned with ProQuest products
Improved ability for ProQuest to proactively manage provider-related ordering issues
Invoices available in Alma at the same time as the PDF
Prepaid deposit accounts
Option to automatically update Alma invoice as PAID when PQ receives payment
Print orders are not impacted by these changes and you will continue to receive invoices as you do today.
The following invoicing options are available with the new ordering system:
Frequency can be daily, weekly, or monthly
The following fields can be used to combine or separate your invoices
Platform
Fund
Purchase type
Ebook Central transactions can be included in your Rialto invoices. This is typically used for DDA, extended access, or upgrade purchases directly in LibCentral
By default, we will send as few invoices as possible. Invoices will be sent weekly, combining platforms and funds within a single invoice.
Deposit accounts are now available for any orders using the new ordering system. They have the following benefits:
Self-serve using the ProQuest Invoice Portal
Real-time balance tracking, including orders not yet invoiced
Ability to add funds to your account at any time
Ability to manage which transactions can be paid using the deposit, including Ebook Central transactions
Over the coming months, all pub-direct platforms will be moving to the new ordering system. Until each platform is moved, invoicing will continue as it was prior to the August release. Once the platform is moved, the above invoicing and deposit functionality will be available.
With the release of the new ordering system, you will see a change in order statuses for your Rialto orders. You may see the following statuses:
Order Received
Sent to Provider
Fulfilled by Provider
Access MARC sent
Invoiced
Invoice Paid
Cancelled
Not Yet Published
Search and Auto-Suggest for Apply Templates
August 2022 Rialto
Idea
Exchange
NGS
-6979
Rialto now enables libraries to quickly and efficiently search for templates and apply them to the Cart or Orders Awaiting Approval. The enhanced search feature uses predictive text to the Apply Templates function that enhances search efficiency and reduces time spent searching.
Apply Templates search function
Date Last Sold
August 2022
Rialto
NGS
-6874
Users are now able to see the date a title in the market was "Last sold" which adds a better inclination for the title's availability (a title sold more recently is more likely to be easily sourced). The Last sold field will be displayed in the offer details with the date of the last sale.
When an offer has no date of the last sale, "Unknown" will be displayed in the field.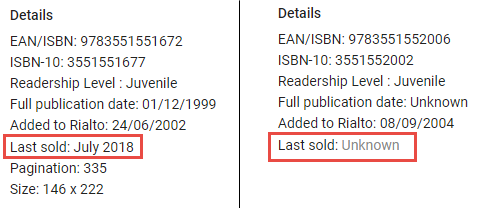 Date Last sold field displayed in offer details
Allow Duplicate

Checkbox Added to Cart

August 2022 Rialto
Idea
Exchange
NGS
-7070
In testing: An optional Allow duplicate checkbox is ready to be enabled for use in the Cart and Order's Awaiting Approval. When enabled, a checkbox is displayed at the top of all cart values and when checked "allows" items with holdings to be submitted in the order. If a cart item has a holding attached to it and the user did not select the checkbox, a message appears to let the user know the order may not go through after a final holdings check. Note, if you are part of a consortia, Network Zone holdings will be included in the check. On cart confirmation, when holdings have been identified, the user is prompted to check the box to allow the order to proceed or remove it from the cart.
"Allow duplicate" checkbox
Please contact Rialto customer support to enable the "Allow duplicate" feature.
New Filters for Publisher values
August 2022 Rialto
There are now two fields present in the query builder (used in advanced search, recommendation feeds, title alerts, and selection plans) for you to use to better refine your results when including or excluding publishers. The new fields are "Publisher (contains)" and "Publisher (exact)." The "Publisher (contains)" field allows for you to enter free text for a name value, and when used in a search, will either include or exclude all related values that contain the name entered. The "Publisher (exact)" field requires for you to select an exact name after entering text, and when used in a search, will either include or exclude all the values that fall under the exact text selected. Previously, the publisher field was performing an exact search, so all profiles that utilized the publisher field have been replaced with "Publisher (exact)."
New Publisher fields
Exclude Network Holdings for Selection Plans
August 2022
Rialto
NGS
-7456
Rialto now allows universities that are part of a consortia to exclude network holdings from all list results in selection plans. This exclusion process executes both when drawing up the list of plan results for review and when executing the purchase/add to Demand Driven Acquisitions (DDA) actions.
Network holdings optional exclusion on Selection Plan configuration screen.
Faculty Title Alerts
July 2022 Rialto
NGS-7199, NGS-7231, NGS-7237
Ready for initial testing: Similar to Title Alerts, Faculty Title Alerts is a new feature in Rialto that enables library staff to auto generate lists of titles to be sent to faculty for review. Faculty receives an email notification when a new list is ready. A link inside navigates them to a limited display within Rialto, where they can view and approve the suggested titles from the most recent. Faculty can utilize the internal note field to include pertinent information for ordering. To further streamline purchasing, each offer has cart fields assigned which are pre-configured by library staff when creating the title alert. These cart fields are not visible in the faculty list view, but carry over along with any notes after being submitted.
Once faculty have submitted a list for approval, library staff may make edits to the cart fields, and then submit either the title for approval (Selectors) or immediately approve the title (Purchasing operators or Rialto managers) from a new Review faculty-recommended titles page.
For more information, see Faculty Title Alerts.
Review Faculty Recommended Titles
Title Alerts: Archive and Delete
July 2022 Rialto
NGS-7229
To prevent Title Alert lists from becoming cluttered, a new Archive action is introduced. Archiving a list run removes it and its contents from being displayed when viewing all titles, and when viewing the list history (unless filtered to display statuses other than "Active"). Faculty are not able to view archived lists, and the Title Alerts badge is removed from all offers when viewing them elsewhere within Rialto.
Archiving can be performed manually, and will also take place automatically. By default, all list runs are set to archive after six months from their creation date. Archive frequency can be adjusted within the Title Alert configuration screen.
Lists can be manually archived from the list itself, or from the list history.
An archived list can be restored if needed from the list history, or the list itself.
All archived lists are now deleted one year from their archived date.
Control Interested User Options
Beginning in May, Rialto will begin to rely on Alma configurations for interested user notification preferences. So, if your institution has configured notification settings for interested users within Alma, Rialto will respect those settings when adding items to the cart through any workflow.
The default selection of interested user notification options can be defined by the institution in the configuration menu (Configuration Menu > Acquisitions > General > Other Settings). The following customer parameters pertaining to interested users are incorporated by Rialto:
Parameter
The option it controls
Default value of parameter
po_line_hold_item_for_interested_users
Hold Item
False
po_line_notify_interested_users_upon_receiving_activation
Notify user upon receiving/activation
True
The parameter below is not incorporated in the interested users options in Rialto:

po_line_notify_interested_users_upon_cancelation

Notify upon cancelation

False
For more information on the interested users options, click here.
Excluding Facets
Previously in Rialto, within the facets found on many pages, users were able to focus or include results by selecting specific categories. Now, in addition to including, users are able to exclude selected categories from the results within facets. Selecting the checkbox at the end of each category listed in each facet excludes the category from the results. Each excluded facet category will be displayed at the top of the facet panel with an

icon.
The exclude facets option is enabled in all pages with facets except My Feeds! The My Feeds page can already perform exclusions in the query that pertains to the specific feed.
Excluding Facets - Categories Selected
For more information, see: Working with Facets.
Bulk Upload - Results Display
The display of results for completed bulk uploads has been enhanced. The results are now grouped and displayed in three possible result counts, as described below:
Exact ISBN match
Alternate version
Skipped
Bulk Upload - Display Results
Clicking the
button downloads a list of all the ISBNs that were in the uploaded file, alongside their upload status and message, in a .xlsx file.
The download icon now appears only by the file name and not alongside the individual result tiles.
Results - Bulk Upload
For more information, see Bulk Search from Uploaded File.
In Testing: Title Alerts
​
Title Alerts is a new feature in Rialto that will allow staff to create lists of titles for review according to a user defined query and ranking. Differing from recommendation feeds, title alerts create a finite set of titles drawn up at predefined intervals—weekly, biweekly, or monthly. Users can optionally be emailed when new alerts are created.
Title alerts may also be:​
Managed by individual staff members or shared between multiple staff.

Reviewed individually or as a merged list of all alerts.

Marked "done" to indicate that they've been reviewed​
If interested in becoming an early tester, please contact your Rialto Customer Success Manager.
Switch to the New Orders Awaiting Approval Task List and Cart
March 2022 Rialto
In the March release, all users will be switched to the updated Orders Awaiting Approval and Cart pages. These screens were first released in May and October of 2021, and were previously hidden by a customer parameter, requiring enablement by support. Going forward, all current and newly-onboarded institutions will be using the newer screens.
Stored Preferences on the Orders Awaiting Approval Page and Cart
March 2022 Rialto NGS-5754
Now users can save applied facets in the Facets panel on the Orders Awaiting Approval Task List and Cart pages, so that preferred facets are applied on page load in future sessions. Sort selections are also stored, independent of the facet save action, and will remain applied at the page level. This reduces time and clicks when pages reload.
See Saving Selected Facets and Sort Selections for Future Sessions.
Query Builder Enhanced Display
March 2022 Rialto NGS-6269
The Query Builder was enhanced with a more convenient and user-friendly value selector for multi-select fields (such as 'LC Classification', 'Dewey', 'Collection (Beta)' and 'NLM Classification'). This selector provides more room for the longer headings, enables searching for particular terms, and features the Cancel button that brings you to the main screen if you want to quickly cancel the selections you were making.
Creating a New List from an Offer
March 2022 Rialto NGS-1364
Staff can now create a new list from an offer, to group the offers they are interested in by a category of their choice on the fly. Upon list creation, the selected offer is added to the list. This is possible on all screens offers can be added to lists.
Once the list has been created, you can open it in the My Lists page, provide a description for it, and to share the list with other users.
Purchase Request Link When Adding to List
March 2022 Rialto NGS-6258
A new row action "Link and add to list" was added to offers after searching in the market from the Manage Purchase Request page. Now when you add an offer from a Purchase Request to a list, the purchase request remains linked so that the information is not lost if you choose to manage the request from a list and not the Purchase Request screen.
Once the Purchase Request is linked to the list, the "Purchase Request" badge displays on the item, and the Details panel opens on click.
Just like when linking and adding to a cart, when the Purchase Request is linked to the list, it becomes assigned to the user who added it to a list, with a status "Request status: In Rialto User List" (see Purchase Requests).
The Purchase Request closes automatically when the offer is purchased.
Duplicating a Cart Template
March 2022 Rialto
NGS-6327
Now you can create a new cart template by copying another and making changes to it, in order to save time when creating many templates at once. The new template is created with the name of the previous template + "copy". All other cart values are taken from the source template
Offer Details Enhanced
March 2022 Rialto
NGS-6253, 6119, 6198
On the offer Details pane, the following information has been added:
Book Type - This will display the type of offer you are evaluating for purchase (map, workbook, dissertation, etc.), so that you can make a more informed decision within Rialto, and do not need to search elsewhere for this information.
Reprint - This is a yes/no field that will indicate when we are aware if a title is a reprint or not.
Pagination - This will display the number of pages in the book.
ISSN - When part of a series, the ISSN will display here.
Illustrations - This will display when books have illustrations, tables, or other visuals.
Size - For physical materials, this displays the dimensions of the offer.
LC Card Number - when known, the number will display here.
Modified fields on the Details page:
Downloadable - this display will reflect whether the full text, or a chapter in an offer is downloadable. When the title is not downloadable, this shows as "Not available."
DRM free - when an item is not DRM free, we now display "Not available" on the line.
Order History Contains Submitted Cart Values
March 2022 Rialto
NGS-6324
You can now see additional purchasing information on offers in the Order History page, so you are aware of the values submitted to acquisitions/ProQuest.
The following information displays under "Purchase Details":
Item policy
Reporting codes
Interested Users
Cart Routing
Shelf Ready values
Notes
New Filter for Publication Type in the Query Builder
March 2022 Rialto
NGS-6119
A new filter for Publication Type was introduced in the Query Builder. This allows you to exclude or include titles that are known to be reprints or self published, so that you can better refine your feeds and Selection Plans to produce optimal results.

Default POL Types Instead of Hard-coded POL Types
March 2022 Rialto
NGS-5094
The Rialto Administrator can now control what PO line type is created automatically by Rialto orders, in order to align with institutional policies and Analytics support.
Today, Rialto creates orders of type "Electronic Book - One Time" and "Print Book - One Time" for all orders based on their material types. Some institutions use alternative POL types (typically "Electronic Title - One Time" and "Physical - One Time", because they provide more flexibility in accommodating non-book materials). When the POL types are disabled, now the customer-defined default order line types are used instead.
Enhanced Display for Listed Offers
January 2022 Rialto NGS-5659
The Offers list was enhanced to display existing information in a clearer way, allowing for improved scanability when evaluating many listed offers.
Fields that were modified:
Icons now appear for Electronic and Physical items instead of the actual words.
Icons appear for ATO- and STL-eligible items.
Icon appears for items included in a collection.
Additional Information in Offer Details
January 2022 Rialto NGS-5827
Now Offer Details display additional metadata when provided by the publisher. Elements on the page were rearranged to enhance readability.
New fields that were added:
"DRM free", "DDA", "ATO", and "STL" all display as "Available" or "Not Available" for enhanced eligibility.
"Part of a series" and the series name
"Publication date"
"Added to Rialto" - the date the title was added to the marketplace
"In Oasis plan" Badge Renamed to "In ProQuest Plan"
January 2022 Rialto NGS-5884
The "In Oasis Plan" badge was renamed to

"In ProQuest plan", so that it can apply to all libraries with existing ProQuest standing orders.
"Purchased in Rialto" Badge Removed from Work Search Results
January 2022 RialtoNGS-5879
The "Purchased in Rialto" badge was removed from the work search results because it was doubled with the "In Your Institution" badge and added visual noise to the page. The badge continues to display for offers.
"Sent to Approval Date" Added to Order History Page
January 2022 RialtoNGS-4325
In the Order History page, the date on which the item was sent to approval is now displayed with the date with the date it was ordered.

Note that if another user performed the action (not you), the user card with the user's name is displayed alongside the date.
Orders Awaiting Approval Enhancements
Search Added
January 2022 RialtoNGS-4720
Now you can search the Order Approval page by ISBN and title. This allows the Approver to get to the desired order quickly and without paginating the list.

"Date Added" Displayed on Offers
January 2022 RialtoNGS-5951
Now the date on which an order was submitted for approval is displayed on the Orders Awaiting Approval page. This allows you to determine at a glance the offers you should take action on by recency.

"Reject and Move to List" Option Added
January 2022 Rialto NGS-4931
Now Approvers can remove offers from the Orders Awaiting Approval page by rejecting and adding to a list through the new action "Reject and move to list." This means that Approvers do not need to navigate away from the page to continue their workflow, and Selectors are aware offers are not going to be purchased directly.
When rejecting and adding to a list, the Approver now receives the confirmation popup to select a reject reason. This reject reason carries forward as a comment on the item that is now included in the list. The default text in comment is "Order rejected by [user] on [date]: [reject reason]". The Approver can edit this comment as needed.
This option replaces the "Move to list" option.
See Rejecting Offers.
"Add to Selector Cart" Renamed "Add to Order List"
January 2022 RialtoNGS-4932
The action "Add to Selector Cart" on the Orders Awaiting Approval page was renamed "Add to Order List". The confirmation text for this action was rephrased from "Item added to selector cart" to "Item added to order list". This is to reflect the fact that this action adds a new order owned by the Approver.