Viewing the added and built-in Voyager Prepackaged Access Reports functions
Last updated
Product: Voyager
Relevant for Installation Type: Multi-Tenant Direct, Dedicated-Direct, Local, TotalCare
---
Question
How do I see the available built-in and Ex Libris-added Prepackaged Access Reports (PpR) functions?
Answer
There are both built-in functions that come with Microsoft Access, and functions added to the PpR Reports.MDB file by Ex Libris.
These functions can be viewed in Access Expression Builder.
Expression Builder is available when creating or editing reports or queries.
When editing a query, open the Expression Builder dialog box by selecting the query in design view, then placing your cursor in one of the fields, right-clicking and selecting Build from the menu.
Once you are in the Expression Builder dialog box, you can display the list of available built-in and added functions.
For example: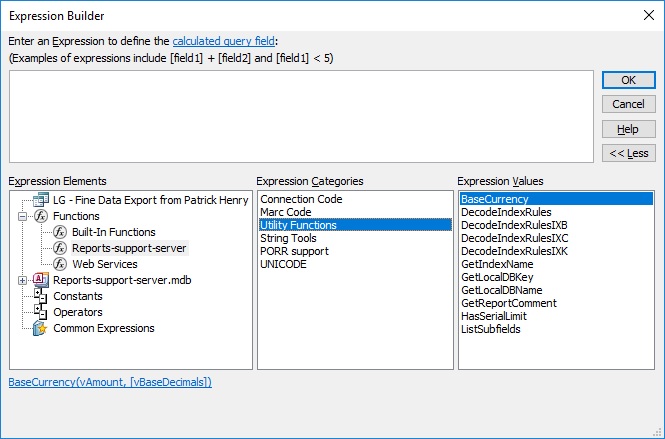 Under "Functions" you'll see the "Built-In Functions" that come with Microsoft Access, and below that a "Reports" functions element that includes the Ex Libris-added functions.
You can display a list of the available functions by clicking on the appropriate Expression Element and then Expression Category.
Note that the name of added Expression Element will be the filename of your Reports.MDB file. In the above example the filename is Reports-support-server.MDB.
Additional Information
See the Reporter User's Guide, Chapter 7, "Using the Expression Builder."
---
Article last edited: 22-Nov-2019