App Store Reviews – Sharing Good Practices
Last updated
It is human nature to make a lot of noise when something is bad but accept it as the rule when things work well. App reviews work the same way. Unless you go out of your way to make it easy to review, most users will go about their daily app interactions without taking the time to write a review. This ultimately means that those who are annoyed and take time to write a review tend to be the overwhelming voice heard on the app stores.
So how can you address these challenges and help surface more positive reviews? Here are some tips:
Enable App Store Reviews Directly from the App
Trigger a prompt to submit an app store rating directly from the app. This feature has been available since the August 2021 release and was initiated based on your feedback. This is something that you can easily enable in the App Manager > App Settings > Feedback Configuration section.
Making it effortless for users to provide feedback can encourage feedback and hopefully provide a more balanced picture within the app store reviews.
Respond to Reviews in the App Store
When a review is posted, try to review and respond in a timely manner. This shows you are listening and trying to tackle the issues that the students are experiencing. It may be a case of directing them to the support desk or asking for more information or explaining an issue that has since been resolved. Whatever the reason a user is unhappy with the app, a prompt response is the first step in improving their app experience.
The following section shows how you can reply to reviews in the App Store and Play Store respectively.
To respond to reviews in the Apple App Store:
Log in to your Apple App Store Connect account (https://appstoreconnect.apple.com/)
Select

My Apps

.
Select your campusM App.
From the left side navigation panel, select

General > Rating and Review

.
You are now presented with a summary of the ratings and can navigate through the reviews.
You can select Reply to the right of an individual review to respond.
To respond to reviews in the Google Play Store:
Log in to your Play Store console https://play.google.com/console/.
Select your campusM App.
From the left navigation menu, select

Quality > Ratings and Review > Review

.
You are now presented with a summary of the reviews and can navigate through the comments.
A reply box appears under each review where you can respond.
Talk to Users to Understand Their Problems
Whether the issue lies in the end user's device or within the app itself, if a user took the time to vent on the app store, they're not having the delightful experience you would like them to have with the app. Find out more about what your users like and don't like about the app by engaging users in a conversation. The feedback you collect is likely to highlight areas for improvement and innovation.
Feedback can be gathered in several ways. Focus groups with small groups of students can offer a lot of insight but requires some organizing and incentives. Surveys and the use of campusM Quick Polls can also offer an easy way to collect information about how students feel about the app. Many of our customers also have student representation on their steering groups to ensure the student's voice is heard when developing the app going forward.
Don't forget, your users can also report issues and provide feedback through the in-app feedback section in the app settings. You can view these comments by opening the App Manager > App Settings > Feedback and then selecting Feedback, Problems, or Ideas to see the comments posted: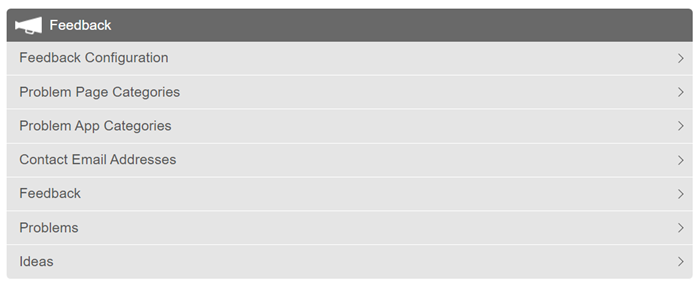 Ultimately, the outcome from the information gathering is to make positive, focused changes that students want to see. Reflecting back the outcome of the investigation - 'you said, we did' - can start to build that positive momentum.
Add a Welcoming Introduction to Your App
You can add or review your existing app Intro Pages to enhance the first experience your users have with the app. These pages can be used to highlight key features and functionalities to guide your students to the relevant experiences. You can also use to communicate how the students can report issues effectively and have their voices heard constructively?
Let Users Know When Issues are Resolved
Keeping users informed about the status of the app, particularly when issues have been identified, can help reduce the frustrations users may have. If they know that you are aware of and are working on an issue, this can help defuse resentment they have towards the app.
Additionally, when you add new features and enhancements, particularly based on student feedback, it is a great practice to inform them so that they can see progress and enhancements to the experience.
Keep Your Native Apps Up to Date
As you know, campusM is delivered through monthly releases. Each month we not only introduce new features, we also fix issues reported by customers. Having the latest native apps means that your end users have the latest fixes on their devices.
While we automatically push the app to the stores three times a year, you can always request an update during any month. This may be useful if you see an issue being reported by students that have a resolution in the release notes. Getting a fix out there quickly can save a lot of angst from end-users.
Also, Apple allows you to reset your reviews with a release. While customers can see previous reviews, the ratings are reset on the app homescreen. This is great if you have made changes or had a release that addresses a key issue your users are reporting against.
Work with Us if You have Issues
We hate bad app reviews as much as you do. We work directly with customers to resolve issues that users may be experiencing. Our experienced support team can quickly evaluate reported issues and help resolve frustrations, and our Customer Success team can advise on how the platform can be better utilized for students to provide the best experience possible.
Keep Your Eye on the Ball
Once you have resolved the issues and implemented strategies to stabilize and improve your app ratings, it is worth putting in place the mechanisms to manage and monitor reviews going forward. A monthly review and response can have a big impact on perception for users.