360 Services: Upload Error -- File Too Large
Last updated
Product:

360 Core Client Center
---
When uploading to my Client Center profile (for example, uploading a title list by using the ODSE (Offline Date and Status Editor), why I am getting an error saying my file is too big?
The file size limitation is 4MB (currently) for Library Specific Holdings databases and 65MB for ODSE. The limit for LSH databases will be increased to 65MB in the Q4 2018 release.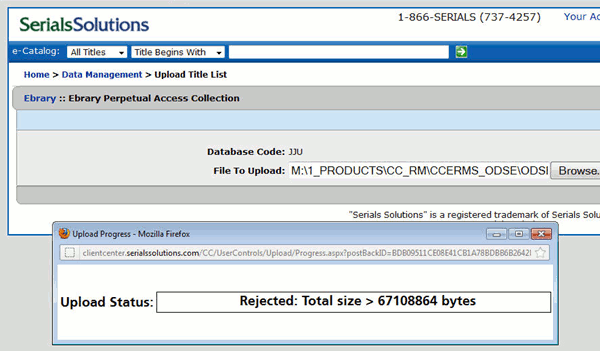 In some cases you may instead see a different error message, such as one of the below two examples:

When the system will not accept the upload file, please create a few smaller files (maximum 4 MB each) out of your large file and re-upload the smaller files.
---
Date Created:

9-Feb-2014

Last Edited Date:

3-Oct-2018

Old Article Number:

7495