Suppress the column header in Analytics
Last updated
Question
How can I suppress the column header in Analytics so that it wil not appear in the Results list and also not in a file exported to e.g. Excel?
Answer
Here are the steps to suppress the column header:
Run any report in Analytics and on the Results view tick "Edit view"
Then tick "Column and Measure Properties"
Now you can decide to turn the Column Labels on or off.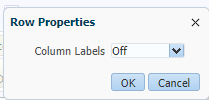 When you set them to off the column header is not displayed anymore
When exporting the result to e.g. Excel the column header is also suppressed
---
Article last edited: 24-Apr-2020