Primo View It
Last updated
Si vous utilisez Primo VE, veuillez consulter Primo VE pour plus de détails
Primo View It (qui s'affiche sur la page Services et pendant la recherche des notices locales d'Alma dans Primo) peut lister jusqu'à 25 services et services liés, ce qui permet aux utilisateurs d'accéder à la ressource ou de la consulter :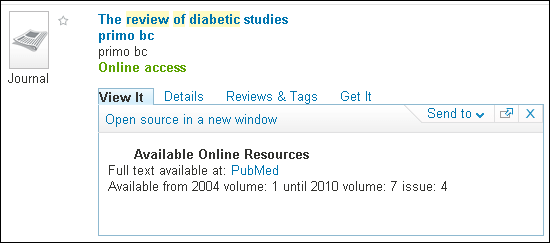 Exemple de ressource électronique
Le service Consulter peut être intégré avec n'importe quel système découverte tiers configuré pour utiliser un fournisseur d'identité basé sur SAML à la fois pour Alma et pour l'authentification sur l'interface de découverte. Pour plus d'informations, voir : https://developers.exlibrisgroup.com/alma/integrations/discovery.
Il n'est pas recommandé d'effectuer des recherches sur différents onglets dans votre navigateur et de demander des informations Consulter ou Obtenir depuis un onglet dans lequel la dernière recherche n'a pas été effectuée.
Afficher les informations de licence
Alma allows you to display an electronic resource's license information in Primo View It. The displayed terms of the license can be configured in Alma, as well as the license-related labels that display in Primo View It.
This section applies only to Primo. For information on how to configure license information to display in Primo VE and Alma-Summon environments, see
Displaying License Information
Show License Link in Primo View It (Classic Primo UI)
After the user clicks the
Show license
link, the name of the link changes to
Hide license
, and the license information appears as configured in Alma:
License Terms Displayed in Primo View It (Classic Primo UI)
To configure the display of license-related information, the following roles are necessary:
Acquisitions Administrator
Fulfillment Administrator
General System Administrator
To display license information in Primo View It:
Specify which license terms to display in Primo View It. For information on the

Display to Public

field, see To add a license term:.
If needed, modify the license-related labels, which are defined by the codes that contain a

c.uresolver.viewit.license

prefix. For more information, see Configuring Labels.
Open the Other Settings page (

Configuration Menu > Fulfillment > Discovery Interface Display Logic > Other Settings

).
Select the

Enable Display of License Information

check box.
Click

Save

.