Alma and Primo VE
Last updated
General
What is Primo VE?
Primo VE is a new Primo deployment model simplifying Primo backend processes and further optimizing the management of Primo with Alma by utilizing the Alma platform. Primo VE offers an inherent discovery layer over Alma resources and – in addition - other resources managed by the library that need to be exposed to patrons.
Primo VE, coupled with the new Primo UI, will enable users to benefit from:
Major operational improvements and the streamlining of publishing processes
Real-time discovery of records created in Alma
Significantly improved product implementation process, including easier configuration and setup
Unified back office management of Primo and Alma, and reduction of duplicate admin processes
Enhanced user experience
There is no need for publishing to Primo, as any changes to bibliographic records in Alma will show up immediately in Primo. New bib records will appear in Primo VE within 15 minutes.
Is Primo VE available for consortia?
Primo VE will be available for consortia early 2018.
Primo VE front end
Can a record viewed in Alma be displayed in Primo VE?
Very often catalogers would very much like to see how a record displays in Primo. This is now possible in a simple and easy manner – from within Alma.
The link to Primo VE can be seen on any title in the results list of a repository search:
The user is immediately navigated to the relevant item in Primo VE:
How do items in multiple locations display in Primo VE?
Primo VE offers a new user friendly UI flow for displaying and navigating between locations.
Clicking on a line will open the location with a minimal display of item information. Clicking on the down arrow, will display more item detail:
Clicking on the 'Back to Locations' link will take the user back to the list of locations.
Clicking on the Request link will open the request screen: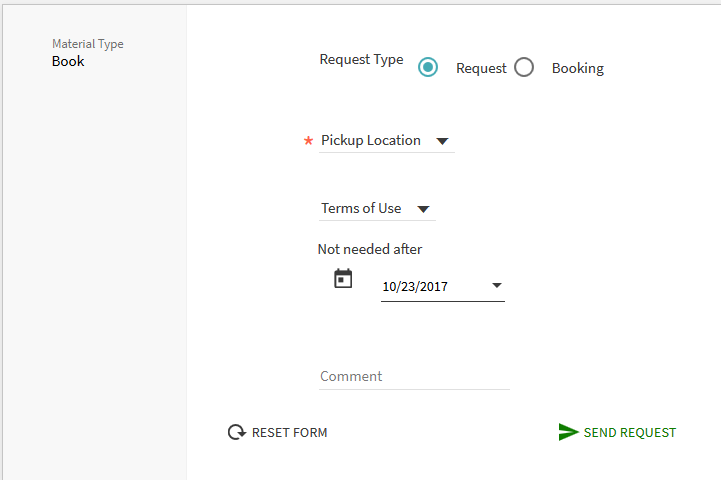 Journal Search
Is there an indication if a journal is peer reviewed?
Primo VE will display a Peer Reviewed icon for journals that are peer reviewed:
Is there an indication if a journal is open access?
Primo VE will display an Open Access icon for journals that are open access:
What options are available for limiting a search to journals only?
Primo VE's Journal Search option allows for searching only for journals. As both Print and Electronic material iis managed n Alma, this is not only for e-journals as with traditional link resolvers, but also for print journals.
Journal Search can be accessed from a link at the top of the screen:

Instead of offering users an outdated A-Z list Primo VE's Journal Search interface comes with an auto complete suggestion that is built specifically from the institution's journal subscriptions and holdings in Alma:
Is it possible to search for articles within a journal?
Primo VE supports a 'Search Inside' option that allows for searching for articles within a journal:
A Result Page displays. At the top of the screen you can see your search query – with the option to modify parameters as necessary. Below, you can see the articles related to your search query in all the issues of this journal: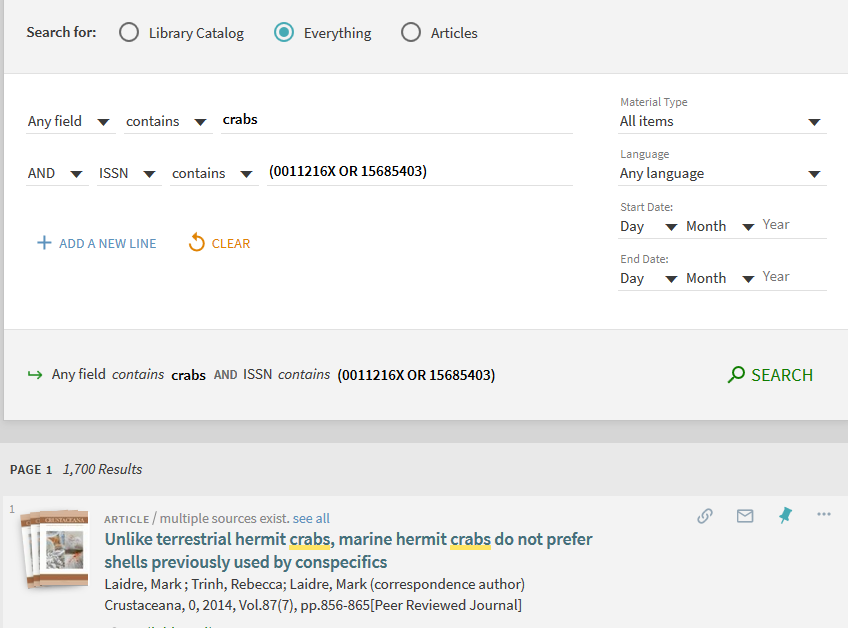 Facets display on the right hand side of the result list (by default collapsed):
Can the patron see if the article as been cited in or cited by other publications?
When viewing an article it is possible to see if it has been cited in or by other publications. Clicking on the link will direct the user to the relevant publication:
Primo Central Index
Will Primo VE show physical holdings as well as electronic services when searching PCI?
When a user clicks on a record from Primo Central Index (or an external source like Google Scholar) – in addition to showing the electronic services available (as any link resolver will do), Primo VE will also check to see if there are any relevant physical holdings and will show the user that the library also holds a physical copy of this journal. This is a unique feature of Primo VE.