Alma Accessibility Statement
Last updated
Ex Libris Accessibility
All library staff, including those with physical impairments, need to manage all their resources and unique materials.
Ex Libris, including Alma, is working towards providing all of our users with a fully accessible experience for research, insights, and analytics. We make every effort to ensure that our platforms and workflow solutions can be used by everyone. Ex Libris aims to meet Level AA of the W3C Web Content Accessibility Guidelines (WCAG 2.1) and Section 508 of the US Rehabilitation Act for features and functions with as few exceptions as possible.
Document Purpose
This document illustrates the continuous effort to ensure that accessibility standards are built into our design and style guides and are included as part of the requirements across Alma and the Higher Education Platform software development and quality assurance pipelines.
In addition to our methodology, this document also illustrations the current status of Alma's compliance with WCAG 2.1.
Accessibility Features and Gaps for WCAG 2.1
Alma users should be able to:
Navigate most of the web application using a keyboard only
Listen to most Web applications using a screen reader
Navigate most of the Web applications using speech recognition software
Zoom in up to 200% using browser tools without losing any text
Control the density of the display across the system
There may be some parts of the Web application that are not fully accessible:
Alma is responsive but not optimized to be used on smartphones.
A small number of features are challenging to navigate using only the keyboard.
If users have a disability and need to make their computer, tablet, or laptop easier to use, we recommend AbilityNet as a resource. We also recommend browsing free add-ons offered for Google Chrome and Mozilla Firefox.
Technical Information About This Site's Accessibility
Alma is committed to making its web application accessible, in accordance with:
Level A and Level AA of the W3C Web Content Accessibility Guidelines (WCAG 2.1)
Section 508 of the US Rehabilitation Act for features and functions.
The Americans with Disabilities Act (ADA)
Public Sector Bodies (Web applications and Mobile Applications) (No.2) Accessibility Regulations 2018.
Compliance Level and Report
This web application is only partially compliant with the Web Content Accessibility Guidelines v2.1 AA standard, due to the non-compliances listed below.
You can access the full Accessibility Compliance Report (WCAG 2.1 by VPAT 2.4) for Alma.
The Alma team is continually addressing major accessibility issues as part of our annual audit and fix cycle.
Accessibility for the Alma Platform
Keyboard-Only Navigation and Keyboard Shortcuts
Alma provides many ways of using the keyboard for better navigation, such as tabs and arrows. In addition, Alma also supports various pre-defined shortcuts. Alma specifically provides the ability to navigate between multiple tabs in all screens by pressing Alt + number. This site-wide feature makes it easy to jump from one tab to another.
Quick Navigation to Tabs Using the Alt and Number Keys
When navigating Alma using only a keyboard, note that:
In some forms, where the location field includes collapsed sections that expand automatically, the user cannot bypass this list and skip to the next collapsed section when using the keyboard.
On some pages, the Esc key does not close the screen; the user must use the Cancel/Close option.
In date fields, the date picker cannot be accessed using a keyboard. We recommend that the user enters the date as text.
Display Density Options
Alma allows the user to choose the font size and density of elements on the page. This is an easy way for each user to decide whether to see more or less information. You can find this option in the user menu under the heading UI preferences.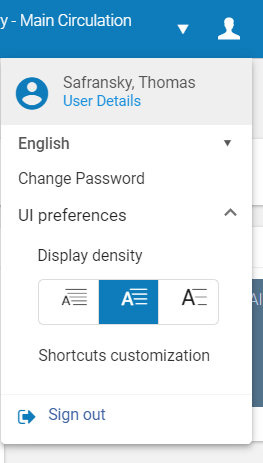 Display Density Options on the Alma User Menu
Responsiveness
Alma is designed to be responsive. Due to the large amount of information displayed on each page, however, the system is optimized to work with computer screens, laptops, and tablets with landscape orientation.
Further Reading
For more information about how to make the most of Alma, see our help documentation: The Alma User Interface
Accessibility By Design
Accessibility standards are taken into consideration from the earliest phases of feature development. They are built into our design, style guides, and are included as part of the requirements in our software development and quality assurance pipeline.
As Ex Libris shifts to its new and improved user interface layout, it makes sure, just as it does in its existing infrastructure, to create an infrastructure that incorporates accessibility by design. This includes accessible elements with correct color contrast, keyboard access, proper labeling, and more. The infrastructure is constantly tested as part of the development process.
Ex Libris also provides the development teams with education sessions and development and testing methodologies about how to incorporate accessibility by design.
Accessibility Testing
Ex Libris's range of automated and manual checks include, but are not limited to, the following:
Color Contrast Analyzer provided by WebAIM
Deque aXe accessibility testing tool
High Contrast Chrome extension
Keyboard-access manual testing and assessment
Accessibility testing tools such as WAVE, aXe, or Microsoft Accessibility Insights
Screen readers such as JAWS, NVDA, and VoiceOver
Alma is tested on the latest version of Firefox, Chrome, and Edge and on devices including Windows computers. For more information about browser support, see see Browser and OS Requirements.
Accessibility Assessment and Development
To assess accessibility across Alma and the higher education platform, products are audited annually by a leading third-party compliance company.
In addition to third-party assessments, as part of its development process, Ex Libris runs ongoing accessibility assessments to make sure each development is accessible while verifying with QA that there are no accessibility regressions.
As a result of these assessments, accessibility issues are prioritized and scheduled as part of the accessibility roadmap.
Ex Libris is highly committed to this roadmap. For instance, during 2021-2022, in light of the assessment report mentioned above, Ex Libris invested over 20% of its total annual investment in Alma infrastructure on accessibility related developments.
2023 VPAT
The assessment process for 2023 is under way and workflows representing all areas of the Higher Ed Platform are being reviewed by the assessment company.
In accordance with the assessment report, any necessary corrections and fixes will be scheduled, and an updated accessibility roadmap will be constructed.
By the end of 2023, updated VPATs (voluntary Product Accessibility Template) designed to include all products of the Higher Ed Platform will be issued.
What We Are Doing to Improve Accessibility
We are committed to working with the community to ensure that we continue to meet our customers' needs. In addition to the third-party assessment report, we are committed fix issues found by customers that do not comply with level A and AA. Once found, these issues are prioritized and added to the accessibility roadmap to be fixed as early as possible based on this priority.
Accessibility at Clarivate: An ongoing Effort
Our ongoing accessibility efforts as an organization include:
The Clarivate Accessibility Council: a company-wide team of stakeholders working to increase accessibility resources and capabilities
Testing with users of all abilities
Pursuing partnerships with colleges, universities, and other institutions to assist in reviewing and updating our accessibility documentation and testing with users of varying abilities
Consulting with and performing audits through accessibility experts such as Deque and encouraging third-party audits
Supporting accessibility training and certification for our employees
Embedding accessibility in our development process. Our acceptance of new features and functionality requires compliance with WCAG 2.1 AA.
Support and Feedback
If you have difficulty accessing specific Clarivate content or features with adaptive technology, contact us using the links provided below. Our support services are available to accommodate the communication needs of end users with disabilities. We will work with you to identify the best option for remediation, subject to content licensing restrictions and technical capability.
Current customers:
submit questions or issues by opening a case using the
Support Portal
.
Preparation of This Accessibility Statement
This accessibility statement was first prepared on January 18, 2022. It was last reviewed on January 18, 2022.
The web application was initially tested for a July 2021 release. The test was carried out externally by the leading digital accessibility assessment company, Deque. Fixes that were done up to and including the December 2021 release were verified by Deque, as well.
As mentioned above, Ex Libris is currently running a new accessibility assessment in coordination with Deque. The results of this review and the fixes that will be done accordingly will be included in the new VPAT planned by the end of 2023.