Updated Support Portal Login Page
Last updated
On August 16, 2020, we will update the Ex Libris Support Portal login page to improve the security and registration process.
What is Changing?
For your convenience, there will be an automatic redirect from the previous URL to the new one.
Username alignment: Your new username will be your on-file email address.
If your username is already your email address, it will remain as is.
The "Report to Ex Libris" functionality from Alma and SFX will not be affected.
What Actions will you need to take?
The old URL will still redirect you to the new login page.
Upon first login, you will be required to change your password.
Logging in for the First Time
1. Click the "click here" on the login page:
2. Enter your email address, and click "Reset Password". This will trigger a password reset email: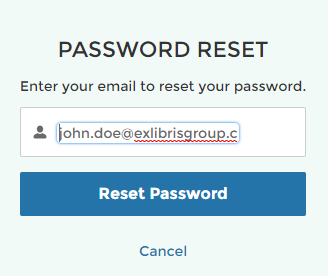 3. Click the link in the email to reset your password and complete the process.
Invite Your Colleagues
This new process allows you to invite your colleagues to create their own Support Portal user.
No need to open a case to Support
No need for institutional credentials
1. Log into the Support Portal, and go to the Invite tab.
2. Fill in your colleague's name and email address:
3. Your colleague will get an email asking them to verify their email address and complete the registration process.
We use institutional credentials to create new users for colleagues. Will our process change?
Yes, institutional credentials will no longer be used for this.
Instead, invite your new colleagues using the Invite tab in the Support Portal.
We have a group Support Portal user, how will it be affected?
If you have one Support Portal user using a group email address, you will be able to continue using it.
You will be required to reset the password before logging in for the first time after August 16.
We have several Support Portal users using the same email address. How will they be affected?
It will not longer be possible to use the same email address for multiple Support Portal users.
Please email information.systems@exlibrisgroup.com and provide the new email addresses for these users.
The links from Salesforce notifications received prior to August 16 are taking me to a different Salesforce login page that what I expect. What should I do?
Click the 'Support Portal' option on the bottom of the screen: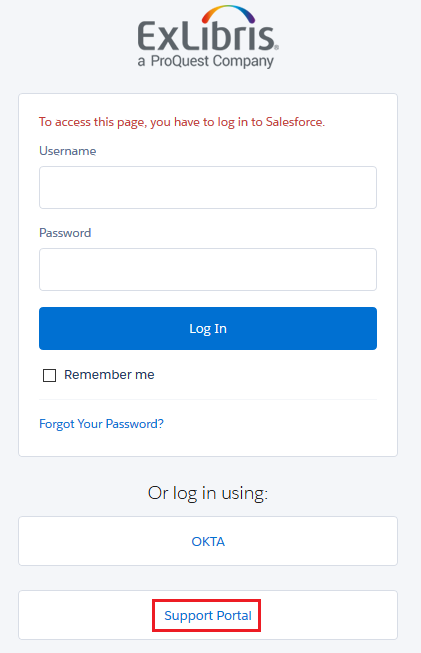 Note that going forward, the notifications will be sent with the new Support Portal URL, and will redirect you to the new login page.
I tried to reset my password, but never received an email. What should I do?
Use your on-file email address. This would be the one where you received the notification about the new login page.
Make sure supportportal@exlibrisgroup.com is on your allowed list.
If you still do not receive an email, click the Login Issues? link on the Support Portal login page.
I got the 'Reset Password' email, but it takes me to another 'Reset Password' page. How do I get out of this loop?
Some mail crawlers can cause a reset password loop.
Click the Login Issues? link on the Support Portal login page for assistance.