Add an exception to Java Control Panel to enable Digitool file upload applet
Last updated
Overview
Java security settings prevent loading of the file upload applet in step 4 of the web ingest interface. This can be fixed by adding an exception for the server in the security tab of the Java Control Panel.
Open the Java Control Panel
This can be found on your PC in Control Panel > Java, or alternatively by hitting the "Windows" key, typing "java" and selecting "Configure Java" from the suggested search results.
Add an exception
Navigate to the security tab of the Java Control Panel, click on "Edit Site List"
Add an entry for your server according to the URL of your web ingest interface in the format:
http(s)://yourserver:port
Example: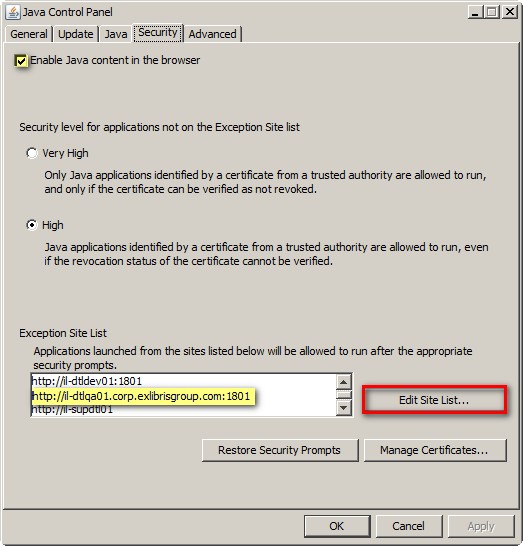 Notes
You will need to allow the file upload applet to load in any pop-up warnings presented in the browser.
This function is no longer supported in Google's Chrome browser.