Intota: Removing Databases from your Intota Profile
Last updated
---
How do I remove a database from my profile?
Remove a database that is in your profile by clicking
Resources
on the menu bar and then selecting
Databases
in the submenu, this will display your list of databases.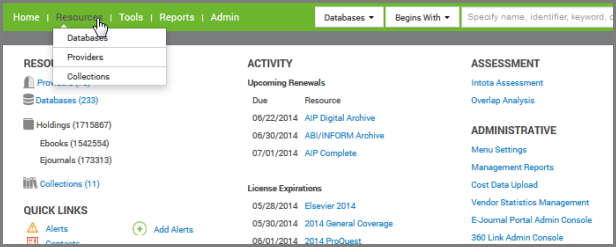 Another option is to use the
Intota search box
in the top right of the page to search for the database you want to remove.
Either way, use the left side
check box
to select the database and use the
Status
drop-down menu to change the status to
Not Tracked
.
These changes will appear immediately in your profile, but it may take up to 24 hours for the resource to no longer be visible in your discovery services due to the
data refresh
process.
---
Date Created:

24-Jun-2014

Last Edited Date:

24-Jun-2014

Old Article Number:

10959