How to activate Captcha in Rosetta
Last updated
Product: Rosetta
Product Version: 6.0
---
Overview
The Captcha feature is being used to protect the website from bots attacks.
This article instructs how to activate the Captcha feature in Rosetta producer agent registration (from the deposit module login page).
Activation Steps
1. Go to: https://www.google.com/recaptcha
2. Click "My reCAPTCHA"
3. Choose the type of reCAPTCHA: reCAPTCHA v2
4. Include all domain names you use to access Rosetta
5. Click "Register":

6. Copy the Site Key and Secret Key generated. Note: these keys are tied to specific domain names.

7. Go to Administration > General Parameters > Select Module: deposit
8. On "reCAPTCHA_secret_key" set the Value to the Secret Key.
9. On "reCAPTCHA_site_key" set the Value to the Site Key.
10. Click "Update"
11. The Captcha is enabled now for registration in Rosetta, and will show the following: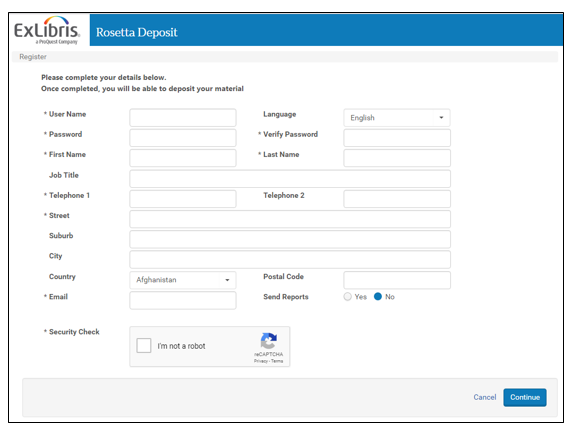 ---
Article last edited: 03-Sep-2018