Summon: Administration Console: Translations (Custom Text Editor)
Last updated
---
How do I customize the text strings for each user interface language in the Summon service ?
Update September 13, 2013:
Updated information on saving changes and when they take effect.
NOTE
:
This is part of a
larger set of documentation
about using the Administration Console to configure your Summon service.
---
The
Translations
page in the Summon Administration Console allows you to edit the default text for any label or message element on the Summon search and results pages in each language you choose to include:
Here is the initial view of the Translations page: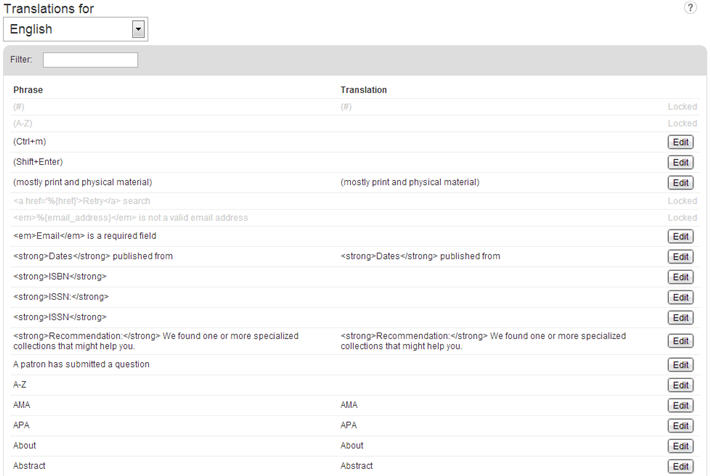 There are four major elements on this page:
The

Dropdown Menu

, which allows you to choose the language for the text you would like to edit.
The

Filter

, which allows you to search the default text list for items you wish to edit.
The

Phrase

column, which contains the default text for each label or message; and

The Translation column

, where you can enter your custom text for each label or message.
An

Edit

button for each word or phrase that allows custom editing.
Some items are not available for editing. These appear in the list as disabled (grayed out), with the word "Locked" in place of the Edit button.

Follow these steps to edit the default text or messages in the Summon Search and Results screens:
Choose

the language with the text you wish to edit.

Search

for the text using the Filter, or scroll through the list to locate the text you wish to edit.

Click

on the Edit button for each text string you wish to edit. A pop-up window will appear with the default text and a field for Translation:

Add

your custom text in the "Translation" field.

Click

the Update button to save the new text.

Changes made within the Custom Text Editor will be live in your library's Summon interface within one to five minutes (configuration changes are updated on a regular schedule every five minutes). To view the changes, open your library's Summon interface, or refresh the page if it is already open.

---

Date Created:

9-Feb-2014

Last Edited Date:

21-Feb-2014

Old Article Number:

8751