Record in import file failed the Unicode conversion. Unable to display the record
Last updated
Product: Voyager
Relevant for Installation Type: Dedicated-Direct, Direct, Local, Total Care
---
Problem symptoms
Attempt to import record in Cataloging Client results in "Record # N in import file failed the Unicode conversion. Unable to display the record":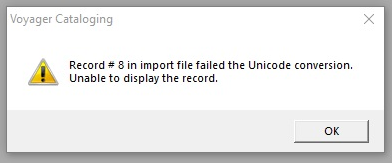 Cause
The message indicates that Voyager is not able to successfully convert the character encoding using the Expected Character Set selected in Cataloging Preferences. This could be for one of the following reasons:
Mismatch between record's character set encoding and character set is selected in Options > Preferences > Mapping
Character(s) in the record may not be correctly encoded and Voyager cannot interpret/convert them.
Resolution
Log into Cataloging
Options > Preferences > Mapping > select the character set that matches the character set encoding for the records.
If issue is improperly encoded character, edit character in an external program (or notify record vendor to request correction).
Additional Information
See also: Overview of Voyager cataloging client session defaults and preferences
Note that the Acquisitions Client the error may be different: "Unable to retrieve bib records from file... Unrecognized record format encountered. Import cannot continue":
---
Article last edited: 20-Jun-2021