Voyager Prepackaged Access Reports SQL and Microsoft Office "smart quotes"
Last updated
Product: Voyager
Relevant for Installation Type: Multi-Tenant Direct, Dedicated-Direct, Local, TotalCare
---
Description
Microsoft Office applications such as Word and Outlook automatically change straight quotation marks ( ' or " ) to curly quotiation marks (also known as "smart quotes" or typographer's quotes). If introduced into SQL code used in Access or sqlplus, smart quotes will break the code.
Resolution
If you are using SQL code that is passed through a Microsoft application, be aware of this potential problem.
If you move SQL code into Microsoft Word or Outlook, you can turn smart quotes off. Use the application's internal Help function for instructions.
Additional Information
The following provides an example of "smart quotes" as auto-corrected by Microsoft Word, followed by an example of straight quotes: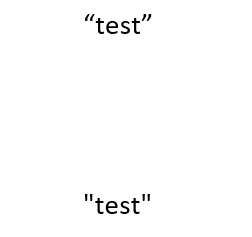 .
For some additional useful information on smart and straight quotes, see: https://practicaltypography.com/straight-and-curly-quotes.html
---
Article last edited: 20-Nov-2019