360 Resource Manager and 360 Counter: Vendor Statistics Metadata
Last updated
---
What is Vendor Statistics Metadata?
Vendor Statistics Metadata is a feature available to 360 Resource Manager and 360 Counter subscribers.
Libraries enter metadata describing the statistics that are available from the vendor. Fields in vendor statistics include: URL to obtain usage statistics, user name and password, delivery method, frequency, and standards compliance. Libraries refer to this information when they manually retrieve usage statistics from the vendor.
To manage metadata about your vendor statistics, you must:
After you have created one or more data sets, you can
duplicate data sets
, for instance if you want to make templates to copy some information.
Only one data set can apply to a resource at a time. If you create another data set and attach it to a resource, the previous data set will no longer be attached to the resource, but the previous data set will continue to appear in the list of Vendor Statistics Metadata sets in the library's profile.
While working with the Vendor Statistics Metadata feature, you may find it helpful to refer to the
Glossary of Terms
.
You can store your login credentials used to access usage statistics from providers in the Vendor Statistics Metadata tool. However, we encourage you to store those login credentials on the
360 Counter DRS Form
, at least for those providers that are Project-COUNTER-compliant. Login credentials for non-COUNTER-compliant providers can be stored using the Vendor Statistics Metadata tool.
---
Once Vendor Statistics Metadata information is populated for a specific resource, that information can be easily retrieved from the Details page for the resource. In the image below, selecting the Statistics link will bring the user to the Vendor Statistics Metadata page for HighWire Press: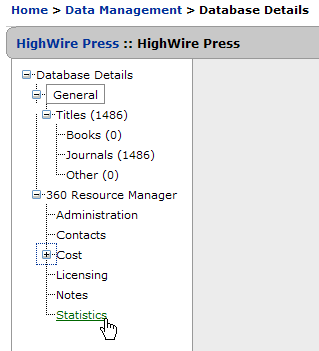 ---
---
Date Created:

9-Feb-2014

Last Edited Date:

21-Feb-2014

Old Article Number:

7335