360 Counter: Data Retrieval Service (DRS) - FAQs
Last updated
---
Where can I find answers to questions about the Data Retrieval Service (DRS)?
A complete description of the DRS service is available
here
. Below are some questions we hear from libraries when they are starting out with DRS.
Does 360 Counter support COUNTER 4 reports, COUNTER 3 reports, or both?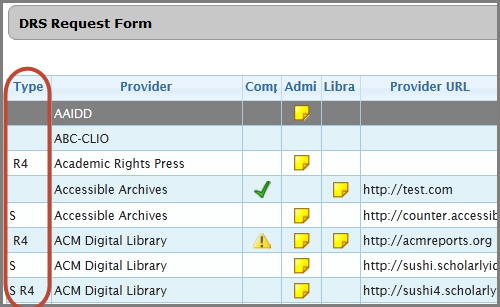 Those providers without the text R4 provide R3 reports:
S
indicates SUSHI protocol harvesting and a provider with
no Type listed
indicates Administration based harvesting.
Is it OK if multiple people work on the DRS Request Form at the same time?
Yes, it is OK as long as they edit different records on the Form. If they edit the same record, the system will save the change that is made last.
Why do I see many providers on the DRS Request that I do not have a subscription to?
The list of providers on the DRS Request Form is independent of the provider list in your Client Center profile. It includes primarily SUSHI-capable providers on the
SUSHI Server Registry
and
Project COUNTER-compliant vendors
. In addition, we include those providers that are not on these two lists but for which we have verified (based on client requests) that we can support their usage-statistics reports, or our SUSHI server can harvest usage statistics from their SUSHI server.
What do I do if on the DRS Request Form I am not able to find a provider my library subscribes to?
For SUSHI capable providers, send your SUSHI information (including SUSHI server URL; which reports are available via SUSHI; and required SUSHI credentials such as Requestor ID, Customer ID, etc.) to us using the
Support Portal
option. We will test and add the provider to DRS if our SUSHI service can connect to the provider s SUSHI service successfully.
Why are the reports available for harvesting via SUSHI sometimes different or fewer than those listed for the Administration based harvesting method?
Sometimes providers offer fewer reports via SUSHI compared to what is available on their administrative site. If you find that the reports we have made available for SUSHI for a provider is inaccurate, please let us know.
Are SUSHI credentials generally different from Counter user login information? If so, how do I find my SUSHI credentials?
Yes, they are usually different. For administration based harvesting, we will use your login information to go to the provider admin site, manually download the reports, and then upload to your 360 Counter. For SUSHI, providers vary in their SUSHI credentials requirements; they might use different combinations of RequestorID, CustomerID, Username, Password, Email, etc. We have the required fields (to the best of our knowledge) displayed in bold on the DRS Request Form.

Some vendors provide your SUSHI credentials in your admin account. If you don t find your SUSHI information there, contact the vendors to obtain it.
Why for some publishers, there are multiple lines, some including SUSHI and some not. Is it advisable to fill out the form for each line item?
We have multiple entries for some providers if they provide reports via both the admin site and SUSHI (those with the letter S under the Type column) and if they have different platforms or sites where the reports are located. You can also see the Admin note for platform information for each entry, and choose the appropriate one(s) you subscribe to.
What do I do if the URL I have for accessing the report is different from the default URL?
The URL provided on the DRS Request Form is the one we know and it works for most libraries. However, if the URL you use to access your Counter report is different, please feel free to replace the default URL with your URL.
How do I input my information onto the DRS Request Form if I have two or more accounts which collect different sets of reports from a provider?
For administration based harvesting, you can use the Library note field to provide us instructions and the additional login if you want us to collect reports from all of the accounts. For SUSHI, ask us to add separate rows so you can request SUSHI harvesting from all of the SUSHI server sites/accounts.
For a publisher that make its content available on a hosting platform such as Highwire or MetaPress, on the DRS Request Form should I enter my login for the publisher or for the hosted platforms?
What do I need to do to ensure that ProQuest can collect and upload my data successfully?
Two things.
One, because the list of providers on the DRS Request Form is not connected to your library's list of subscribed databases in the
Data Management
section of the Client Center, you need to make sure that the providers you select on the Form are included in Data Management. (In other words, you must have
subscribed
to at least one database from each provider.) Otherwise, 360 Counter will not be able to "find" the provider and upload your usage reports.
Two, verify that your admin login (for Administration-based harvesting) or your SUSHI credentials are accurate. See if you can log into the admin site with your username and password. For SUSHI, click
Test SUSHI settings
on the DRS Request Form provider form to see if the test passes or not.
---
Date Created:

8-Sep-2014

Last Edited Date:

15-Mar-2016

Old Article Number:

11223