360 Core: E-Journal Portal Administration Console -- 2.0 Activation and Configuration
Last updated
Product:

E-Journal Portal
---
Where do I turn on E-Journal Portal 2.0, the enhanced version of the legacy E-Journal Portal / A to Z List?
---
The
EJP 2.0 Activation and Configuration
page in the administration console is where you turn on
E-Journal Portal 2.0
and configure optional features.
Access the page by clicking on the E-Journal Portal 2.0 tab in the 360 Core Administration Console: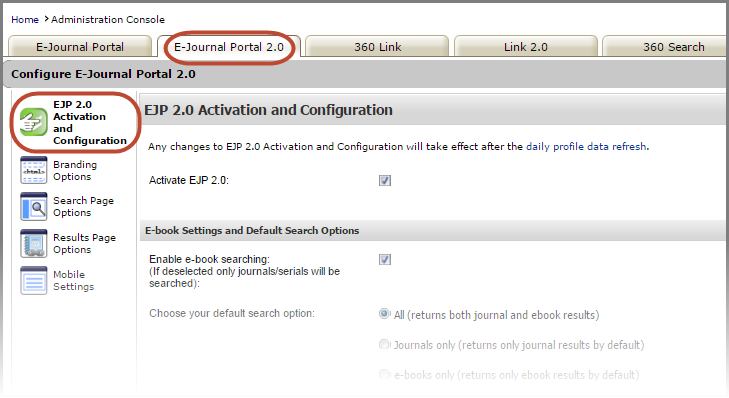 When you are ready to start configuring your options, click
Edit
in the upper-right corner of the page. After you make your changes, click Save, or click Cancel to discard your changes.
Changes you make to the E-Journal Portal will not be visible to patrons until the daily profile data refresh has completed; to see how your changes will look without having to wait, click
Preview.
---
Activation and Configuration
This section of the admin page is where you turn on E-Journal Portal 2.0 by selecting the
Activate EJP 2.0
checkbox below. If you are not yet ready to have E-Journal Portal 2.0 visible to your users, make sure you have reviewed the
Previewing Changes
information above to make sure your timing will not coincide with the start of the Daily Profile Data Refresh.
E-book Settings and Default Search Options
Select the
Enable e-book searching
checkbox to include E-books in addition to E-journals. The checkbox should automatically be selected if you have been using the legacy E-Journal Portal and your E-books have been included in the legacy portal.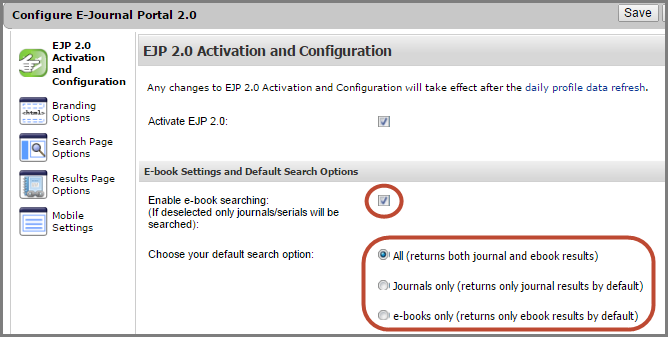 The default setting is to have both journals and ebooks included in search results, and provide the user with options to limit results via the
Journals Only
and
Books Only
radio buttons:
To make
Journals Only
the default setting, select the Journals Only option in the admin console. To make
Books Only
the default setting, select the E-books Only radio button. With all default search options, the user is always presented with all 3 radio buttons and can select
All
,
Journals Only
or
Books Only
at anytime.
---
---
Date Created:

1-Jun-2016

Last Edited Date:

29-Jul-2016

Old Article Number:

13893