Self-Check Machines
Last updated
Self-check machines allow library users to easily borrow, return, and renew items at conveniently placed self-service stations. In this accelerator kit, you will find content that can help your organization integrate, configure and troubleshoot self-check machines for the most common issues.
Introduction to Self-Check Machine Integrations
If you are new to the concept of integrating self-check machines, please watch the following introductory video:
Duration: 6.06 minutes
Before You Start
Ex Libris staff will typically start talking to you about self-check machine considerations during implementation. No matter where you are in the implementation process, you will need to be mindful of the following things:
Self-check machines can only be configured after the test load delivery has occurred.
You need to install and configure Stunnel, a free open source software, before connecting any self-check machines (learn more about Stunnel in our How-to Guide). Installation instructions for Windows and Linux OS can be found in this article
How-to Videos
We've created two easy-to-follow videos for you to watch in order to help with configuring self-check machines with Alma via Stunnel.
Configuring Stunnel for Self-Check Machines
Obtaining an Alma Certificate File for Stunnel Configuration
Mastering Self-Check Machines
For resolving issues pertaining to Stunnel, please refer to this troubleshooting article.
General Self-Check Troubleshooting Tips
If you are using a 3M self-check machine, the checkin option must be set to Yes, due to a 3M requirement for enabling initial communication. If you do not want the check-in action to be allowed, ensure that you block it when configuring your 3M self-check machine. If you do not define the checkin option, you will not be able to activate the integration.

Due dates are not displayed – if this used to work, it might be related to daylight saving times change. The date format in the machine's software should be updated to match the Alma date format. It is also possible to define Alma to return the due date field (AH) without time zone (use_time_format_with_time_zone_in_self_check customer parameter),

"Connection timed out" messages in the Stunnel log – add the following line to stunnel.conf:
TIMEOUTidle = 86400
We recommend that, once installation and initial configuration has been completed, that you test to ensure that it is functional. Please refer to our testing instructions which can be found here.
Submitting a Support Ticket
If you cannot find the help you need to resolve your issue, we recommend submitting a support ticket and include the following information: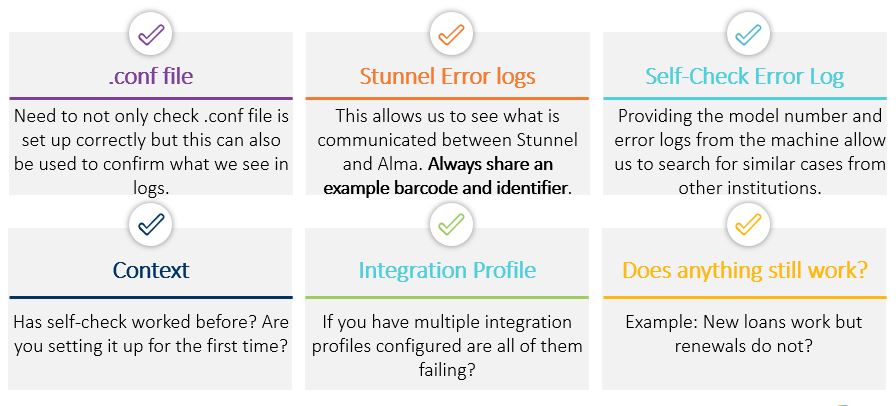 Resources
We've collated some useful links for you to assist further with self-check machine integrations. They are divided into 3 main categories – documentation, knowledge articles and developer network content.