Waiving Fines in Bulk
Last updated
To waive fines in bulk, you must have one of the following roles:
User Manager
User Administrator
You can waive user fines and fees in bulk by running a job. You run the job on the Bulk Fine Waiving page (
Admin > User Management > Bulk Fine Waiving
).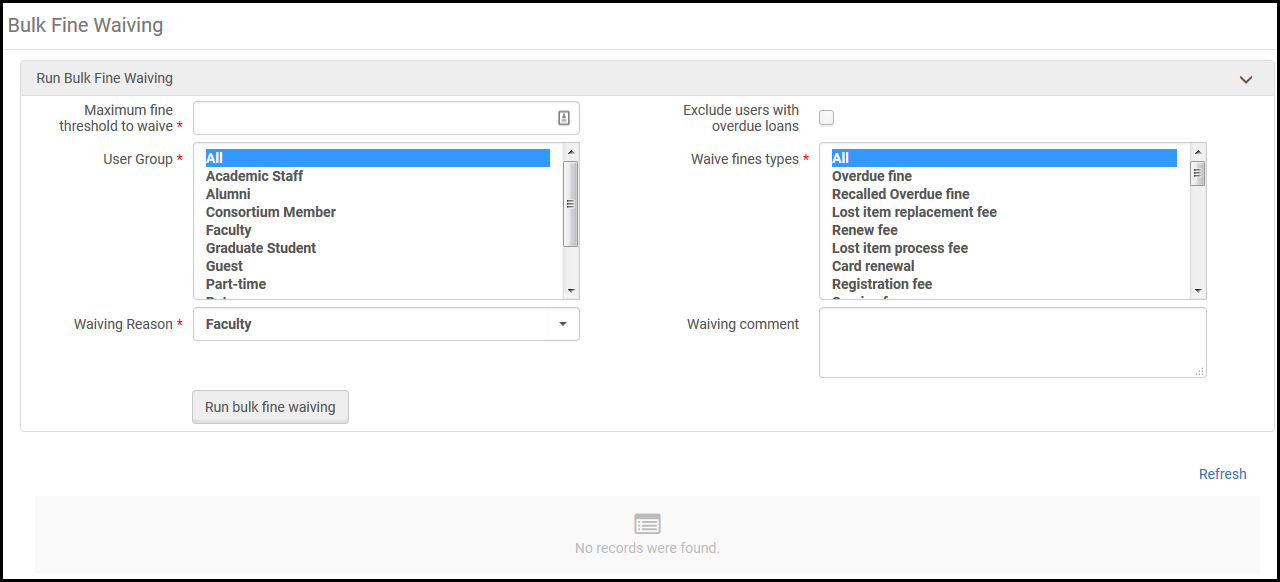 Bulk Fine Waiving Page
To waive user fines in bulk:
On the Bulk Fine Waiving page, enter the following information.

Maximum fine threshold to waive

– The maximum fine to waive. If the total amount of a user's fines is greater than the threshold, none of the user's fines are waived.
For example:

Maximum fine threshold to waive

= $120
The patron has fines of $10, $50, and $70

Since the total of the patron's fines exceeds the

Maximum fine threshold to waive

value, none of the fines are waived.

Exclude user with overdue loans

– Whether to exclude users who have overdue loans.

User Group

– Specify user groups for which to waive fines.

Waive fine types

– Specify the types of fines to waive.

Waiving reason

– The reason for waiving the fine. For example, you may want to waive fines accrued by your faculty.
Select

Run bulk fine waiving

and select

Confirm

in the confirmation dialog box.
The job runs, and information about the job appears on the page. Select Refresh to monitor the progress of the job. Also see Viewing Running Jobs and Viewing Completed Jobs.