Approving Deposits
Last updated
To approve deposits, you must have one of the following roles:
Deposit Operator
Deposit Operator Extended
General System Administrator
Deposits submitted by patrons must first be approved before their contents enter the repository. You approve or reject deposits on the Approve Deposits page (
Resource Management > Deposits > Approve Deposits
). You can also view this page starting on a specific tab by selecting one of the following tasks in the Tasks List in the persistent menu (see
Tasks in the Task List
).
Approve Deposits - Assigned to Me

Approve Deposits - Unassigned

Approve Deposits - Assigned to Others

Approve Deposits
To process multiple deposits, select the deposits and select
Process Selected
to perform the following actions:
To process one deposit, select the title of a deposit. The following tab appears:
Approve Deposits Information
The following actions are available on this tab:
The following buttons appear at the top of the page:
Storage Path – View the storage location of the digital file.
Edit Record – Open the MD editor (requires cataloging permissions).
Edit Representation – Open the Digital Representation Editor (requires digital inventory editing permissions).
Record tab – View the bibliographic record of the deposit.
Notes Tab – Add notes concerning the deposit.
If you approve, decline, or return a deposit, a preview of the email that will be sent to the depositor appears. For the decline and return emails, you can select a reason from the drop-down list. You can also edit the text of the email. To configure these emails. see
Configuring Patron Deposit Templates
.
Approved Email Message
Declined Email Message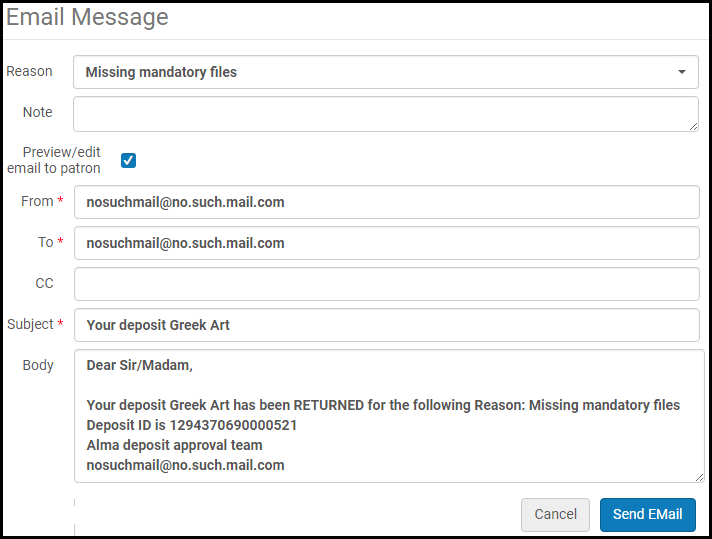 Returned Email Message
If the deposit is approved, declined, or returned, an email is sent to the depositor. For information on configuring the text of these emails, see
Configuring Deposits
.