Intota: Data Retrieval Service (DRS) Request Form
Last updated
---
How do we use Intota's DRS Request Form for COUNTER report uploading?
To activate Intota's Data Retrieval Service (DRS) for your institution, ProQuest needs to know which usage-statistics reports you want DRS to retrieve, clean, and upload, as well as your login details for harvesting statistics from your providers. This information is communicated to ProQuest through the DRS Request Form in Intota.
Before using this information, it will be very helpful if you understand how DRS works, as well as the two harvesting methods: SUSHI-protocol harvesting and Administration-based harvesting.
You will find that the list of providers on the DRS Request Form includes primarily SUSHI-capable providers on the SUSHI Server Registry and Project COUNTER-compliant vendors. In addition, we include those providers that are not on these two lists but for which we have verified (based on client requests) that we can support their usage-statistics reports, or our SUSHI server can harvest usage statistics from their SUSHI server.
Because the list of providers on the DRS Request Form is not connected to your library's list of subscribed databases in Intota, you need to make sure that the providers you select on the Form are included in your Intota profile. (In other words, you must have subscribed to at least one database from each provider.) Otherwise, Intota will not be able to "find" the provider and upload your usage reports.
SUSHI is scheduled to run on a monthly basis. After you enter your SUSHI credential for a particular provider, our SUSHI server will begin to harvest your statistics from that provider on the second (2nd) day of the following month. Administration-based harvesting follows your pre-determined schedule, when ProQuest manually retrieves your statistics from the provider administration sites.
You can access the form by clicking Tools on the menu bar and then selecting Vendor Statistics Management in the submenu: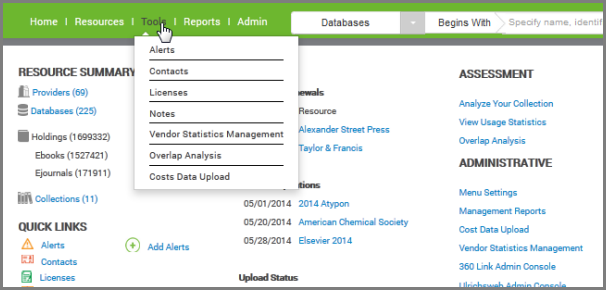 The first section of the page,
Mange Data Retrieval
, is the DRS Request Form.
If this is the first time someone from your library has used the DRS Request Form, you will want to Add Contact Information.
Then you can View DRS Requests in the main part of the Form.
Rows that appear gray are providers that have been disabled because SUSHI retrieval cannot be successfully completed. If a projected fix or enable date and a description of the problem are available, they will appear in the Admin column.
When you're ready to add credentials and choose which reports you want from each provider, you can use one or both of two methods:
---
Add Contact Information
The contact information at the top of the page is the place to indicate who in your library is responsible for filling out the DRS Request Form. ProQuest will also contact this person if we have any questions about your requests. Click Edit on the right side to make changes:
The Reporting Frequency field (located at the bottom of the DRS Form page) can only be edited by our staff and it is a legacy setting that is no longer relevant, given that Administration Based Harvesting happens two times a year for all customers.
---
View DRS Requests
The main part of the DRS Request Form is the list of providers and which usage reports you'd like us to get from them, as well as other information about each provider and your library's credentials with them:

Column-heading definitions:
Column Heading
Definition

Provider

Vendor/provider name as found in our knowledgebase.

The list of providers is mostly in alphabetical order. However, you will find that some providers are not listed in alphabetical order. The best way to find the provider you're looking for is to use the Find function of your browser, which is usually CTRL-F.


If a provider is listed on more than one line, it means one or more of the following is available. (See the Admin Note for the explanation):


The provider has the capability to provide usage reports using the SUSHI protocol.

The provider offers several different usage-statistics harvesting methods (for example, EBSCO).

The provider has a different COUNTER-reports site for different platforms (for example, Elsevier).

There may be an icon in this column as well.

The green arrow icon means that the Data Retrieval Configuration for this provider is complete. We can only gather usage reports for you from a provider if you have filled out all the required information in the Request Form.

The yellow arrow icon means that the Data Retrieval Configuration for this provider is partial, and ProQuest cannot retrieve its statistics until the configuration is complete.

No icon indicates that nothing has been done for Data Retrieval Configuration.

Retrieval

"Auto" indicates that the usage reports in this row will be loaded automatically, using SUSHI-protocol harvesting harvesting .

"Manual" indicates that the usage reports are not SUSHI-compliant and need to be manually retrieved by ProQuest.

More

The following icons in this column represent:

Library Note: This is a message that you and others in your library can create to give us any special instructions. You can hover your browser pointer over the note icon to read the note.

Admin Note: This is an administrative message created by ProQuest, with additional instructions on how to provide the credentials for that provider. You can hover your browser pointer over the note icon to read the note.

Username/Password: These are the credentials that we will use to access your usage reports from the provider.

Provider URL

This is the URL that will be used to retrieve usage reports. It could be a provider's administrative web page for manually retrieving reports, it could be the provider's SUSHI server, or it could be a proxy to your library. We already have added URLs that we know about; you will have the opportunity to change those, or add URLs to the providers where we have not added URLs.

Reports

These columns are all the usage report types supported by the provider. When specify on the DRS form that we download a particular report type from a provider, that report type will appear in this column. Not all report types are available from each provider; you will see which ones are available when you enter the information in the next section.

The list of report types differs between COUNTER Code of Practice 4-compliant providers and COUNTER Code of Practice 5-compliant providers.
When you're ready to add your library's information to one or more providers, choose one of the following:
---
Date Created: 12-Jun-2014
Last Edited Date: 4-Dec-2019
Old Article Number: 10883