Intota: Working with Collections
Last updated
---
How can I create a new group of resources my library wants to associate together?
The purpose of the Collections tool is to allow your library to create groups of resources outside of the
provider/database/title hierarchy.
Once a collection is created, you can attach administration, contacts, cost, license, notes, and vendor statistics metadata to the collection. For example, you may choose to group all resources in a package and record the cost information, or create a collection of resources negotiated by a consortium and attach notes about consortium policies.
Also, any administration information, licenses, and contacts that you attach to a collection will automatically be attached to the collection's databases and the titles in those resources.

Note that a resource may only be in one collection at a time. If you add a resource to a second collection, it will be removed from the first collection.
The rest of this document covers the following topics:
---
Create a new collection by clicking
Resources
on the menu bar and then selecting
Collection
in the submenu:
You can also use the
Resource Summary
section of your Intota home page to access the Collections page.
Click the
Create New Collection
button on the right side of the Collections page and you will be taken to the
Add Collection
screen: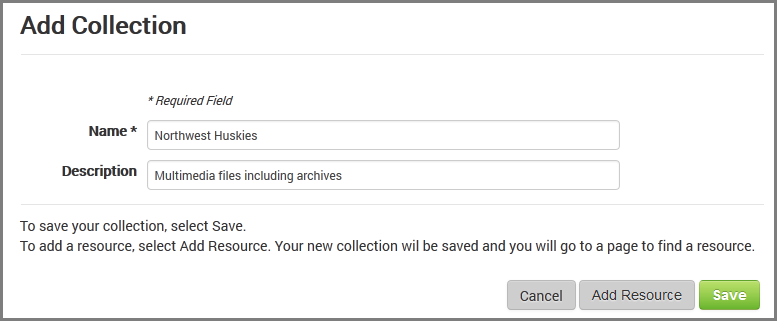 Use the
Add Resource
button rather than
Save
if you are ready to add databases and titles to the collection.
---
At anytime you can add a resource by editing the
Related Resources
section of the
Collection Details
page. When you click
Edit
, use the
Add Resources
link on the right side to add resources from the Knowledgebase.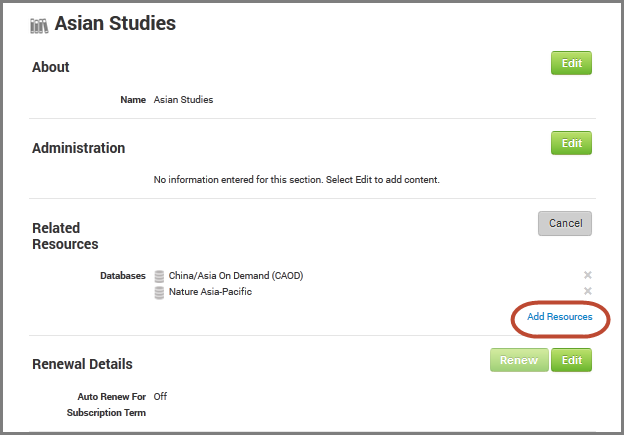 The Intota search box will display, where you can search for the resources you want to associate with the collection you are creating.


---
Use the
Notes
pane on the right side of the
Collection Details
page to add a
Note
to the collection. You can add an existing note or create a new note to be attached to the collection.
You can also accomplish this if you are on the
Notes
page by adding the collection as a
related resource
.
---
A collection can be removed by viewing your list of Collections (click Resources on the menu bar and then select Collections). When viewing the list, use the check box on the left side of the page to select the collection to delete, and click the Delete button at the top of the page.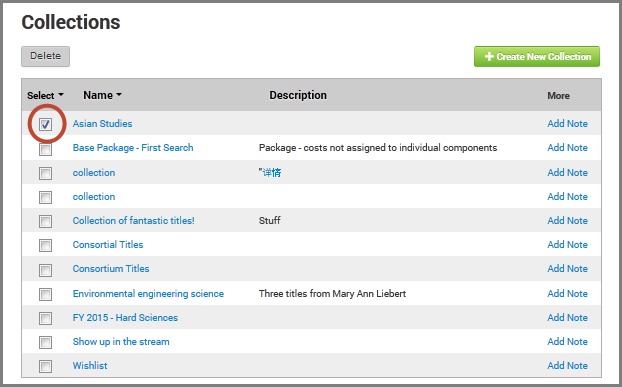 ---
Date Created:

25-May-2014

Last Edited Date:

8-Jun-2014

Old Article Number:

10793