Configuring Fetch Item for Primo VE
Last updated
Fetch Item (which is also known as the Citation Linker in other versions of Primo) does not search for records the same way as a regular Primo search does, instead it creates an OpenURL request based on specified metadata, submits the request to your Alma link resolver, and then displays the link resolver's results. This is useful when looking for a specific book, article, or journal that may not be indexed in your local Primo VE database or covered by your activated Primo Central collections. In addition, your link resolver may offer other services (such as to purchase or request items that your library does not hold).
The Fetch Item page provides a tab for books, journals, and articles. This allows users to specify search criteria (such as volume, author, and so forth) for the selected citation type in order to view full text or request additional services (such as ILL). In Primo VE, the Article tab opens initially by default.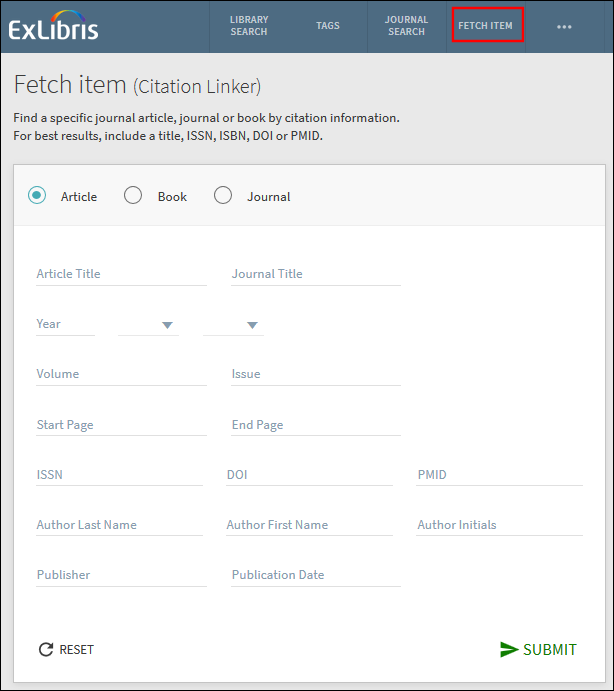 Fetch Item Page - Article Tab
The result of submitting a fetch item request is the Services page, which is similar to the Full Display Page for a record. For more information, see Configuring the Services Page for Primo VE.
Services Page
Configuration Options
The following table describes the configuration that supports this functionality.
Configuration Options for Fetch Item
Element
Description

Links Menu tab in View Configuration

The

citationlinker

code defines and enables the Fetch Item link that displays on the Main menu in Primo VE. This code contains the following settings:

Label – The label that displays for the link in the Main menu: Fetch Item

URL – The link to the Fetch Item page: citationlinker

Description – Optional text that describes this link for internal use.

View Labels code table

The following codes have been added to support the display labels associated with Fetch Item in the Main menu:

mainmenu.label.citationlinker

:

Fetch item

nui.mainmenu.description.citationlinker

:

Fetch Item (Citation Linker)

Citation Linker Labels code table

Defines the labels that are associated with Fetch Item page.