RefWorks QuikBib
Last updated
QuikBib is a web-based citation utility developed for online publication collections. It enables users to easily generate a bibliography of selected database records directly from the data provider's database, formatted in accordance with the requirements of any of a selection of the most popular bibliographic output styles.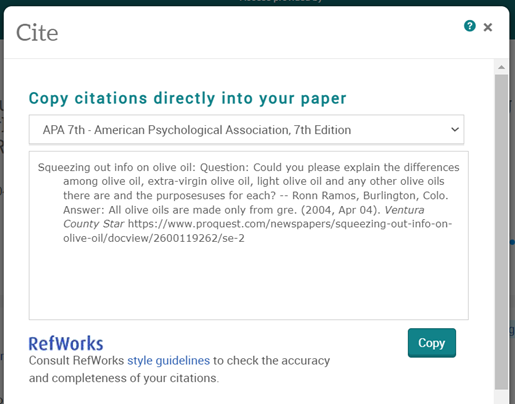 Citation in APA 7th Edition Format Generated by ProQuest Platform QuikBib
Selecting a Bibliographic Style for a Citation in ProQuest Platform QuikBib
RefWorks has provided the style formatting to QuikBib since its incorporation in the larger ProQuest platform.
For Users
QuikBib is a tool brought to you by RefWorks in conjunction with your data provider. QuikBib allows you to generate a reference list from your selected records in a variety of widely used output styles, enabling you to produce properly formatted bibliographies quickly and easily.
With QuikBib, publishers and other data providers can offer their users not only valuable references, but the ability to cite them accurately and easily with just a click.
For Publishers
The QuikBib web-based citation utility allows your users to easily generate bibliographic citations directly from your database, adding a new level of value to your online publication collections.
If you are a data service provider and would like to incorporate QuikBib into your product, contact us at https://support.proquest.com/s/refworks.