Purchase Request Web Form Management
Last updated
Rialto system administrators can customize the purchase request web form fields.
You can enable patrons to submit their purchase requests directly to Alma without intervention from library staff via a Rialto provided purchase request web form.
Currently patrons can only place book requests. Journal requests are not supported.
Patrons are only allowed one submission at a time.
Customizing and Enabling the Purchase Request Web Form in Your Network
Rialto administrators can generate a link for a customized purchase request web form which can be embedded in your network pages for exposure to patrons. Once they have the link, they can choose to display the entire form on a page using an iframe or expose a clickable URL for users to access the form in another web browser tab. To attain the link, admins can select the Get purchase request form link option in the Purchase Request Form page.
When the link is created for you, the system also creates a "Guest Requester" user, as the form does not allow for authentication. All purchase requests generated by the form are performed under Guest Requester username.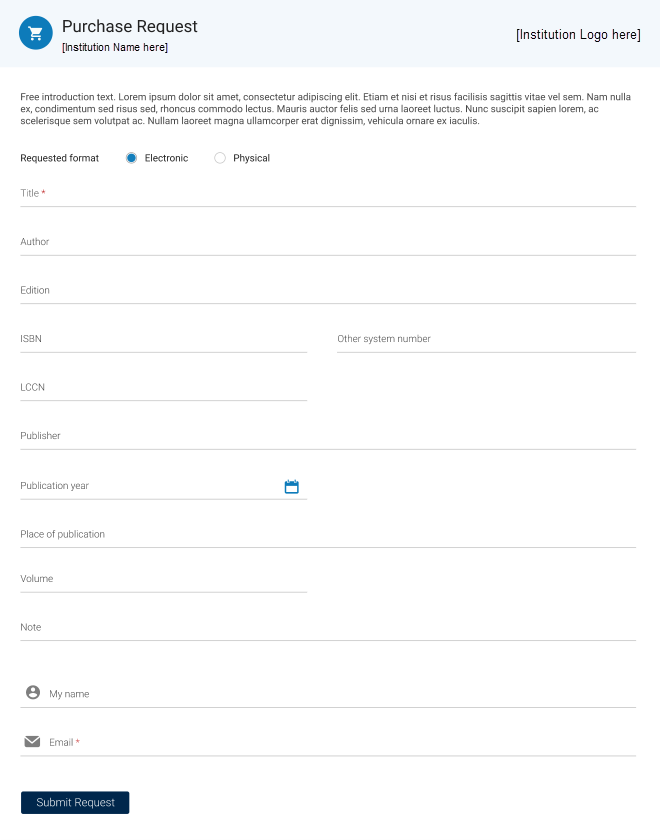 System administrators are able to customize the web form from the Rialto Configuration page. Visit Configuring Rialto Settings for more information.
Processing of the Purchase Request Submitted via the Web Form
When the patron submits a purchase request via this form, a purchase request is created in Alma. See Ordering from Purchase Requests for additional information on how Rialto integrates with purchase requests. When selecting the Search the market option of the purchase request, the patron-provided information populates the purchase request panel in the cart.
For purchase requests that were populated from the web form, the requester in the purchase request pane is always 'Guest'. The name and email address of the patron who submitted the form appears in the "Requestor Notes" field in the cart.
The name of the patron who submitted the purchase request does not appear in the "Interested Users" field automatically. If you want the user to receive status notifications:
When managing the purchase request form, you must first manually assign the user. You can do this based on the user name and email address that are included in the request note.
Once the purchase request has been assigned to a user, standard communication functions such as "Send query to requester" and "Interested user" will be available based on the contact information in the user account.
Add the user to the "Interested Users" field to enable the user to receive the notification when the order has been received in the library.
If your system administrator added custom fields to the form, the information provided by the patrons also appears in the "Requestor Notes" field in the cart. If the patron filled in several such fields, they all appear in the "Requestor Notes" field one after the other in the form of "field A: value A field B: value B...."