Summon: Automated Query Expansion
Last updated
---
What is the Summon Automated Query Expansion feature?
---
The Automated Query Expansion improves search recall by including additional keywords for common topical queries: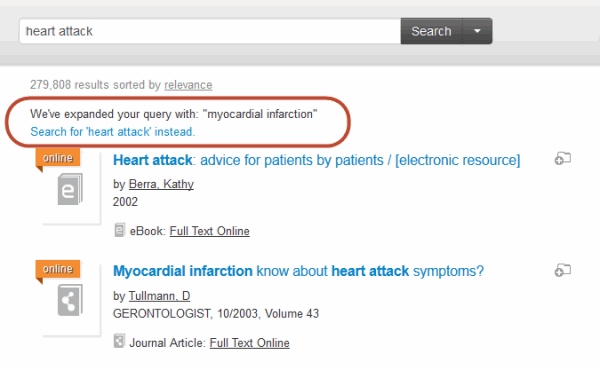 ---
When Summon's Automated Query Expansion feature identifies a variant of a subject or topic term in the user's search, it expands the search to include results for the official subject term. If there is a matching
Summon topic
, it is also displayed in the
Topic Explorer
on the right side of the Summon results page.
The expansion is done with a Boolean "OR" search; that is, Summon will return search results that contain either the patron's search term or the synonymous subject/topic term (or both). For example, a search on heart attack includes a search on the more official term myocardial infarction, and Summon returns results that contain either or both terms. Note that a search using quotes will not be expanded by Automated Query Expansion.
Summon's Automatic Query Expansion feature utilizes mappings adopted from controlled vocabularies, such as LCSH (Library of Congress Subject Headings) and MeSH (Medical Subject Headings).
Above the search-results set, the patron is provided with a link to search only the patron's original search terms and hide the automated-expansion results.
---
In a future release the
Translations
page in the Summon Administration Console will provide the ability to change the text of labels related to this feature.
---
---
Date Created:

9-Feb-2014

Last Edited Date:

24-Mar-2017

Old Article Number:

8761