Global Data Change "Failed to add rule set group" in Authority Loading - Load Match Configuration creation
Last updated
Product: Voyager
Relevant for Installation Type: Multi-Tenant Direct, Dedicated-Direct, Local, TotalCare
---
Question
In trying to create a new Global Data Change (GDC) Authority Loading - Load Match Configuration the Available Rule Sets are not populated properly and/or receive "Failed to add rule set group" error when try to save configuration.
Answer
Open a ticket with Support and request patches 008.ksh.2009.1.0.ALPHA01 and 015.ksh.2009.1.0.ALPHA01 to be applied to your databases. These patches will add the missing Auth Match Load profiles to GDC.
Additional Information
Example screenshots displaying the issue.
Note in the following there is only one Available Rule Set. There should instead be numerous such entries from which to select.
If you select the one Available Rule Set and try to save the configuration, you'll get this error: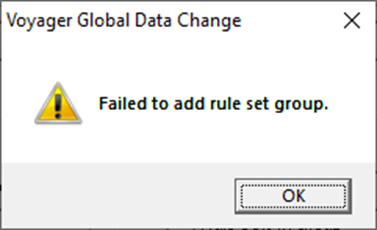 ---
Article last edited: 01-03-2022