360 Counter Landing Page
Last updated
---
How do we use the 360 Counter page in the Client Center?
Two articles can help you navigate through the Counter Page and to help you with your Counter data:
Counter Landing Page (the article you are currently viewing)
To access the Counter Landing Page, click on
COUNTER Configuration
from your Client Center Home Page: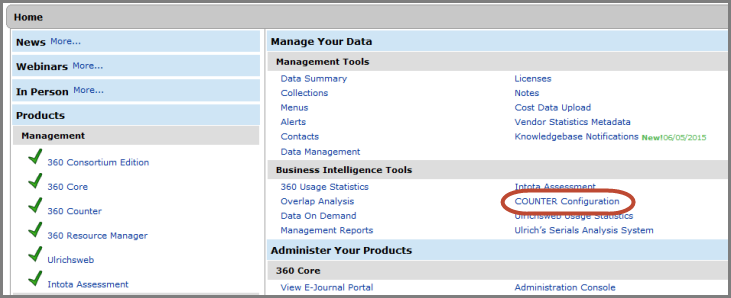 The 360 Counter landing page allows you to view, upload, edit, and delete usage reports, including the ability to view your aggregated usage data in the Consolidated Reports. You can also
filter the data
that appears in certain columns.
1. Buttons at the Top of the Page
DRS Request Form

: Takes you to the form you use to inform us of which usage statistics reports you want us to retrieve, clean and upload on your behalf. See DRS (Data Retrieval Service) Request Form.

Summary View

: Takes you to the Summary View page that charts the uploads attempted over the last 12 months. See 360 Counter: Counter Report Summary

<article is currently unavailable; content is being updated>

.

Upload

: Takes you to the upload page where you may upload usage statistics, either Counter compliant or Non-Counter Compliant. See 360 Counter: Uploading Counter Reports.

Intota Assessment

: Link to the report generator where you can view and manipulate your usage statistics. See Using the Functionality in your Consolidated Usage and Cost Reports.

2. Column Headings
The Counter Landing Page contains several columns of data regarding COUNTER reports that have been uploaded into your profile.
Vendor

: Allows sorting by Vendor Name

Report Range

: Date range of Counter statistics uploaded

Upload time

: Date/time of upload into 360 Counter

Uploaded by

: Can be sorted by staff name, DRS or Auto-Harvest.
o Auto-Harvested SUSHI: the report was sent server to server using SUSHI-protocol harvesting protocol
o counterdrs@serialssolutions.com: the report was retrieved using the administration-based harvesting of the DRS
o The email address of the person who manually uploaded the file.


3. Other Icons
Below are descriptions of additional icons that appear on the Counter Landing Page.
Icon (status)
Description

Re-harvest (refresh) SUSHI data.

Remove or extract Counter data from the Consolidated report. Note that a warning is given to verify you want to delete data.

Download a Counter report spreadsheet as a .csv file (or .xml). Import into Excel and Autoharvested reports are downloaded as HTML.

Note that the ability to download a Counter report is available for approximately one year from when you uploaded the report.

Best practice is to archive your successfully uploaded reports in case of future need to alter or update them.

View Report log Information (messages from the computer server) to identify any issue with your data upload. Proquest Support can use this information to troubleshoot uploads.

Data details shows the current status of the Counter data resources as it was uploaded into 360 Counter.
---
Date Created:

9-Feb-2014

Last Edited Date:

21-Apr-2016

Old Article Number:

7152