How to Add Local Search field in Primo VE
Last updated
---
Description
How do I add a new search field in Primo VE?
Resolution

Define a Local Field for search:

1. Go to Alma Configuration > Discovery > Other > Local Fields using Search and Facet Normalization Rules > Add: Local Field 01

2. Go to Alma Configuration > Discovery > Display Configuration: Manage Display and Local Fields > +Add Field > Add local field
3. The Define Local Field form opens > The Field to edit* parameter shows local_field_01
4. Add a display label (mandatory)

5. Under Local field details, check the tickbox for the following fields: Enable field for search and Enable field for facet
6. Edit: MARC21 normalization rule for search and facet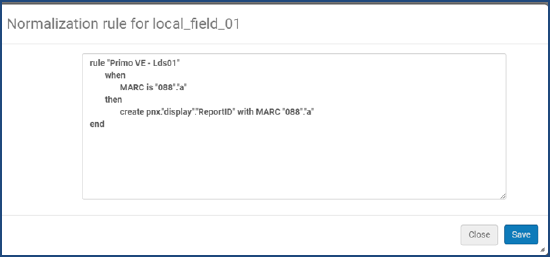 7. Update Placeholder normalization content, for the field you want to be searchable (e.g. 088_a "Report ID no."):
rule "Primo VE Marc - Lsr01"
when
MARC is "088"."a"
then
create pnx."search"."ReportID" with MARC "088"."a"
end
8. Click Save
9. Click Apply Rules from the top of the Manage Display and Local Fields page:
10. Some local fields are pre-indexed (009, 09X, 490, 5XX, 69X, 9XX) - (see Managing Display and Local Fields for Primo VE- below)

11. When adding a search for MARC fields not included in #10 above, indexing will be required to update the records with the new local search field. In that case, you will need to create a set of records and provide them to Ex Libris for indexing.
Additional Information
---
Article last edited: 02-Nov-2020