Primo View It
Last updated
If you are working with Primo VE, see
Primo VE
for more details.
Primo View It (which displays on the Services Page and during the discovery of local Alma records in Primo) can list up to 25 services and related services, which allow users to access or view the resource: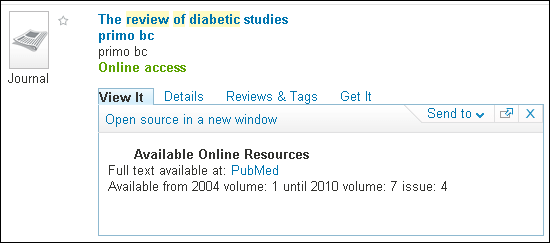 Example Electronic Resource
The View It service can be integrated with any third-party discovery system that is configured to use a SAML-based identity provider for both Alma and the discovery interface authentication. For detailed information, see https://developers.exlibrisgroup.com/alma/integrations/discovery.
It is not recommended to perform searches on different tabs in your browser and request View It or Get It information from a tab in which the last search was not performed.
Displaying License Information
Alma allows you to display an electronic resource's license information in Primo View It. The displayed terms of the license can be configured in Alma, as well as the license-related labels that display in Primo View It.
This section applies only to Primo. For information on how to configure license information to display in Primo VE and Alma-Summon environments, see
Displaying License Information
Show License Link in Primo View It (Classic Primo UI)
After the user clicks the
Show license
link, the name of the link changes to
Hide license
, and the license information appears as configured in Alma:
License Terms Displayed in Primo View It (Classic Primo UI)
To configure the display of license-related information, the following roles are necessary:
Acquisitions Administrator
Fulfillment Administrator
General System Administrator
To display license information in Primo View It:
Specify which license terms to display in Primo View It. For information on the

Display to Public

field, see To add a license term:.
If needed, modify the license-related labels, which are defined by the codes that contain a

c.uresolver.viewit.license

prefix. For more information, see Configuring Labels.
Open the Other Settings page (

Configuration Menu > Fulfillment > Discovery Interface Display Logic > Other Settings

).
Select the

Enable Display of License Information

check box.
Click

Save

.