My Profile for CDI
Last updated
The My Profile page of the CDI Back Office allows you to modify your customer and contact details, unsubscribe institutions, and configure your client applications. For more information on client applications, refer to Configuring Client Applications.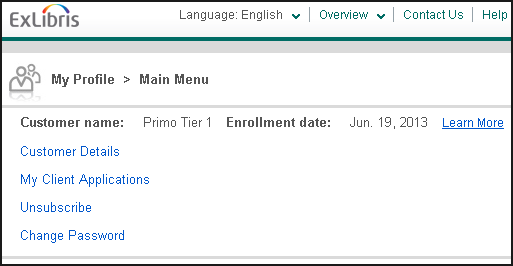 My Profile > Main Menu
For more information on using My Profile, click Help.
Accessing My Profile from Your Client
To access the My Profile page in the CDI Back Office, use the following instructions for your client application:
Primo – Select My Profile on the Edit Institution page.

Accessing My Profile from Primo

Primo VE – Select View My Profile on the Central Index and Proxy Set-Up page.

Accessing My Profile from Primo VE
You can open only one My Profile session per browser. If you open another session for another client profile in a second browser tab, the first session automatically expires.
Password Protection
It is possible to add username/password protection to My Profile. If protection is configured, anyone accessing the My Profile section (from the Primo VE or Primo Back Office UI) is prompted for this username and password in a login window.
This additional authentication is configured on the My Profile page under Customer Details > Edit Customer Attributes.
The password must meet the following requirements:
be a minimum length of 8 characters

be a non-trivial combination of uppercase or lowercase characters, numbers, and non-alphanumeric (special) characters

be changed at least every 90 days

can be reused only after at least eight change cycles
The password is stored encrypted on the Ex Libris Registration server.
If required, a temporary password can be set by Ex Libris Support staff. The temporary password is sent to the customer email address as specified in My Profile > Primo Central Main Contact.
Passwords must be changed:
After 90 days have passed since the last password update.

When a customer logged in with a temporary password (set by Ex Libris Support staff).
If a password change is required, a Change Password page will appear instead of the login window. The administrator should type the old password and choose a new password, following the requirements delineated above.
Configuring Client Applications
The My Profile > View Client Applications page allows you to modify your client's settings and perform the following functions:
Register additional clients – My Profile allows you to activate additional clients for services for which you have already registered in another client application.

Register additional institutions – For consortia or customers with multiple institutions, My Profile allows you to activate additional institutions after one institution has already been registered for CDI. Depending on the responsibilities of your administrators, this activity can be performed centrally by one administrator or individually by administrators that have permissions at the institution level only.

Once your institution has been approved by the registration system, you will receive an approval e-mail containing the activation keys. Enter the keys as shown in step 3 of the Registration procedure.

Modify and add IP addresses – To authenticate your client application's server, CDI requires the external IP addresses of the servers that allow patrons to search CDI e-resources (such as Primo's Front End).

If your Primo server uses a proxy server or firewall, you must register the external IP address of the proxy server or firewall.

If your Primo server uses a load balancer, you must register the IP address of the load balancer and the IP addresses of all of the Front End servers.

During the registration, you can register only two Primo Front Ends. My Profile allows you to modify your IP address settings and include additional IP addresses.

Replicate clients – The Replicate link allows you to add a client exactly like the one being replicated. You are prompted to specify the client name and a few other details to distinctly identify the new client.