360 Resource Manager: Contacts
Last updated
Product:

360 Resource Manager
---
Can you give us an overview of how Contacts work in 360 Resource Manager?
You can keep track of your resource contacts in 360 Resource Manager by adding vendor, consortia, and local contacts to a resource or provider. You can enter as little information about your contacts as you want, but at a minimum you'll want to add a name and a contact point, such as an email address or phone number.
When you add a contact to a resource, the contact will automatically attach to each resource contained within that first resource. For example, if you attach a contact to a provider, the contact will attach to each database from that provider, and each holding within those databases. (Updated July 21, 2012)
Access and manage contacts using the Contacts list, which gives you the ability to keep track of as many contacts as you need.
First, go to the
Client Center Home
page and click
Contacts:
You will see the
Contacts
page, which contains the first 25 contacts (if any). To see the complete list of contacts, click
Show All
:
You can navigate through the contact names by using the dropdown menu to select a
Filter
. After choosing the appropriate filter, click
Apply
. (new, Dec. 2011)
Contacts for a specific resource can be found by clicking the Contacts link on the left side of that resource's details page (such as
Database Details
or
Provider Details
):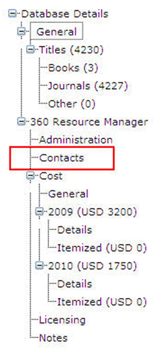 Further explanations of various Contacts features are found throughout the Support Center:
---
Date Created:

9-Feb-2014

Last Edited Date:

10-Dec-2015

Old Article Number:

7352