Admin Dashboard
Last updated
This page is intended only for users who have administrative permissions.
This Admin Dashboard contains the following configuration sections.
The Admin Menu
An an administrator, you see some additional options in various areas of Pivot-RP. The most prominent and most important of these is the Admin menu option and Admin dashboard.
Admin Dashboard
The Admin dashboard contains various features that are explained in this guide. To refer to an option within the Admin dashboard, this documentation lists its path, for example: Admin > Reports> Accounts > User Accounts.
The links in the Admin dashboard are as follows.
Reports

Usage and Activity Stats – Daily and monthly summary along with a rolling 30-days of page views and sessions. See Usage and Activity Stats.
Funding Alerts

Alert History – Weekly statistics on users receiving alerts about funding opportunities, by opportunity and by user. See Funding Alert Report.
Alert Statistics – Weekly statistics on funding alerts according to various user and alert types. See Alert Statistics.

Funding Opps
Accounts
Profiles

Profile Claims – Daily and monthly stats on profile claims. See Profile Claims.
Profile Searches – Daily and monthly stats on quick and advanced searches for profiles. See Profile Searches.

Institutional Settings

Search Settings – Configure the default selected locations and citizenship requirements for user searches. See Configuring Institution Search Settings.
Global Message – Configure a global note that appears on all funding opportunities. See Creating a Global Message.
Announcements – Announcements can be used to notify users about events or important information such as training or help. See Managing Announcements.
Admin Accounts – Select or clear specific privileges from an administrator or remove administrator privileges from a user. See Managing User Administrator Privileges.
Custom Branding – Add a main logo for the UI, newsletters, and funding alert emails, change the colors of the primary navigation header bar in the UI, and highlight internal and limited submission opportunities. See Customizing the Pivot-RP User Interface.
Full Text Linking – Add your library's link resolver information to enable full text linking from profile publication lists. See Configuring Full Text Linking.

Groups

Manage Groups – A shortcut to see your groups (this is like selecting

Groups

in the user menu). See User Groups.

Education & Training
Statistics

Overview – TBD
Publications – TBD
Grants – TBD

Tools
Manage Gallery
When working with any of these features, the Admin dashboard continues to appear as a submenu under the main menu.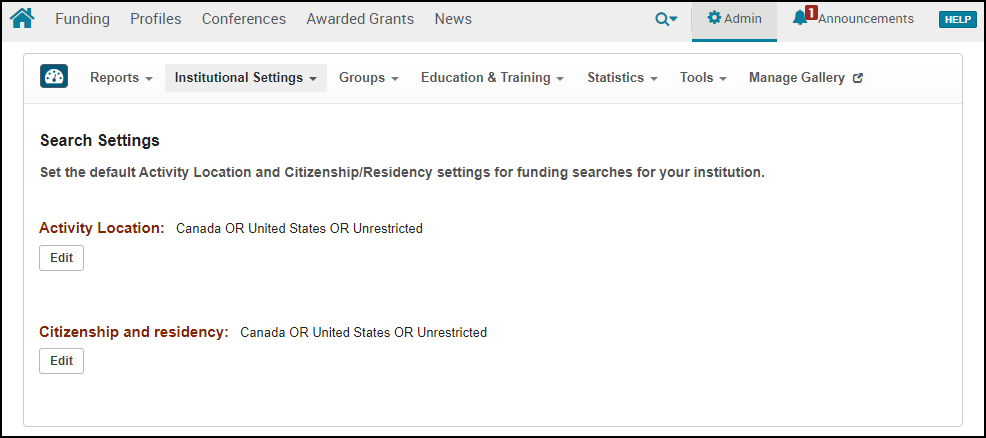 Search Settings
An administrator can enable or disable another administrator's privilege to perform each kind of administration action (including enabling/disabling privileges). Before attempting to perform any administration action, ensure that your privilege to perform that action is enabled. See Creating an Account.