360 Link: Administration Console -- Custom Links: Create and Maintain
Last updated
---
How can 360 Link with Index-Enhanced Direct Linking (IEDL) be enhanced with custom links, specific to my library, that provide additional options for our users?
---
You can customize 360 Link to include unlimited numbers of custom links to help your users. For example, you can provide your users with additional features such as:
the ability to search your library catalog for the desired item
request an item via Interlibrary Loan
the ability to search Google Scholar
Here is an example of 360 Link providing a custom link to the library's Interlibrary Loan service:
Use the
Custom Links
page in the administration console to create and maintain custom links:

Note the
Activate custom links on the sidebar
checkbox above. By default the checkbox is not selected so that libraries moving from legacy 360 Link to 360 Link with Index-Enhanced Direct Linking (IEDL) can, by default, have their legacy 360 Link custom links display in 360 Link with IEDL.
Select the checkbox when you have used this admin page to create custom links and you want the links to display on the Sidebar Helper Frame.

The rest of this document describes the different ways you can use this admin page. Click a link below to jump to the section you want to read:
---

Note that if you are creating a new custom link that is essentially a duplicate of an existing custom link, see the
Duplicate an Existing Custom Link
section below. Duplicating an existing custom link is most common when your library provides 360 Link in multiple
language interfaces
and you want to create a translated version of an existing custom link.
Clicking
New
takes you to the
Edit Custom Link
screen where you can enter the following information:
Results page

displaying full text available at your library.

If you also choose to

Hide if article/chapter links are available

:

The custom link is excluded if article/chapter links are available. The custom link is included only if journal level/book level links are available.

No Results page

displaying no availability of full text at your library.

Choose

Location

of custom link on No Results page:

Inside Rectangle:

A more prominent display immediately below the statement of no full text availability.

Choose to

Display as Button

or display as link.

Below Rectangle:

A less prominent display further down on the page.
See

Example 2

in the

Sample Custom Links

section below this table.
For example:

You are creating a "Search library catalog by ISSN" custom link that you want to display only for journal content. In this case you would un-select the checkbox for all formats except Journal.
Field

Value

Text

The label for your custom link. Character limit 200.
Displays as hyperlink if URL field is populated.
Field supports HTML.

URL

You can enter:

Nothing (leave the field blank) to create a label-only custom link such as the

Get Help from a Subject Specialist

custom link in

Example 1

in the

Sample Custom Links

section below this table.
A static URL that never changes.
An OpenURL that sends citation metadata.

See the

Create a Custom Link that Sends Citation Metadata

section below where use of the

Meta-Tags

drop-down menu is explained.

Note

Text displayed next to the custom link. Character limit 500.
Field supports HTML.

Display On

Choose to include the link in any of the three displays:

Sidebar Helper Frame

displaying to the right of the full text item (applies to libraries choosing a display option that includes the sidebar).

Verify that the

Activate custom links on the sidebar

checkbox at the top of the admin page is selected. This checkbox needs to be selected, in addition to the Display On checkbox, in order for the custom link to display on the sidebar.
If you also choose to

Hide if article/chapter links are available

:

The custom link is excluded if article/chapter links are available. The custom link is included only if journal level/book level links are available.

Require all metatags

Choose to display the custom link only if all meta-tags in the OpenURL are present.

Applies only to a custom link that sends citation metadata.
For example:

You are creating a Google Scholar custom link that includes meta-tags for item title and author. If you think the link will be helpful to users only when both title and author are available to send to Google Scholar, select the checkbox for this setting.

Select format(s)

Choose to display the custom link only when the 360 Link item is a particular format:

Journal
Book
Patent
Dissertation
Unknown

Language

If your library provides non-English 360 Link interfaces (see Languages page in admin console), you have the option to create a custom link for a particular language interface.

Check this box to have an additional space display below this link

A library with multiple custom links can adjust the display by choosing to have a blank space below a custom link. By default multiple custom links are single spaced.
For example:

You are creating two sections of custom links and you want a space between the two sections. See

Example 3

in the

Sample Custom Links

section below this table.

Optional: Enter CSS class value to reference this custom link via external JavaScript

If you desire to use custom javascript or provide particular styling to the Custom Link, entering a CSS class value can make it easier to identify the Custom Link.
Once you complete the Create a New Custom Link page, often times you can easily preview the custom link in order to confirm it works. See the
Previewing Your Changes
section below for more information.

Sample Custom Links

Examples in the above table refer to the below custom links -

Example 1. Label-only custom link used as a section header, such as the Get Help from a Subject Specialist label below: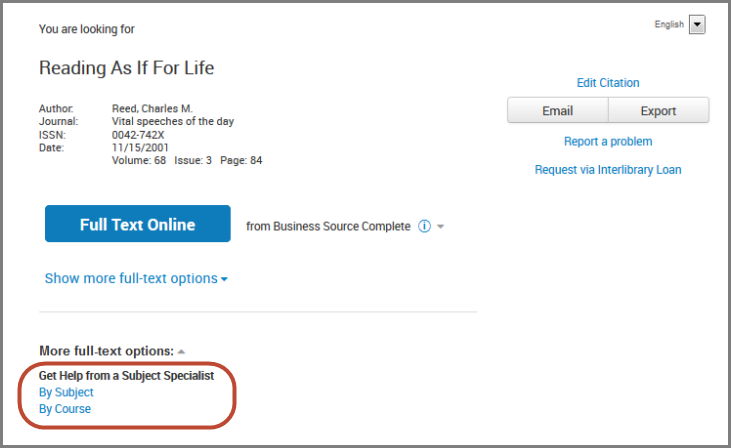 Example 2. Display link inside rectangle (see the Request this item custom link within the rectangular message area) or display link below rectangle (see the Library Catalog and Subject Specialist links lower on the page):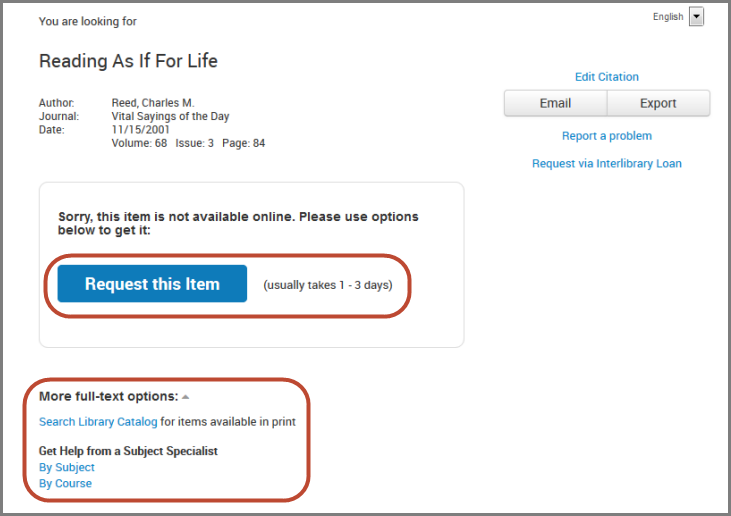 Example 3.
The
Search Library Catalog
custom link above is an example of a custom link that has additional space displayed below it.
---
Date Created:

12-Feb-2015

Last Edited Date:

24-Jul-2015

Old Article Number:

12198